Hello,
I love Panzer Corps (PzC).
I was just looking at all the German Infantry and I really like stats and getting dates correct.
Can scenarios be made earlier than 1939?
With all the research that went into both PzC & Pacific General (PacGen),
I am actually surprised by these results.
Clearly PacGen catered for the earlier formation of the Wehrmacht and the ability to create scenarios earlier than 1939.
http://en.wikipedia.org/wiki/Wehrmacht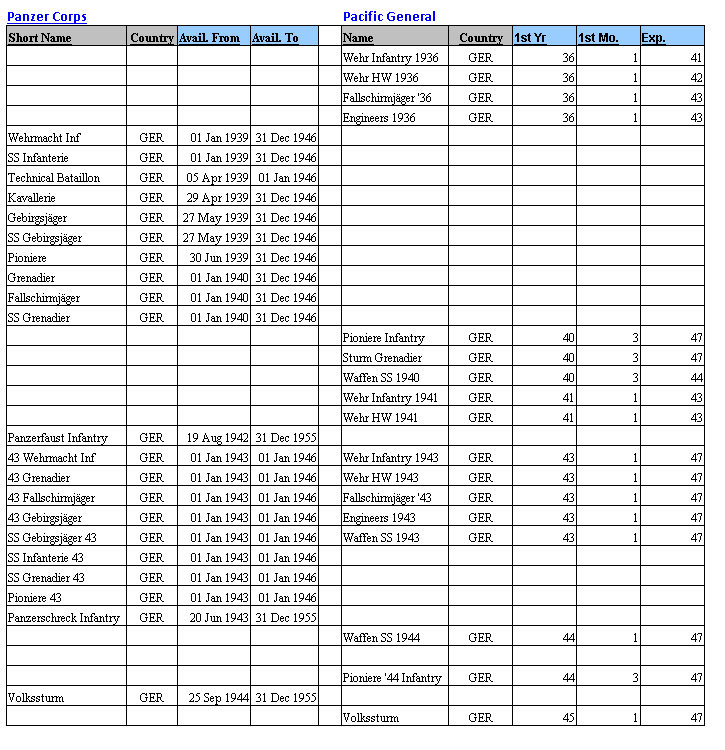 Should there be some units added for 1936?
Or just date manipulation?
I would suggest the Fallschirmjäger is definitely way out.
http://en.wikipedia.org/wiki/Fallschirm ... ld_War_II)
In January 1936, 600 men and officers formed the 1st Jäger Battalion/RGG, commanded by Bruno Bräuer, and the 15th Engineer Company/RGG and were transferred to training area Döberitz for jump training while the rest of the regiment was sent to Altengrabow.[7] Germany's parachute arm was officially inaugurated on 29 January 1936
PAW