So Cancon 2015 just finished over the Australia Day long weekend. The format was 800 pts using the standard points based games rules. There were 12 players. Five games were played over the weekend, two each on Saturday and Sunday, one on Monday allowing long distance travellers time to get home. I didn't manage/remember to take as many photos this time.
The list I took was very similar to my 800pt list from the Victorian Champs, dropping the shock heavies and officer for a set of horse guns and 2 horse attachments
Competent Corps Commander
Competent Divisional Commander
Average Veteran Light Rifles with Officer
Superior Veteran Line with Artillery and Horse
Average Veteran Line with Rifle Skirmish
Average Veteran Line with Skirmish
Competent Divisional Commander
Average Veteran Light with Officer
Average Veteran Line with Artillery and Horse
Average Veteran Line with Rifle Skirmish
Average Veteran Line with Skirmish
Competent Divisional Commander
Average Veteran Light Cav
Average Veteran Light Cav
Average Drilled Horse Artillery
Day 1
Game 1:
My first game was against a French 1809 infantry corp commanded by Brenton who let me know that he was a relatively new player to FoGN but he'd had experience with other rulesets. I was defending and got the two large compulsory steep hills to allow me to create fortress Spain. I advanced over the centre hill with my light infantry and swung my right through to take the attack to him to avoid my left eventually falling. Early on I broke a unit of his but I struggled to get to grips with him further as he backed up. I ended up rushing my attack, losing cohesion in my formation and ending up in all sorts of mess and losing a unit myself. In the gap this made, I charged his heavy cavalry brigade with my light cavalry and rolled the 6, 4+s I required on my 6 dice to break him. His backing up and successful delaying meant we went to time. I did some extra damage but he had more fresh cavalry which cancelled out. However I was the defender ending up 13-12.
Learning point: Don't rush the attack so much you lose cohesion and mutual protection for your units.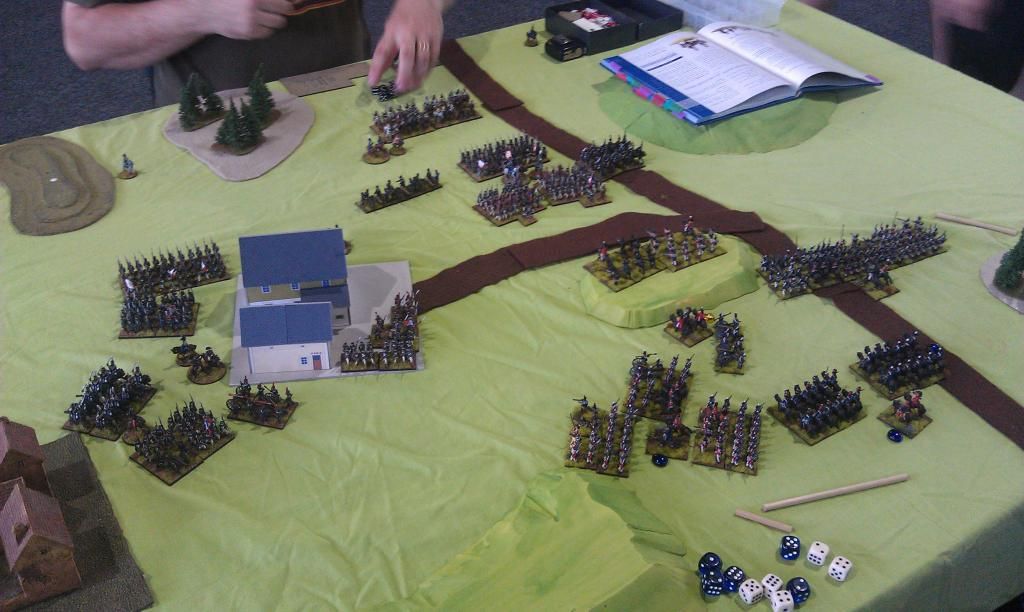 Early on as I pushed back his attempted attack down the centre.
Game 2:
I rolled up attacker and was facing Steve's Swedish/Saxon list in Central Europe. Central Europe tends to be more open and my Steve was set up on a building and hill in the middle of his deployment zone.My approach was realtively open; split in two but rejoined far enough away from him it didn't matter. On my left my light cavalry skirmished with multiple units of shock and/or heavy cav giving me some time. On my right I again rushed my attack and neglected to form my skirmishers into solid formation to protect my flank and got my highlanders double charged and broken in one go (oops). Things went more tits up from there and I lost 1-24. Forgot to take a photo.
Learning point: Rushing the attack is still bad.
Day 2
Game 3:
I rolled up attacker again but this time I got the bonus unit which was pleasing because I went to the effort of painting it. My opponent Philip was using a German confederation army with a Brunswicker division, a Hannoverian division and a mixed German states division. It was huge and full of rubbish troops. Luckily I got some terrain down where I needed it to give me some anchored avenues of advance. I deployed far on the right and was planning to punch at the building, swinging around with the highlanders and the rifles. As I advanced, he retreated and push around on his right so I used my two portuguese units and cavalry division to hold between the forest and buildings to protect my line of communication. I kept pushing and eventually my line managed to reach the road. The 95th rifles had managed to go around from the far right of my deployment, behind the buidlings and moving into close range with his conscripts on the edge of the table that had been weakened by skirmish fire. This position was also on the enemy's line of communication. They broke the conscripts not long before time was called and with my portugeuse managing to hold on I won 17-8, the battlefield having turned more than 90 degrees. Learning point: Cavalry intermingled in the front line is extremely helpful to winning a skirmish fight. Having guns stuck behind stuff all battle, less so.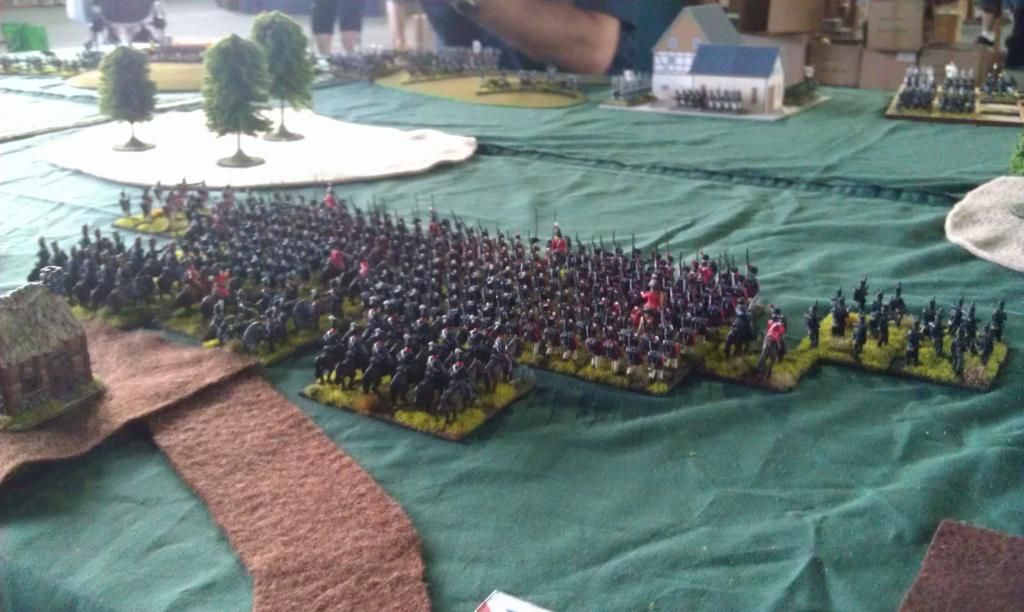 From where I deployed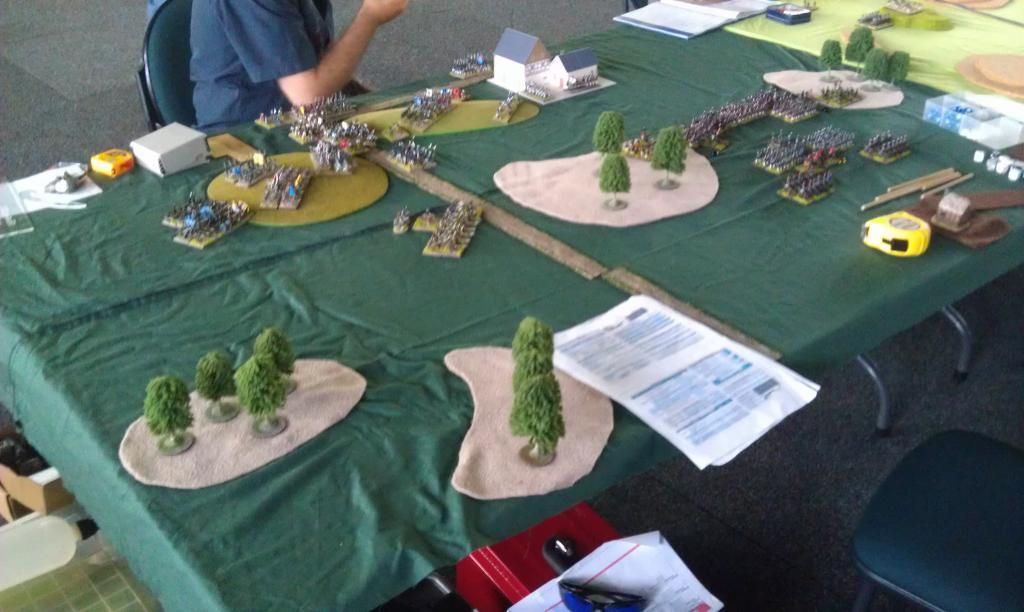 I begin my advance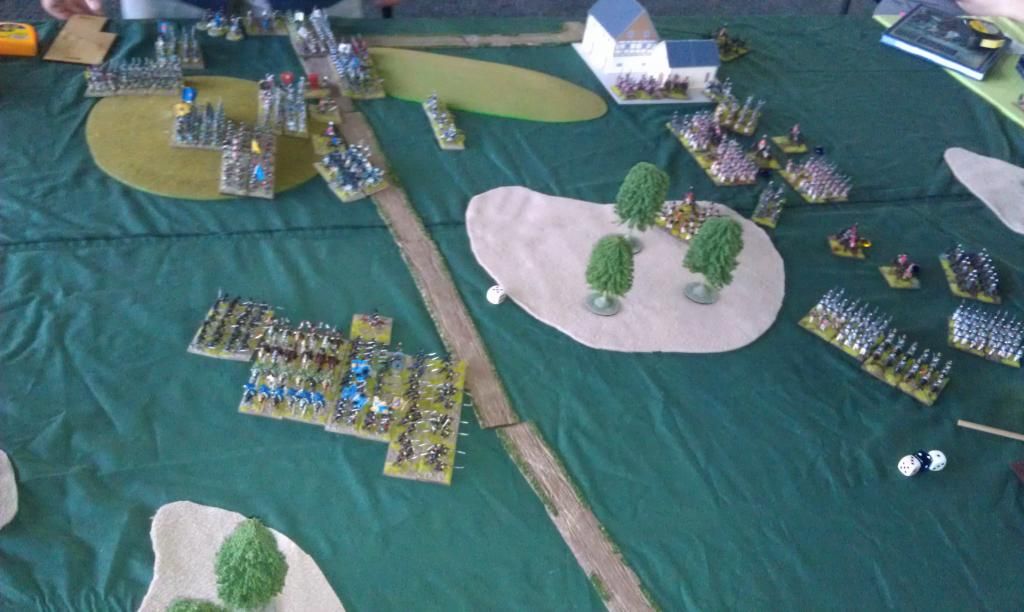 My holding division on my left is pretty much in position, the rest of my army is beginning to make its way around. My line would basically stretch along a line from where the road left his board edge to where my holding division is.
Game 4:
This game was against Andreas' Russian corp with lots of guns and as I was attacker again I was fighting in Eastern Europe which as it turns out, tends to be very open. Not sure how to deploy I ended up deciding to try and push hard on my left and try to pin but not engage with my right. Instead I just got enveloped on both sides, pounded by successful but slightly lucky guns and everything went to ####, losing 1-24.
Learning Point: This army may be too small to fight where there's not much terrain. Given my lack of confidence going in I probably should have used extended line to allow me to overload a flank but still have width. It also helps with closing to the guns.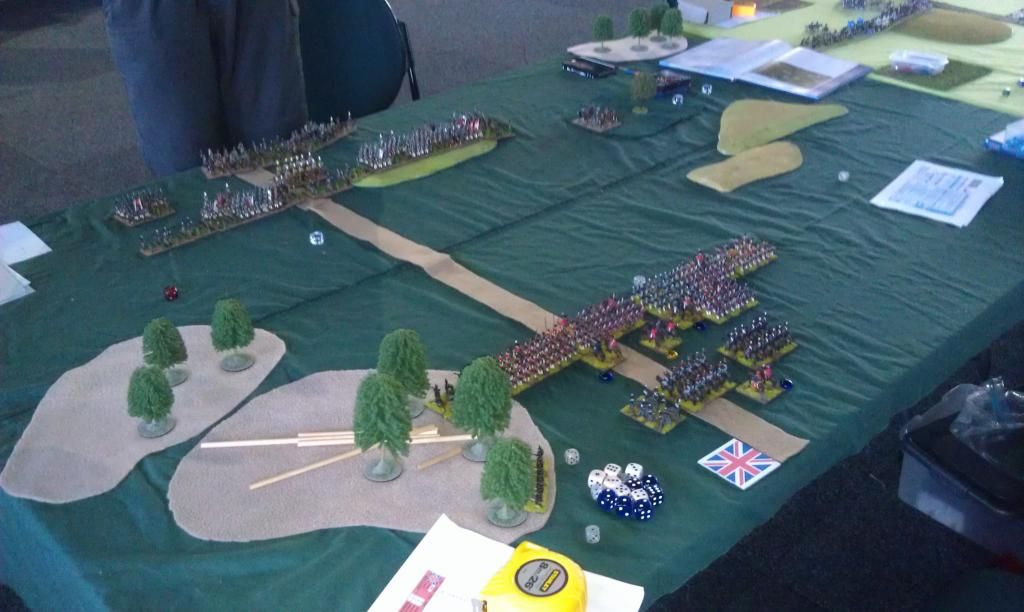 After deployment. In hindsight it may have been better to try to hug the right edge and push around again or as said above, try out extended line. Pretty much anything would have been better than what happened.
Day 3
Game 5:
I was defender and managed to assemble fortress Spain again against Geoff's French corps. Geoff spent an hour deploying as he had no clue what to do as it turned out his 4 units of shock heavy cavalry really don't like fighting in difficult terrain. He eventually came up with something which involved advancing as a line everywhere and sending his shocks around to small gap on my left on the off chance he could break through. They were superior veteran shock heavy cavalry with artillery attachment after all. I skirmished in the steep hills on my right against his struggling line and a unit of light infantry and my rifles handbagged with a unit of confused cavalry who eventually buggered off wavering. This allowed them to turn to help the skirmish fight on top of the large hill to my right, breaking the enemy's light infantry in the final turn. In the meantime the 48th Northamptonshire held strong against the French cavalry on my left giving them a taste of hot lead and cold British steel. In other words, his odds were probably a bit worse than 50:50 but my dice were hot and Geoff's not. At the end of the final turn Geoff rallied the broken light infantry giving a final score of 14-11.
Learning Point: To win this tournament you needed to be able to win big and actually break the enemy corp. I'm not convinced my army was conducive to that. I'm not sure how I would have broken his corps. Perhaps with enough time the rifles could have made it around.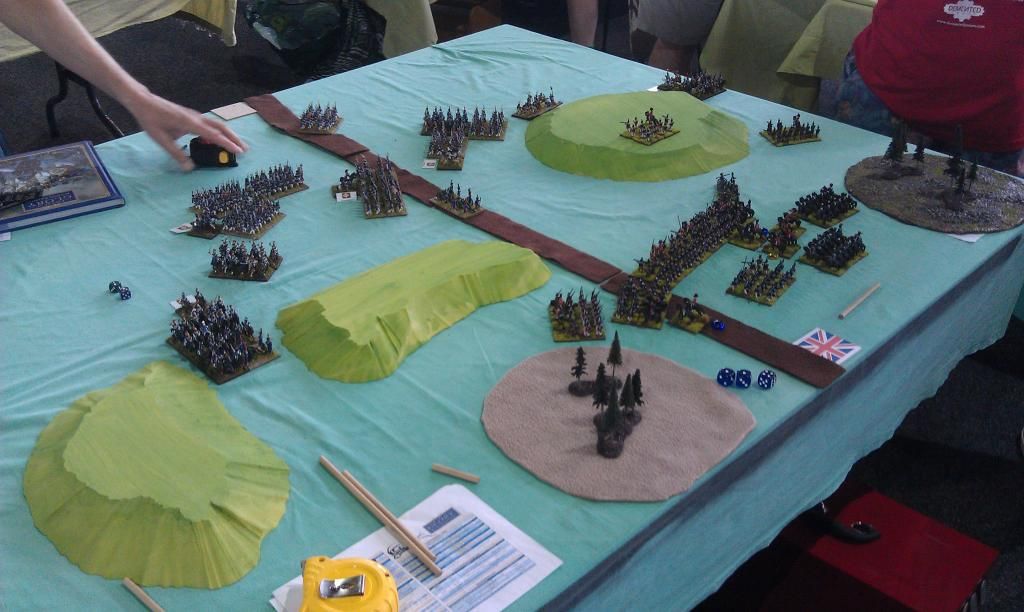 After 1 turn each. Note that the 3 hills and two forests are all difficult terrain. My skirmishers have already pushed onto the big hill on my right. His cavalry is quickly going through the pass between the hills on my left. The 48th will end up holding between the centre hill and the forest. They're almost in position on my far left.
Overall I had a wonderful time. Everyone was great and it was doubly good getting in 5 games in a short time and against a variety of armies and opponents. I probably finished with 2 large losses, 2 very close wins and one medium win and probably ended up around 8th. Tyler's still working on getting the full results up. The change in my list (horse arti for shock heavies) was good as it better supports the roles of delaying and supporting an attack as opposed to trying to smash a hole somewhere. I'm not convinced the list is suitable for the big wins required for a tournament as I have difficulty with it in open terrain. For example if Geoff stayed back in game 5, there would be nothing I could do but get the 13-12. Furthermore, I have difficulty closing to force a break due to the slow movement combined with the lack of cavalry. This seems like a British thing and perhaps something I'll get a better handle on. There are probably times I'm sitting at 6 when I should be advancing to 2.5 so that if they move back 3 I can still get to close range. I'm going to stick with it a bit longer for two reasons. One, I need to paint more men to do much else. Two, there are things that I haven't really tried like more extended line and intermingling cavalry into the line even though they're a different division. The idea of a veteran army is still very cool but I'm not sure it's actually workable.