Hello galactic commanders and sci-fi aficionados!
Today we're publishing the first in a series of articles about the upcoming expansion for Polaris Sector,
Lumens
!
It will be a truly massive expansion and it's not easy to condense all the improvements and additions, but let's try. We'll start with all the new options and minor features that will be at your disposal.
Galaxy Generation
New options have been added to let you fine tune your galaxy even more! In addition to defining the number of stars, number of planets per system, percentage of habitable planets, the mineral richness of the sector and its 3D layout. You can now also define how many "goodie hut" artefacts and fast-travel wormholes are available and also whether you'd prefer to start on the edge or centre of the galaxy.
With so many options there are now countless possible combinations to choose from allowing for endless replaybility.
Research Speed Slider
You can now set a galaxy wide modifier that affects everyone's speed of progress in research. Either leave it on the automatic setting, slow the rate of progress down so that ships become obsolete more slowly or crank up the rate to rush through to the end-game tech. Every choice has a consequence, and although rushing tech might sound tempting remember that there is a price to pay.
Planets

Planets have also been tweaked to give them a bit more variety. You'll see more accessible planets with the special advanced research element and frozen and desert worlds with rarer mineral sources in more varied amounts.
Fleets Designer
Polaris Sector has always had a fantastic ship designer and we've now expanded that up to a Fleet designer to let you easily automate the design and creation of your favourite fleet loadouts.
Each ship design can now be linked to a default or custom role (e.g. Attack, Support, Carrier) and, in the Fleet Designer screen, you can create fleet formations from these designs. You can then build a whole fleet from the Planet Build Ships queue with one click or send out a distributed request to your empire's production worlds to build you that fleet and assemble it where you select.
If you want to upgrade your fleets over time, you can switch the design that is assigned to each role and the game will know which ships you want to build or upgrade to from then on.
Additionally, if you enter battle with a pre-designed fleet then, if you have the initiative or the technology, they will be already in formation when you enter the battle screen.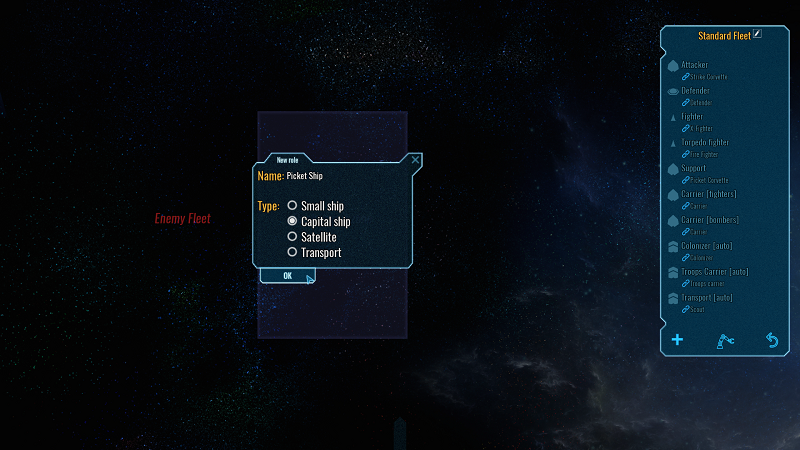 Rally Points & Automation

A rally point can be set at any location and you can then use that location as the target destination for any new ships that you build.
You can either use this to create your own Ad Hoc fleet or to assemble a Fleet based on one of your Fleet Designs. In the latter case, you can choose to either have new ships created or for your existing ships to be automatically routed to the rally point.
Additionally, you can also automate the movement of Battle Stations from one star to another using Transport ships, automate the rebuilding of a carrier's fighter compliment and even automate the full refit, repair and upgrade of entire fleets.