As the developing process is marching quickly along the beta testing phase, it's time to dig a bit more into the main differences and improvements players will find from the original game released in 2009.
"Field of Glory II is a complete reboot of the franchise, based on the original tabletop Field of Glory rules as a starting point, rather than on Field of Glory I"
says Richard Bodley Scott, the main designer of Field of Glory 2.
"There are therefore many differences from FOG1 – which we hope are all improvements. Being co-author of the original tabletop game, I am in a unique position to create a fresh take on the system".
Let's take a closer look, shall we?
New graphics!
The game has vastly improved graphics. All of the terrain and unit models are true 3D. They are all fully animated – firing bows, throwing javelins, charging with lance, meleeing with sword or spear and so forth. Arrows and javelins fly. Men fall mortally wounded to the ground and die. The battlefield is littered with their corpses. Rear ranks shuffle up to replace the lost men.
Formations become disordered, and men turn to face their opponents when a unit is fighting in multiple directions. Pikes visibly form square. Each unit type has up to 4 variants within the unit, but also has multiple variant texture sheets, allowing the units of each side to be easily distinguished even in civil war battles.
New AI!
The game has vastly improved AI, drawing on the experience of developing the (generally praised) AI for Pike and Shot and Sengoku Jidai. There are six levels of difficulty, allowing all players from novices to experts to enjoy challenging games against the AI.
New Campaign System!
In addition to the expected historical scenarios and skirmish mode, the game has a brand new campaign system that concentrates on battles, but allows real strategic decisions without time spent moving armies around a strategic map. The player's core troops continue from one battle to the next, gaining experience and elan from each victory.
There is a sandbox campaign that allows the player to lead any nation (and their historical allies) against any other nation (and their allies) – giving many thousands of permutations.
There are also four campaigns allowing the player to follow the careers of some of the most famous historical leaders of the era: Pyrrhos of Epeiros, Hannibal, Mithridates of Pontus and Julius Caesar.
The game allows custom battles (skirmishes) ranging in size from 600 to 2000 points. (The points system is almost identical to that in FOG1).
New Army Lists!
The army list system has been greatly streamlined. Force selection is quick and easy, and takes place on the actual battlefield, making the pre-selection of "DAG" armies unnecessary. The initial release comes with 75 army lists, covering 48 nations and factions from Britain and Spain to India between 280 and 25 BC.
We have something interesting coming about the Army Lists! Stay tuned for further updates!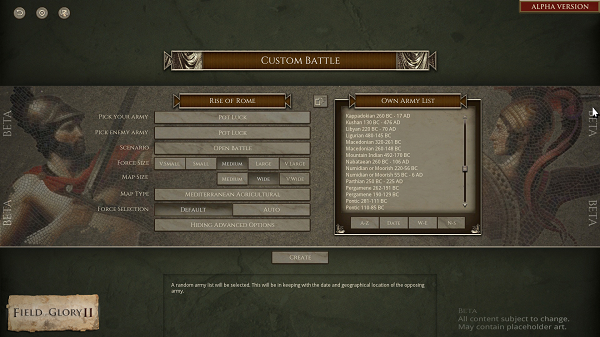 New Random Generated Maps!
Terrain maps for non-preset scenarios are freshly generated using a sophisticated random map generator – not picked from a library of preset maps. Every map is therefore unique. The map generator can generate realistic maps for all the usual territory types – including agricultural, wooded, hilly, mountains, steppes and desert in Mediterranean, North European, Middle Eastern and Tropical regions.
The battle is fought on a square grid rather than a hexagonal grid. This allows realistic looking battle lines, and 8 directions of movement instead of 6. The computer takes care of the issue of diagonal moves being further than orthogonal ones.
New Function for Army Movement!
Group moves allow whole commands to be moved with one order in the early stages of the battle. The units taking part in a group move all move simultaneously rather than one at a time.
Anarchy Charges
Anarchy charges (which players either loved or hated) no longer occur in FOG2.
Mathematical Algorithms
Unlike FOG1, FOG2 does not attempt to replicate the tabletop game's dice, but uses mathematical algorithms that avoid some of the extreme against-the-odds combat results that could occur in FOG1
POA System
The POA system has been modified to get more historical results. One FOG1 POA becomes 100 FOG2 POAs, allowing us to have fractional POAs. This allow finer gradations. For example, armour advantage is reduced in importance, so that standard common ancient troop types, such as "Protected" hoplites, are no longer ineffective.
Medium Foot
Medium Foot have been divided into Bowmen and Medium Foot – the latter representing close combat types such as thureophoroi, Thracians and Spanish scutarii. These are no longer as vulnerable to mounted troops in the open, allowing them to take their historical place in the battle line. This also makes medium foot armies viable.
Unit Role
All unit types now have an effective role. There are no really weak army types.
Multiplayer
Multiplayer uses the same PBEM system as FOG1. However, in addition, FOG2 will implement Slitherine's automated tournament system.

Excited? We have more content to share in the coming days. Check out our official product page and the forums to be updated on the progress of Field of Glory 2!