++Thought of the Day++
There is no justice without the Emperor's will; there is no victory without His might.
Welcome, Battle Brothers and Battle Sisters, to the latest Warhammer 40,000: Battlesector dev diary.
This one is a bit overdue, largely because we've really busy lately. Quite a lot is going on, so we wanted to share some of what we've been up to over the last couple of months.
First, for console players waiting for news about the launch of Battlesector on their preferred systems, we can say that good progress has been made. Getting Battlesector into your hands has been the main focus of the engineering team lately, and we are close to submitting the game to the respective console manufacturers for certification.
We can't control the outcome of the certification process, so we don't have release dates yet, but rest assured we'll share news of release dates as soon as we can, and that every effort is being made to get the game ready for you.
As well as getting the console versions primed for release, we've been working on numerous balancing changes, and bug fixes. We expect to release a new patch on all PC platforms in the coming weeks with these changes. Numerous units for both the Blood Angels and Tyranids armies have had adjustments made to their stats, including special abilities and weaponry.
We have adjusted how our combat model calculates low scoring damage rolls. This will be most noticeable when attacking high armour units with low damage weapons; you should now expect to see a lot more Blocked! shots. This results in armoured units being able to fulfil their roles better as damage soaks versus low piercing weapons. We've also addressed a lot of bugs that players have reported to us. Full details will be in the patch notes when these changes are released.
Tyranid players know that keeping your swarms together is valuable, as the bonuses from being near a Synaptic Leader are powerful. We've added a quality of life feature that visualises the connections of Synaptic Leaders with Connected units. Just click on the Synaptic Leader or Connected status icon to see the range of the network.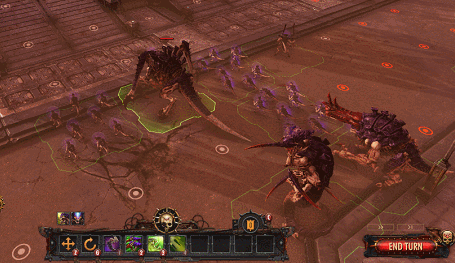 For our multiplayer-focused players,
you'll be happy to hear that we've been working on adding support for tournaments. Warhammer, generally, is designed at its core to be a competitive multiplayer game. Adding tournament support is part of the work we'll be doing in the coming months and years to build and support the multiplayer scene. (Of course, adding more factions to the game will also help grow multiplayer!) There is still work to be done, but we hope to release the first version of the tournament system before the end of the year.
Speaking of factions, we are hard at work on
more units and a new faction.
We are aiming to have a number of new units for the Tyrannid and Blood Angels armies available before the end of the year, and a completely new faction early next year. We'll share more details about these closer to when they are ready.
For the Emperor and Sanguinius!
-
The Black Lab Game Team