The Snow Lion against the Dragon

Background
In 1618, Manchu leader Nurhaci listed the Seven Grievances and declared war on the Ming. The Manchus then proceeded to capture several Chinese cities in the north eastern frontier. Nurhaci died in 1626 and was succeeded by his son, Hong Taiji. Hong Taiji continued the work of his father and was able to capture Beijing and most of northern China. This forced the Ming court to move south.
In 1635, Karma Tenkyong, leader of the dominant Tibetan dynasty of Tsangpa held a council with other Tibetan lords as advised by his spiritual leader. It was said that the Buddhist monks had visions of the kingdom being overrun by a foreign power. As the Ming had left Tibet autonomous in the past, they believed the visions were about the Manchus. In the end, they decided to set aside their differences and unite against a common foe. Armies were mustered and sent deep into western China. The helpless Ming governors just let them though.
In 1636, Hong Taiji proclaimed the Qing dynasty and claimed the Mandate of Heaven.

Late Spring 1636
In the spring of 1636, Tibetan General Choegyal Talaia's army was at Chengdu while Wangchuk Dorje's army was at Wuchang. The Manchu 1st army was at Kaifeng, led by Alechi. The Manchu 2nd army was in Nanjing, led by Suksaha.
Choegyal moved from Chengdu to Xi'an and Alechi moved in to confront the Tibetans.
Battle of Xi'an

Tibet 39,000 vs. Qing 46,000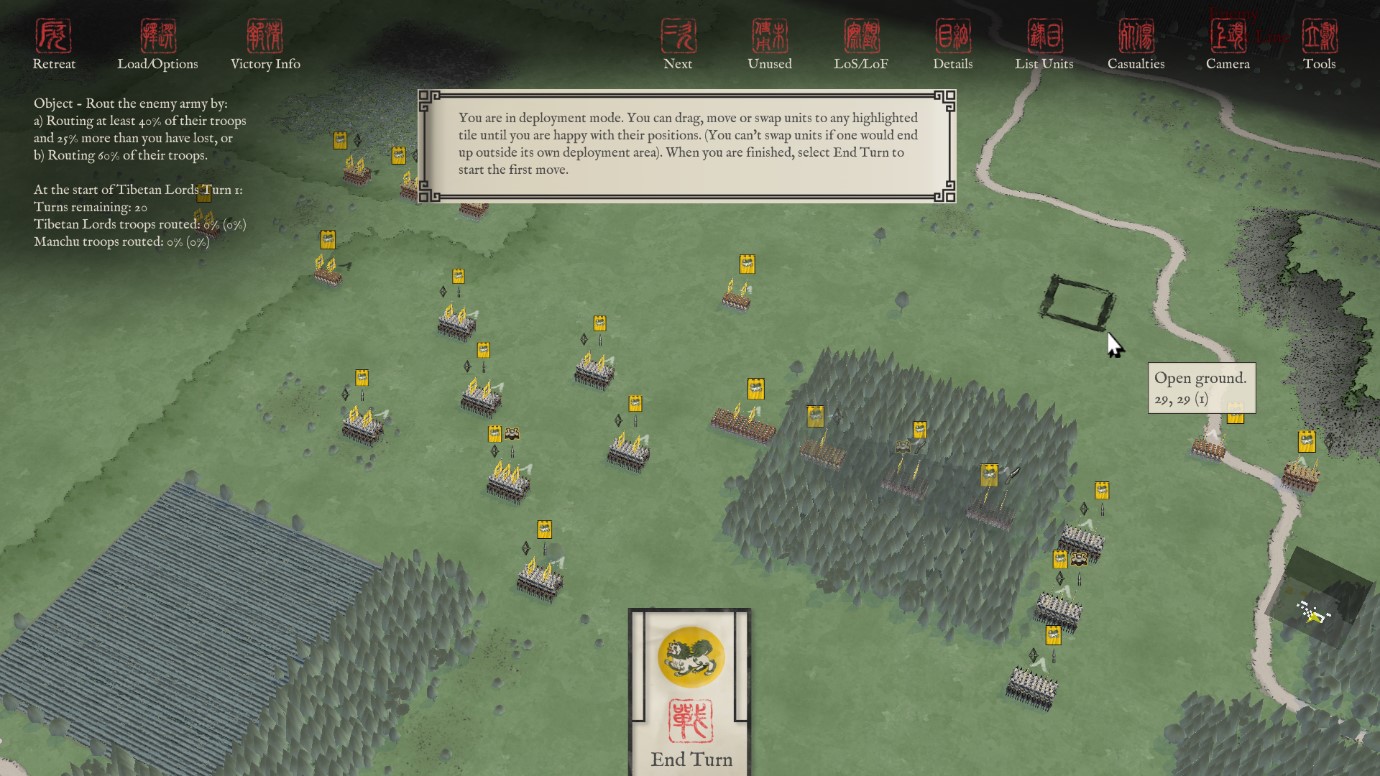 The commander in chief of the Tibetan army, Choegyal Talaia, commanded 14,000 warriors with bows, spears, and matchlocks positioned in the centre woods. Sangye Yontan commanded a large heavy cavalry division of 10,500 on left flank. Tenzin Phuntsok commanded 4,500 heavy cavalry on right flank. Mounted and dismounted skirmishers scattered all around the front.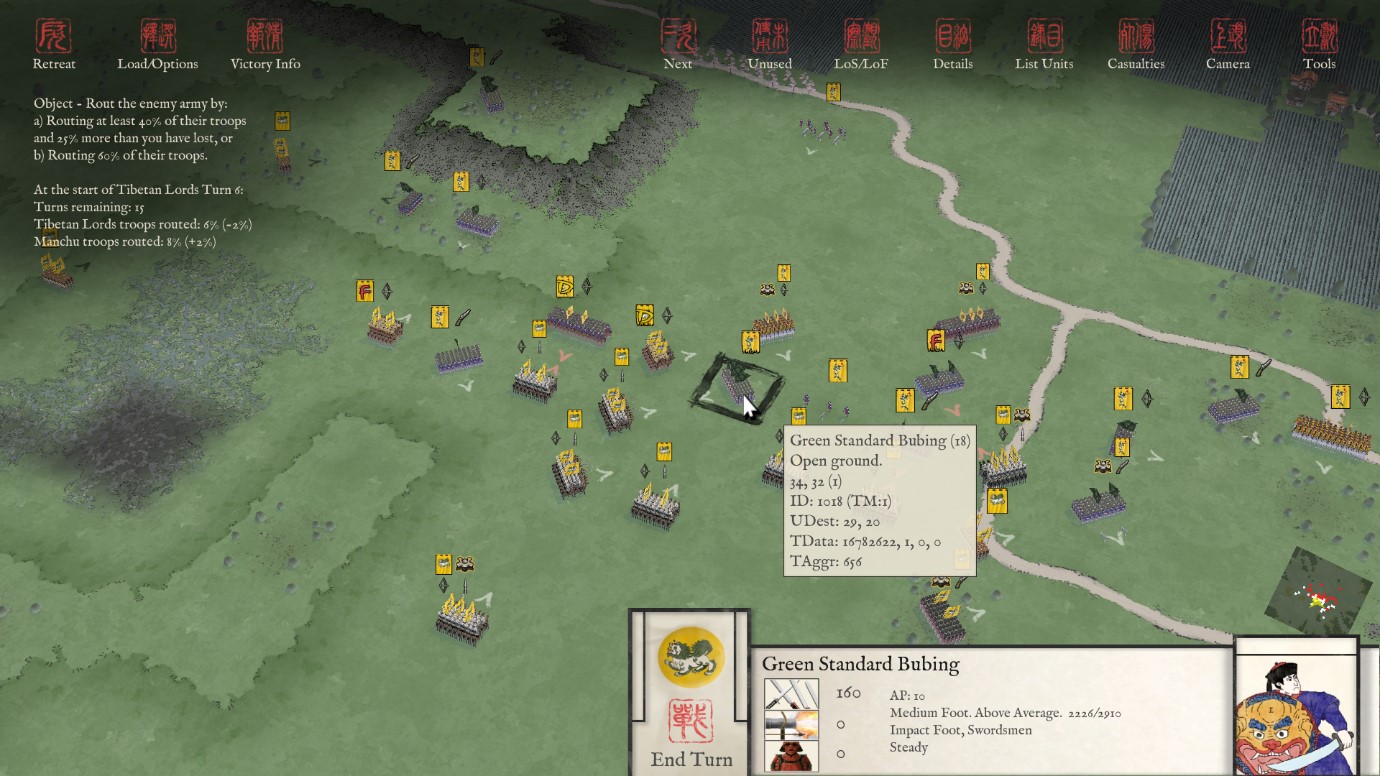 During the battle Tenzin Phuntsok's cavalry units got into trouble. Qing general, Buyanggu broke the lines but got fragmented by Choegyal Talaia's matchlockmen and archers in the rear. Songye Yontan's cavalry were held back by superior Qing swordsmen and the Tibetan cavalry shot arrows at the swordsmen instead of charging.
Despite the early setback Tenzin Phuntsok cut through the Qing infantry with his remaining men and engaged the enemy commander-in-chief Alechi's personal troops.
Qing General Jiamo suffered a punishing volley from Choegyal Talaia's troops and was forced to retreat when attacked by Tibetan spearmen. Buyanggu retreated as well. Choegyal Talaia moved to the front line to command the spearmen personally against some Qing armoured Bannermen but his presence was not enough to save the unit from wavering. The general was lightly wounded during the fight.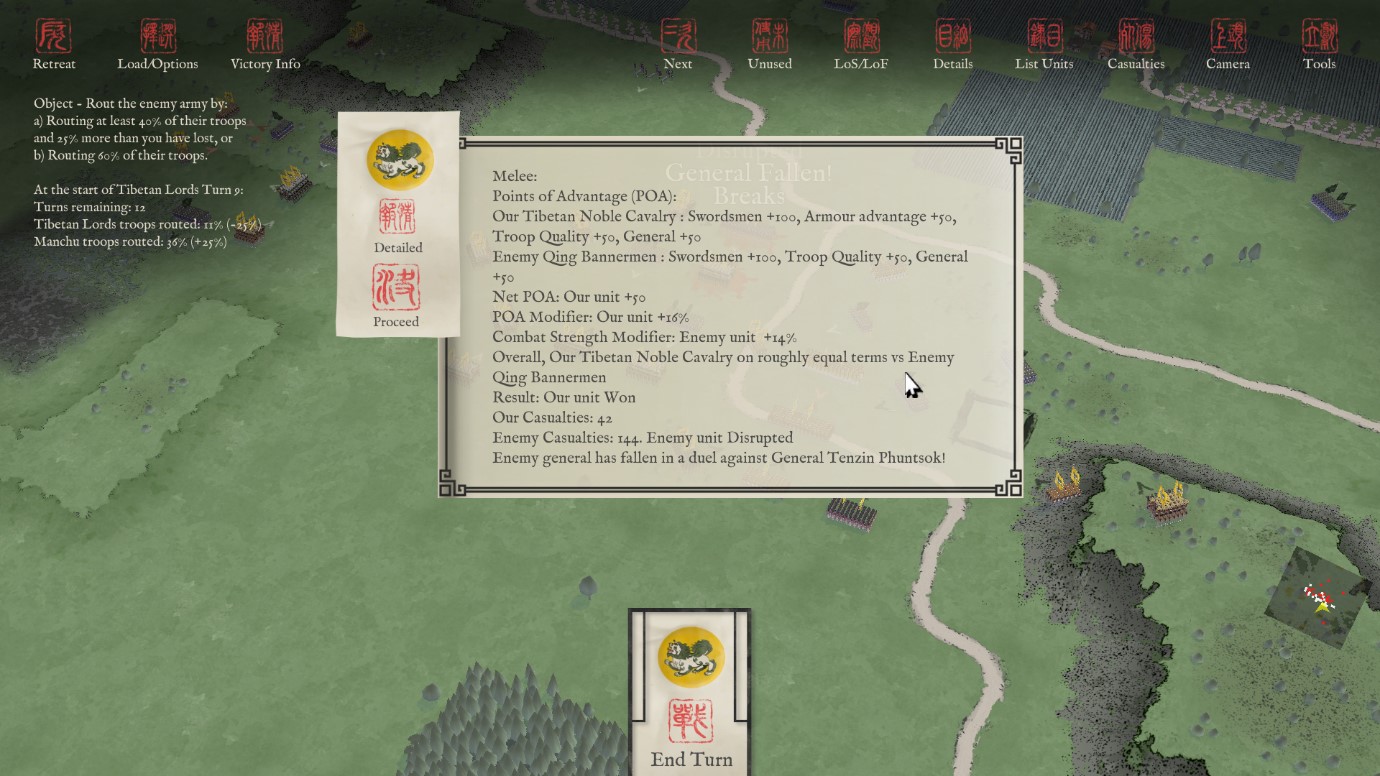 Alechi was wounded in a duel against Tenzin Phuntsok. His bodyguards were able to escort him out of the melee. Alechi then ordered a retreat into Kaifeng where they would meet with the Qing 2nd army.
Tibet lost 6,162 men. Manchu lost 26,322 men.