Welcome to the fourth installment of the Empires dev diaries. This week, we will talk about trading and commerce, and how buildings are very important in relation to this.
As you might remember from our previous diary on buildings, they provide a lot of opportunities and benefits. But many will need trading goods to work to their full capacity. They will still function even if the trading good is not available, but you'll pay a hefty sum each turn, to simulate the convoluted ways by which you manage to get a trickle of the precious trade good. For some buildings, this is sometimes worthwhile as they might be instrumental in how you have setup your empire, but in other cases you will be better to disable or destroy the building.
So … trade goods! There are a lot around, something like 50 or so. Some are naturally produced in regions, and you don't have to do much to gain access to them, even if by themselves they won't generate any benefits (you would still need an appropriate building for that). Here, we are talking of wood, stone and the like. Some are manufactured, like pottery, clothes, weapons, sails. And a third category are imported resources, which are produced by another region or country (although as you can guess, these too are either natural or manufactured).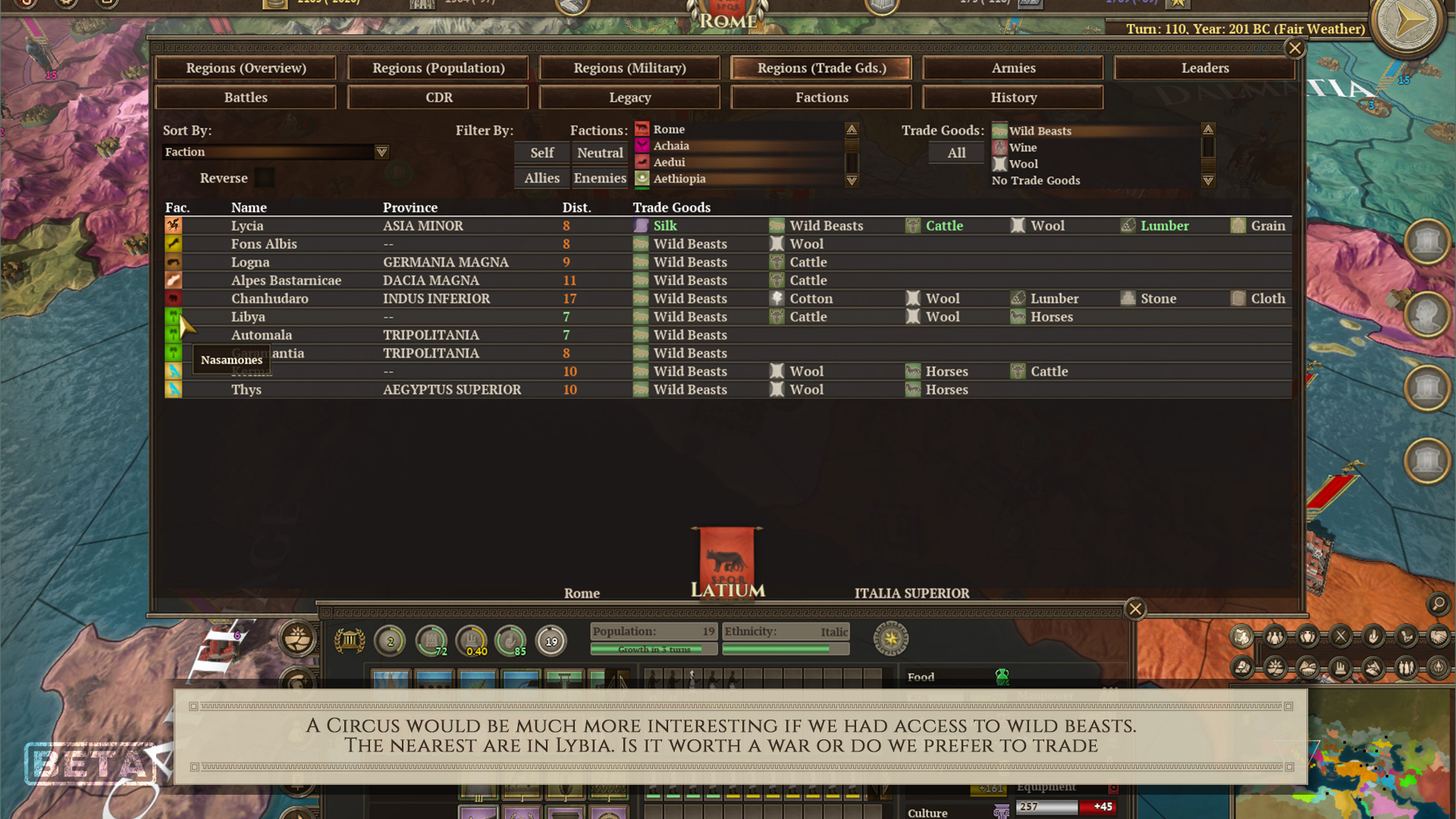 Buildings will often need a trade good. Some good examples would be a spinning mill, in need of cotton (or flax). A mint would need gold, and stables would need horses. This will generate trade between your region, where the structure is, and an exporting region. And, depending of how good your nation is at commerce, the exporting nation can be a neighbor, someone on the other side of the sea or one of your own regions (if it has the trade good obviously). The whole process is automated, and you don't have to worry about who can provide what, as given the scope of the map and the possible size of your empire, this would become daunting to handle, and then, to put it simply, a source of tedium. Now, we did not say it was done randomly. There is a measure of your trading efficiency, named 'Trade Acumen', which will be used when there is competition between several potential sources of supply. As you can guess, your internal trade is much favored here, as well as trade with your allies. But sometime, a powerful trading nation, like Carthage, will literally snatch trading opportunities and get richer from doing this. And that's how you end up with Carthaginian olive oil in Rome while some Sicilian farmers are discontented!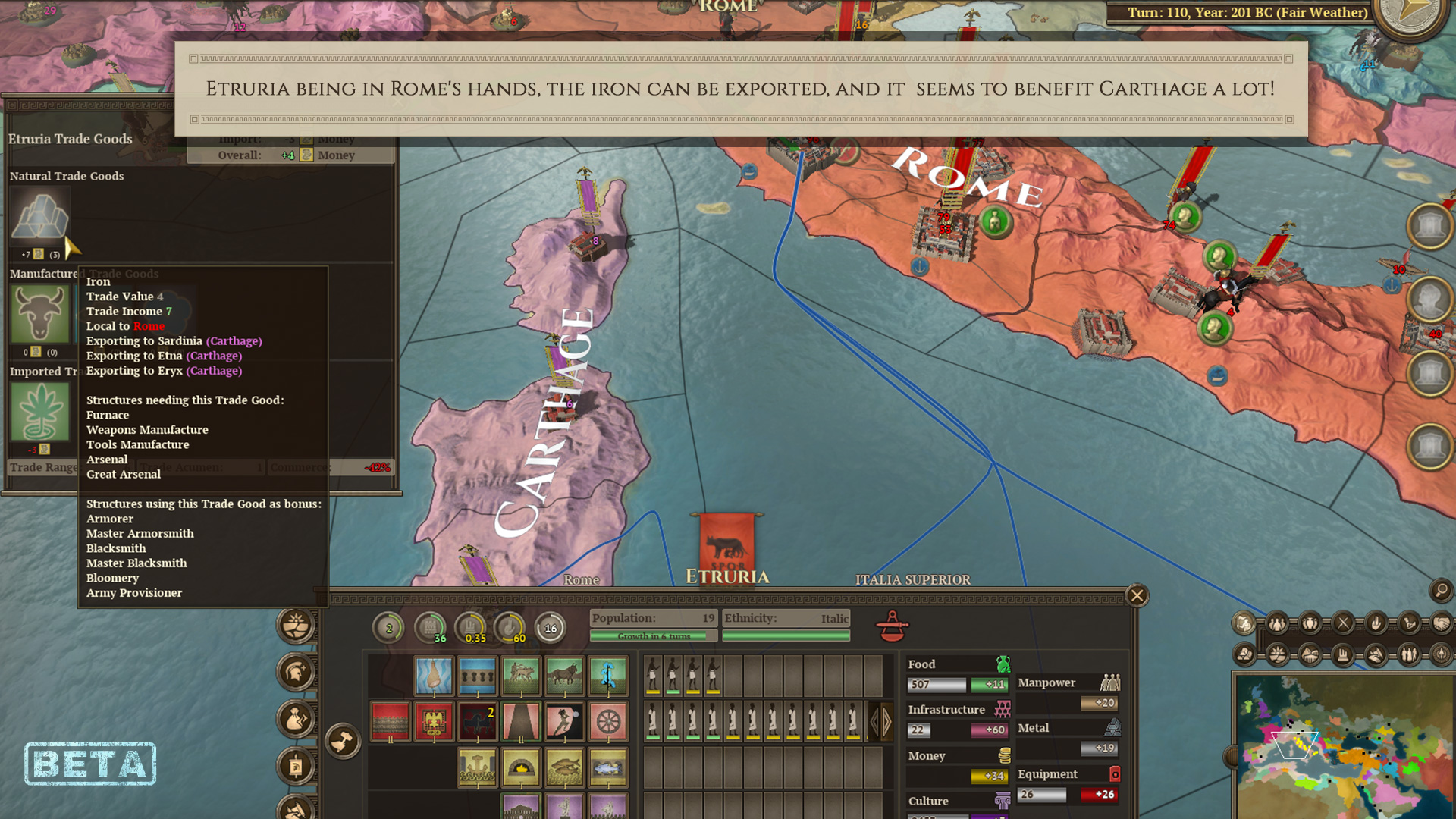 Trade Acumen is something you can improve though, either at your national level, with the right decisions and a proficient ruler, or at the local level, by building trade ports, paved roads, trading centers. All in all, trading is a smooth process in which you can gain significant money, while providing your buildings with what they need. Now, sometimes, trade is not a possibility or is too difficult to achieve, so you'll want to inspect the ledger and see where the nearest source of iron is and then snatch it from the hands of its current owner…
You might think that's all about trading, but definitively no! Because having a good availability of trading goods is much more useful than just having your buildings work without an extra fee. Trading goods also play a very important part in what the buildings will themselves produce. This is done through the mechanism of bonus trade goods. An example will probably be the quickest way to convey how it works.
Let's take a fairly advanced building, the Thermes, in which your citizens will wash, relax and gossip. The Thermes are a healthcare building, and as such give a health bonus in the region, which speeds up population growth while protecting (partially) against diseases. By itself it requires no trading good to work smoothly. But, should you happen to have, either in the region it is in, or an adjoining region, marble or perfume, then you'll gain extra culture and money from the building, as it operates much more efficiently, being now so beautiful and sophisticated! So playing and optimizing these bonuses, although definitively not mandatory to get a good game and win, is one way of getting the most out of your nation. And this might be mandatory, if you like to play at a high difficulty level or against live opponents. For some, this will be the pleasure of enjoying the 'mind game' that this kind of gameplay demands, finding the right supply chain and combining buildings so that one needs a resource that will then be further used by another, etc. A game in a game, for those minded to paying close attention!
And so, to sum up, the surface of trading and commerce will feel simple and easy for newcomers, and it is, as everything works by itself. But when you start delving into the numerous buildings, the goods they need and the goods that would provide extra bonuses, you get a quite rich system, strongly tied to the general economy.