Mark the date as The rising falcon is coming soon.
Field of Glory: Empires - Persia Persia 550 - 330 BCE will be out on May 21st!
The first DLC for the acclaimed grand strategy game Field of Glory: Empires showcases the epic journey of Persia, from its humble origins surrounded by older and bigger kingdoms to be one of the largest Empire in the Ancient World.
New Regional decisions, Units, Faction Perks and Special content awaits you. When the Gods call, how will you answer?
Field of Glory: Empires - Persia Persia 550 - 330 BCE out on May 21st!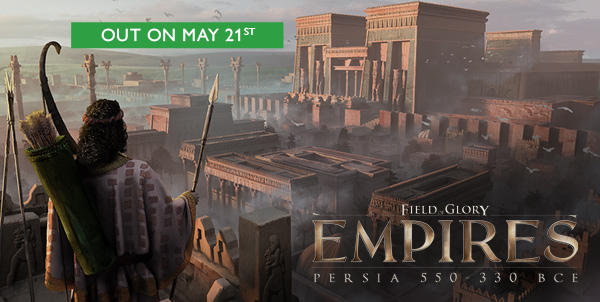 DLC Main Features:
Regional decisions
Each nation will get a new set of tools to further his goals, with regional decisions:
federate some barbarians,
form up a new colony,
force march an army
prospect for natural resources

… and many more
Impediments and Boons
The new campaign starts 2 centuries before the Empires campaign.
Numerous peripheral regions impediments and boons have been added. For instance:
you might encounter Impenetrable Forests, Nauseous Swamps, or other hard environmental conditions
Bandits
you might be blessed in some select regions by a rich soil, an oasis or a sacred grove.
[*]There are more than 80 Impediments and Boons
Special content
Major nations of this time have seen a 'special' focus. Don't expect to play Persia as you play Athens or Lydia! Events, missions, national modifiers, special units and specific buildings will make you play differently.