Well they wanted a volunteer to publicly pilot 2.2. Kragdob was keen. Everyone else took a rapid step backwards. "What? Who? Me?" I said. I think that's what I said. It may have been something a trifle stronger. So here we go. The shape of things to come and my musings on them. Kragdob has promised that he will chip in frequently.
This AAR is likely to be episodic. Partly because of lack of time. Partly because whilst there is pressure to post in near-real time, this is a competitive game and I will be keeping a lot of information out of the public eye. I expect to get soundly beaten by the much more experienced Kragdob but I intend to go down fighting.
Turn 1.
Straight off the bat there are changes: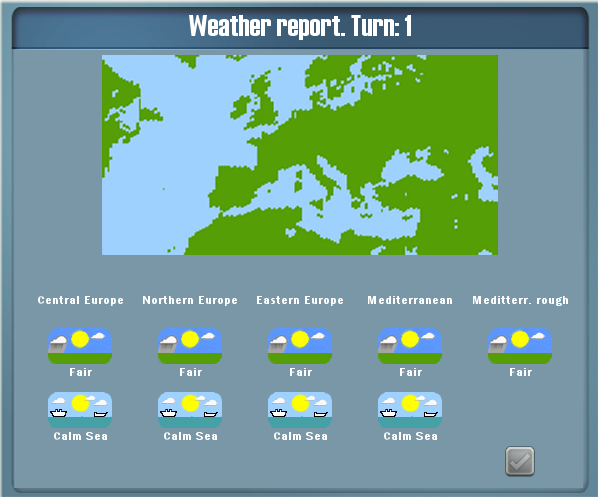 To the action. First I took out Denmark. OK, 8 PPs, but I wouldn't have an INF to spare for a while. No problem except that the cheeky Danish GAR took a step off me. And note the fancy new DoW announcements.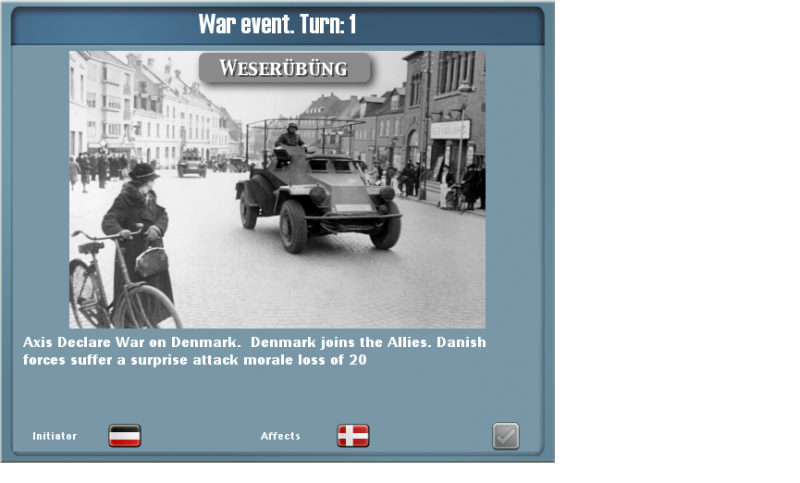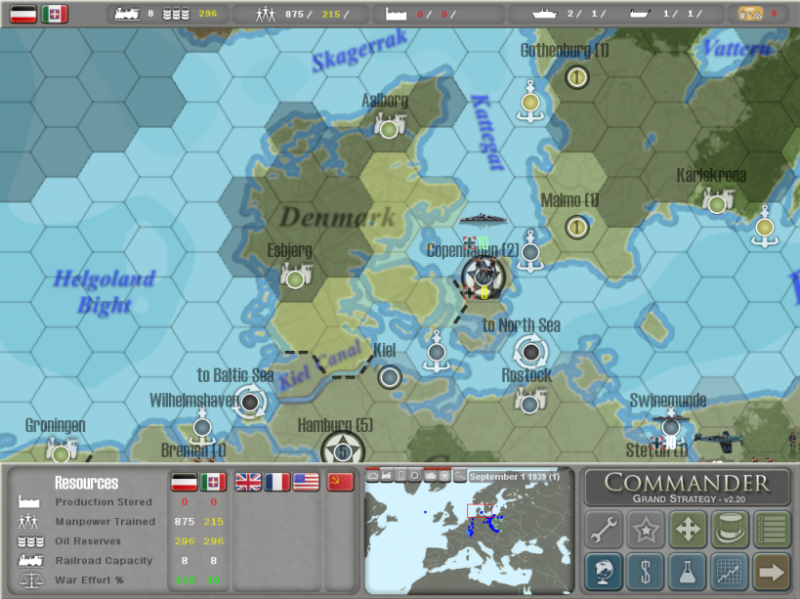 I split my forces to do an early blitz. A limited amount of hotseating had suggested that a basic turn two blitz had a good chance of success. I had, short sightedly, omitted to test the Polish consequences of this
. Anyway, in we went: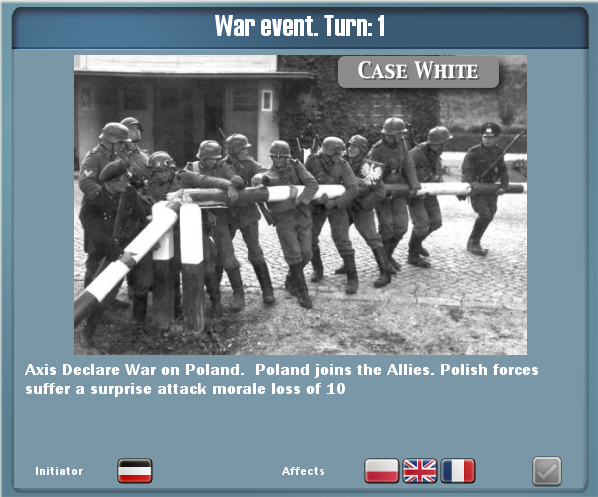 It wasn't long before I was remembering von Moltke's words of wisdom. Somehow I fought my way into the minimum objective of Lodz. The rest of my forces looked as if they were wearing "Hit me" signs: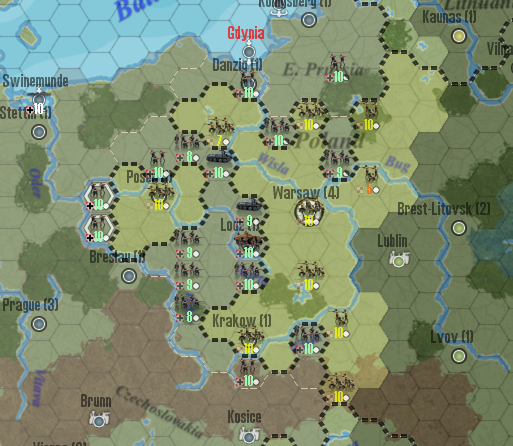 Turn 2 and Kragdob's Poles had fallen on my dispositions with howls of glee: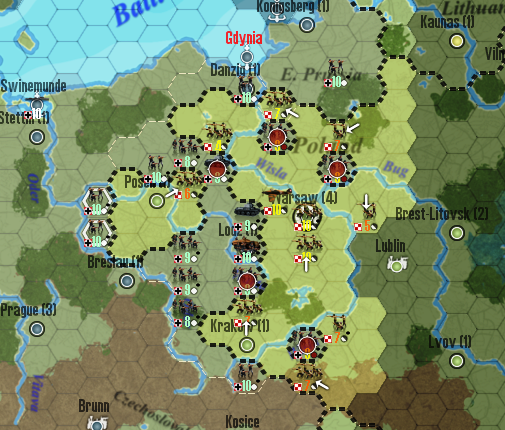 There was a straight forward set of moves to fight my way out, but it depended on the Poles retreating on cue. Happily they did. About to launch the last panzers on a prostate Warsaw: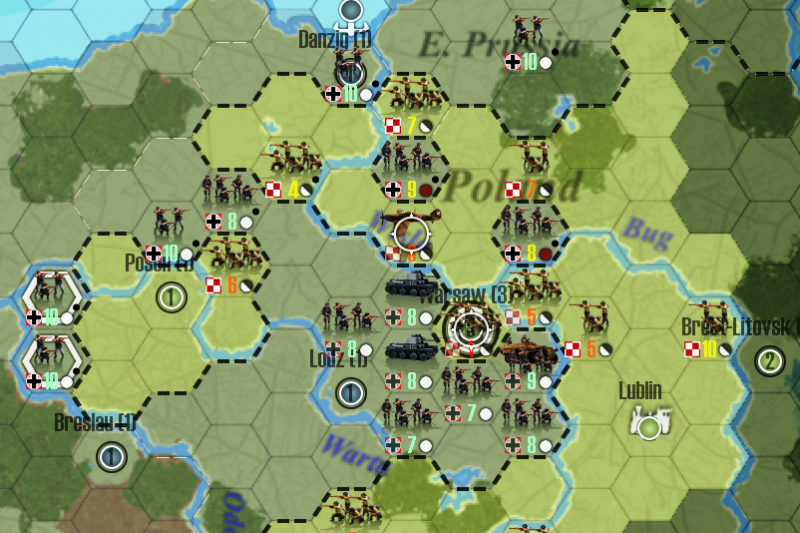 It wouldn't have worked without the new compulsory retreat for air units. At that I reckon that I was lucky to get away with it.
To the western blitz.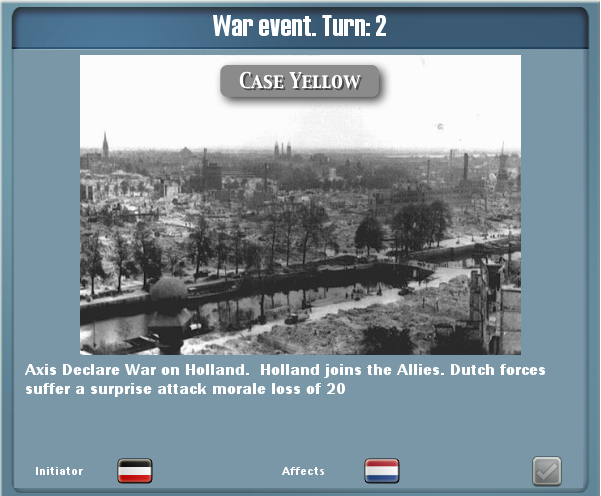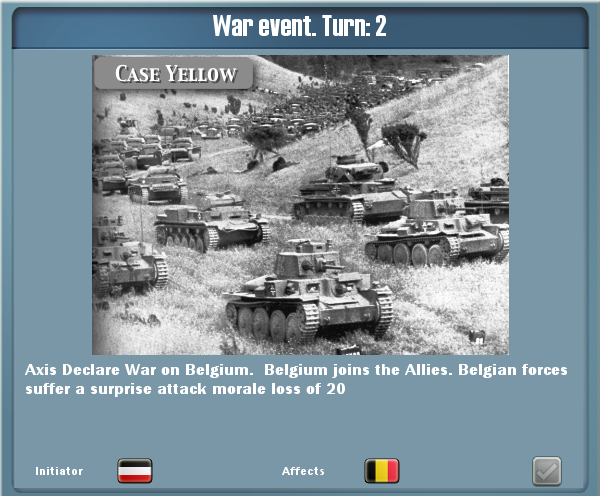 I was entrusting the capture of Arnhem to 2 GARs. In 8 hotseat tests they always pulled it off. What was that von Molkte said? Ah yes. I had to use a FTR to help them out. Still the Luftwaffe seemed to be in fine form: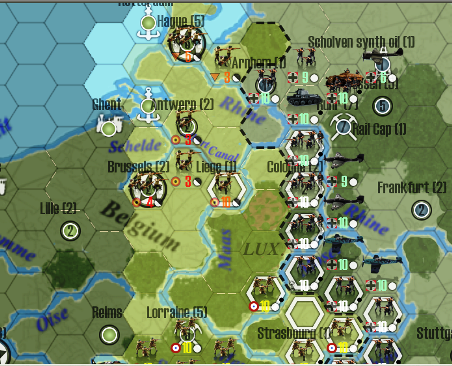 Although the Strat taking a 4 step loss against a GAR must be a bit of an outlier
. In went the main assault. Like clockwork. Until Brussels. When the ghost of von Molkte reared up again. A MECH and an ARM between them could only knock 3 steps off the Brussel's INF. Which had started with an eff of 13.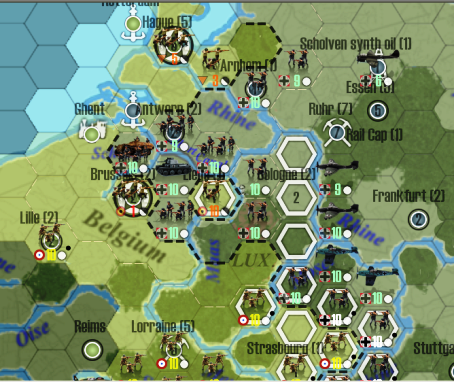 In short, I am not sure that a turn 2 blitz
and
a turn 1 Case White are possible. I was lucky to have taken Warsaw, I don't see where I could have spared a unit. And to take Brussels, everything had go right. (Yes, thank you Helmuth.) Next time I will leave the Luftwaffe in the east for turn 1 and do a turn 3 Case Yellow; or 4, or 5 dependent on the weather.
And so, how will Kragdob react?
Oh yes, to end the turn the Russians did what they do best: