Take a look at some of the new and powerful units the German War Machine would deploy into the battlefield in
Endsieg
, the latest chapter in the Order of Battle series!
PzKpfw E-100
The Entwicklung Series specialization represents several new tanks in different weight classes and focuses on the standardization of their design. It reduces the cost of the Panther and Tiger II tank units and allows production of the E-100, a virtually indestructible super-heavy tank.
Sturmtiger
This assault gun is built on the Tiger I chassis and is armed with a 380mm rocket-propelled round. This massive firepower combined with the thick armour of the Tiger design make this unit very effective at smashing enemy fortifications while crippling their morale and combat efficiency
Krupp K5 Railroad Gun
In the battle of Anzio on the Italian front, this 283mm railroad gun will be available to rain death upon the Allied positions. Due to a slow reload the weapon is rather ineffective at destroying enemy units, but its extremely long firing range provides an unprecedented ability to strike strategic targets anywhere on the map.
SdKfz 251 Uhu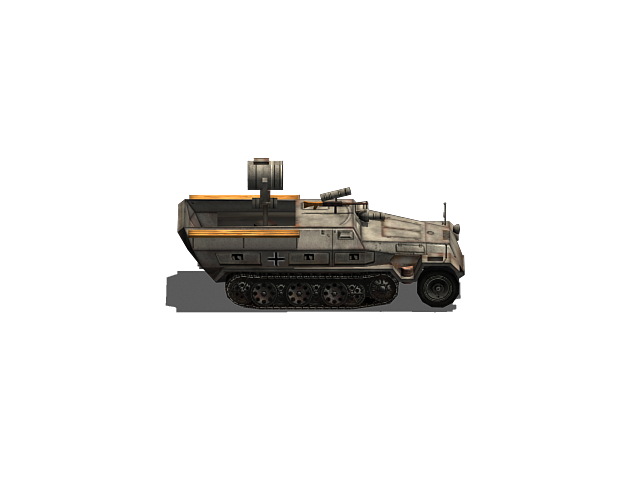 The new Vampir Nachtjäger specialization focuses on infra-red light, which is only visible though special sighting devices. It unlocks the SdKfz 251 "Uhu" halftrack, equipped with a powerful IR searchlight to increase the offensive combat effectiveness of all adjacent German tanks.
He 177 Atombomber
Through the late-war "Uranprojekt" specialization the Germans gain access to the ultimate weapon: the atomic bomb. While very expensive to produce, a bomber carrying this weapon can evaporate any target on the battlefield.
Me 262 Schwalbe