After Rome and Carthage, it's time to let you feel some pressure, and what's better than having to fight for your own survival?
Welcome to Challenge #3 – Antigonos at War
For this Challenge, you'll have to show your best tactical skills, as Challenge #3 is totally devoted to let you experience the integration between the strategic layer of Empires with the tactical layer of
Field of Glory II.
Playing with Antigonos you'll have to prove to your adversaries you are the most skilled among the Diadochi and show the world that the Alexander the Great Legacy is not dead with him!
Challenge #3
:
As Antigonos, defeat at least once the three Diadochi that stands between you and your just claim of Alexander the Great empire. To do so, you'll need to win in a battle against Macedonia, Seleukos and Ptolemeos at least once each. Each battle must have at least 20 enemy units and be done using Field of Glory II to qualify. Each time you win, you'll be notified with a message. You have 50 turns to achieve this feat of martial skills.
Nation Available:
Antigonos
Turns:
50
Map: All playable
Mechanics and features:
All active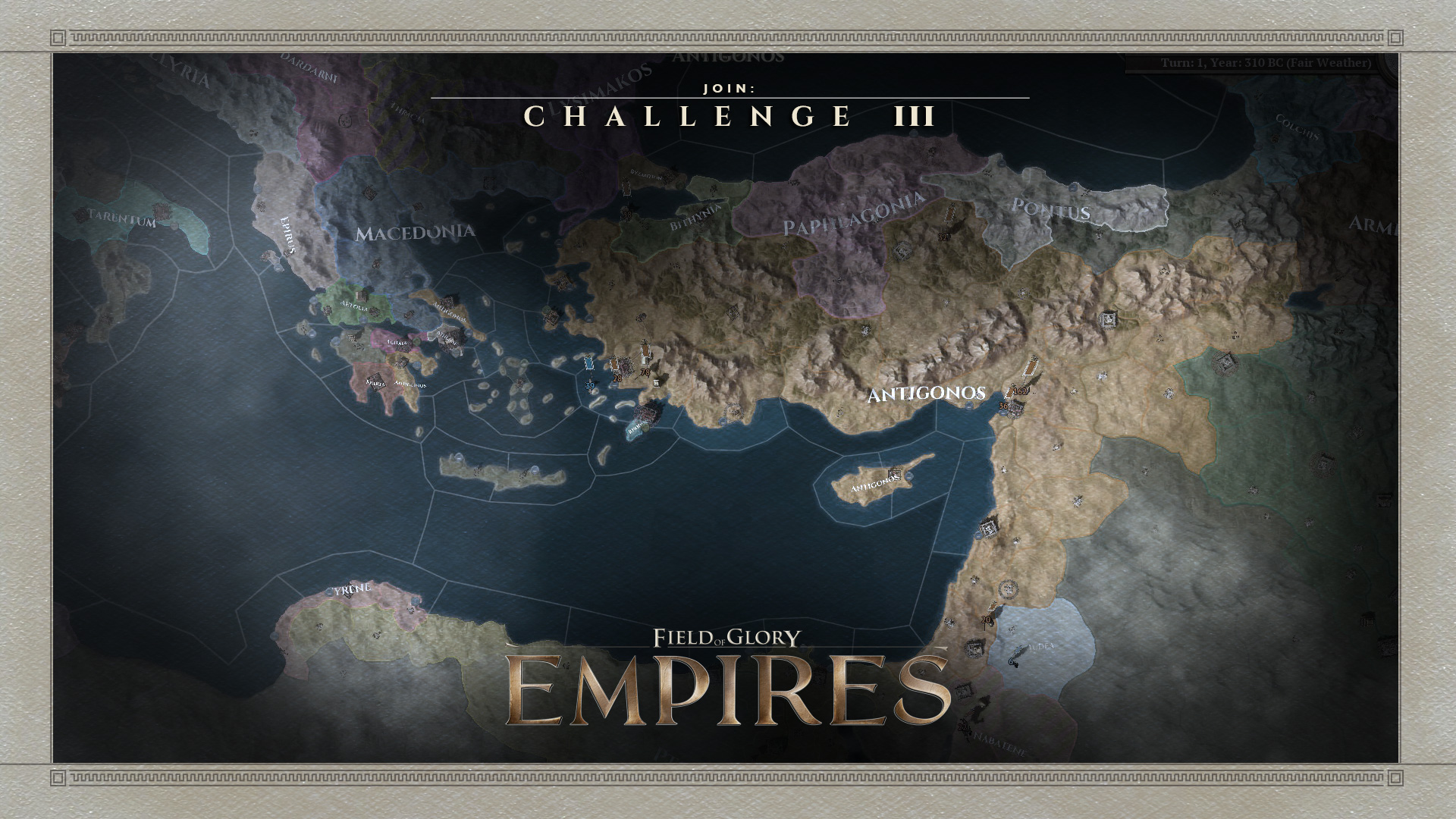 Who can join?
Influencers and media members. The participation is mainly by invitation, but if you think you qualify to compete, write to us at
challenge@slitherine.co.uk
, with your name/nickname and your channel/media.
Time and validity

10 days from the announcement.
In the 10 days of validity, we will gather the videos or the screenshots proving the completion of the challenge and will assign the scores. After all the Challenges have been played, we will declare the final winner by calculating the cumulative points gained in all the episodes.
If you have doubts about the Battle System and the Integration with FOG2, please refers to
Dev Diary #9 (Battle System)
and
Dev Diary #9-Addendum (Playing Empires Battles in FOG2)

Check all the Dev Diaries here
Are you eager to see the Challenge in action? Then don't miss DasTactic on
Thursday 6th
attempting it on our official
Twitch Channel
at 6 pm BST / 1 pm EDT / 10 am PDT