Within the Imperium of Man are a million worlds. Countless souls live, fight, and die for the Emperor. There is no hope, for hope breeds despair. There can be no doubt, for doubt begets fear. There is no salvation, but that granted by the Emperor. The only righteous path is the destruction of His enemies. In the grim darkness of the far future, there is only war.
Warhammer 40,000: Battlesector
is finally out, and we couldn't be more excited.
When the opportunity to make a strategy game set in the epic Warhammer 40,000 universe was presented to us, we didn't hesitate to get on board.
At Black Lab Games, we've specialised in making "action turn-based" strategy games. By that, I mean games that you win using cunning and outsmarting your opponent - not by faster reflexes - combined with action-packed presentation.
Having the chance to apply what we do to the Warhammer 40,000 setting has been an amazing experience. We've worked hard to create the most authentic experience of war in the grimdark future of the 41st Millennium we can. We hope that comes through when you play the game.
We couldn't be prouder of the version of Warhammer 40,000: Battlesector you can play today. As with any game, it's evolved a lot over the course of development. Some features didn't work out and were cut or rewritten a number of times, whilst others we didn't even think of until during development ended up changing the game for the better.
However, this isn't the end of the journey for us working on this game - it's just the beginning. Warhammer 40,000 is a vast universe, and right now, Battlesector is just scratching the surface. We've built a solid foundation and set of gameplay systems for really great battles, but there is a lot of room for expansion. We definitely have plans to extend the game in the coming years, and we hope you'll join us for the ride.
In order to show you what our plans for the first year of development are, we've just published a roadmap image.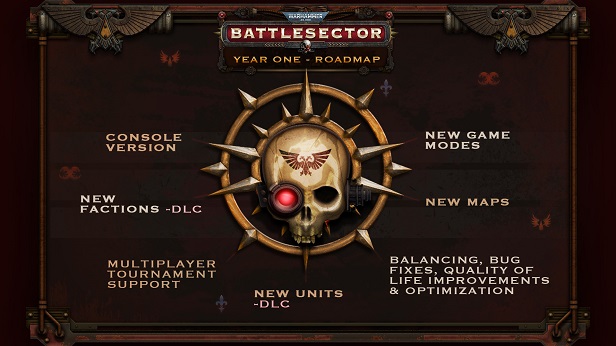 We'd like to thank Games Workshop for trusting us to play in their universe. The Warhammer tabletop game and the Warhammer 40,000 setting is such an influential game in strategy/wargaming circles, so we are truly humbled to be able to contribute to the video game side of the franchise.
We'd also like to thank the team at Slitherine. This is our third game working together, and none of this would have been possible without their faith in us, and their unwavering support over the past 7 years working together.
Finally, we'd like to publicly thank the beta testers that helped us with playtesting and feedback over the past few months. We really appreciate the time, effort and dedication you've put into providing the development team with your feedback and suggestions.
For the Emperor and Sanguinius!
- The Black Lab Games Team