Order of Battle: Road to Burma
Quit India After Action Report
by Kerensky
Historical Situation:
On August 8th, 1942, Mahatma Gandhi stirred up his a civil disobedience movement with a call to Do or Die, launching mass protests demanding an immediate and orderly withdrawal of Britain from India. As the protests turned violent, and with Britain embroiled in the middle of the war, the response to the uprising is swift and ruthless. The resulting arrests of over 100,000 people, including all the leaders of the Quit India movement, solidified British control over India until the war's end.
Preamble:
When I was originally researching the Burma/India theatre of World War II, I came across this fascinating historical event. I knew right away I wanted such a unique piece of history to be a part of this DLC. Of course such events are fraught with controversy, but like the Warsaw Uprising of Panzer Corps Grand Campaign 1944 East, I was confident I could make a historically accurate scenario that did not devolve into mindless civilian slaughter. Thankfully for me, the historical British response to the Quit India uprising was coloured by mass arrests and not mass killings, but this also created its own problems. How to craft such an usual scenario in a game that typically revolves around killing every enemy unit on sight? Thanks to the powerful Order of Battle script and trigger systems, some unique new units and with the help of The Artistocrats, we were able to come up with something very special.
Without further ado, on to the scenario!
Quit India After Action Report
First off, we have the all important briefing. There are 5 sections filled with text to explain to the player the historical situation and their mission objectives. Very important details are contained in the briefing, such as the explanation of exactly how to arrest Gandhi once you find him! Spoiler alert, it's done via trigger, once you find Gandhi you have to surround him with 3 units to arrest him. Of course you have to find him first, and Gandhi's location is randomly assigned at the start of the scenario! On this play through, I opted for level 4 difficulty, so units are slightly stronger than they would normally be.
Now that we've begun, we have our first task. We have to clear the main road into Bombay, but it's choked with rioting factory workers. As mentioned in the briefing, we don't want to kill these workers, just clear the road. So we have to be extra careful when attacking these units not to attack them so hard that they are killed, and we have to make sure we make them retreat the way we want them to run. This little exercise is a great primer in the mechanics of retreat in OOB, you really learn how units behave in retreat here. For example, a retreating unit cannot retreat into an empty space if that empty space is not part of their supply, more on that later!
Note that the unit did not retreat directly away from the tank attack, because my adjacent infantry unit's positioning made it decide to move south instead of southeast!
Also take special note that to help the player determine exactly where they need to 'push' the initial enemy force towards, the game marks all the valid hexes through the extra objective information panel.
A few turns later, we are clearing the last of the factory workers. I opt for a swift flanking manoeuvre to prevent the workers from just retreating further down the road.
But uh oh, we have a problem. One of the stubborn factory worker units did not retreat after being attacked, and now it's too weak to attack with my British Heavy Infantry for fear that I might kill the unit entirely.
Enter the new special British unit designed especially for this scenario: The Military Police unit! With extremely high efficiency damage (20!), but low infantry attack value, this 'softer touch' is exactly what we need to give these stubborn factory workers another push without killing them.
And success, they survive with 1 strength remaining and retreat to an exit hex!
Had it not been for the new military police, I might have failed the first bonus objective, costing me 2 precious specialization points.
Now is where we diverge slightly from history. Though the Indian National Army was a real force that fought against the British and aided the Japanese during World War II, they were not present at the Quit India riots. However to give the player more to do than just bully some civilians around with their tanks and other military hardware, we've saturated the city with many of these Indian National Army bandits. This way, the player has an enemy they can engage freely without penalty. Just like a real riot, there are those civilians who are trying to enact some lofty social change, and there are those that are taking advantage of the situation to loot, destroy property, and perhaps even worse... Do we feel like riot police offers yet, having to exercise non-lethal restraint against the general mob, but still having to deal with the violent opportunities hiding in the crowd?
And those bandits put up a serious fight, really putting a dent into my Crusader tank!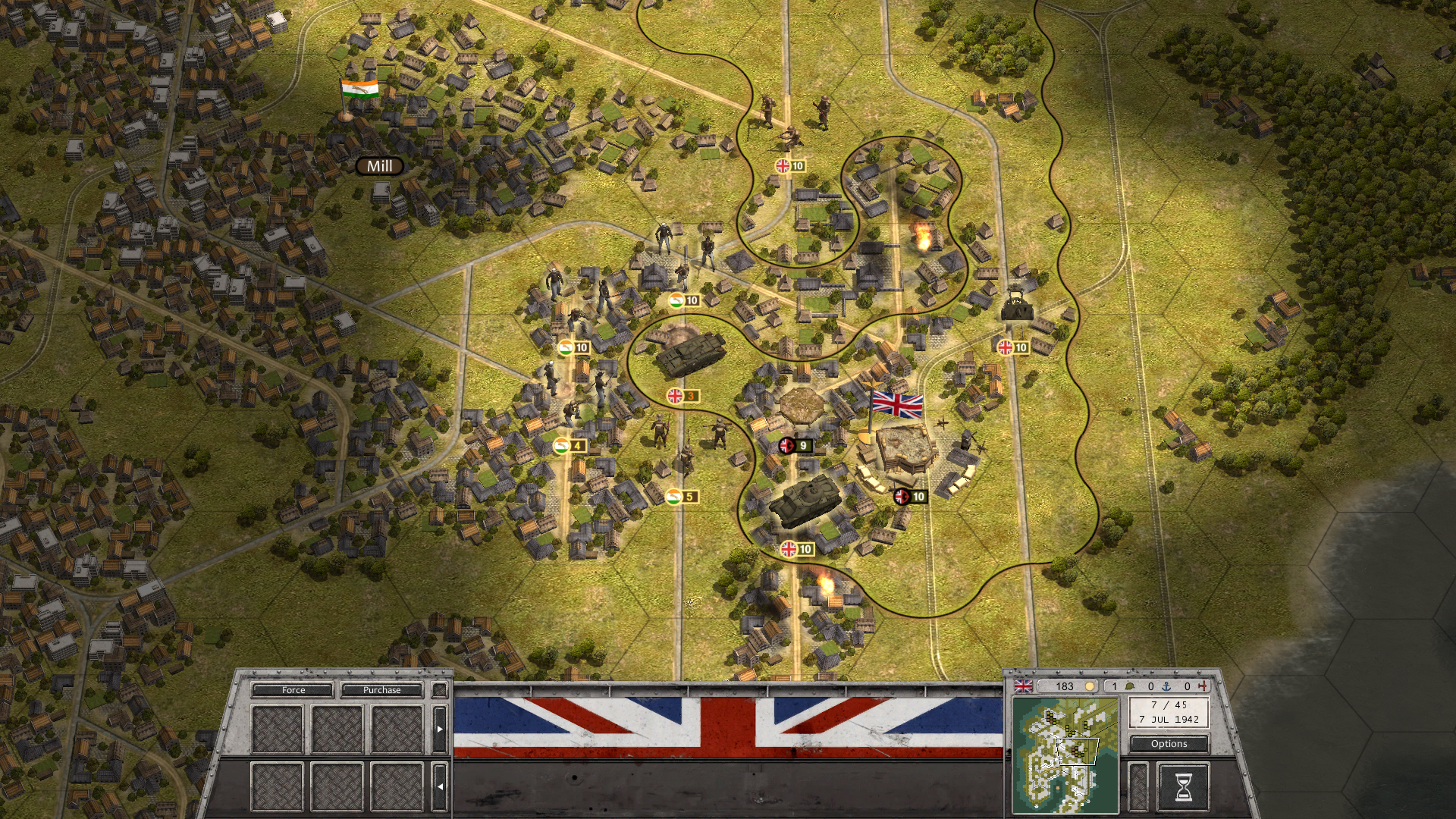 A few turns later though, I've hunted down the last of these bandits, and secured the British admin buildings and their civilian staff.
At this point, I decide to split my force into two groups, working my way around the perimeter of the city and trying to avoid the city centre.
The real geography of Bombay also forces this decision on me because there is that concave of water that is known as Back Bay that separates the southern reaches of the city.
One force rendezvous at the race track location, complete with actual little race track graphic there!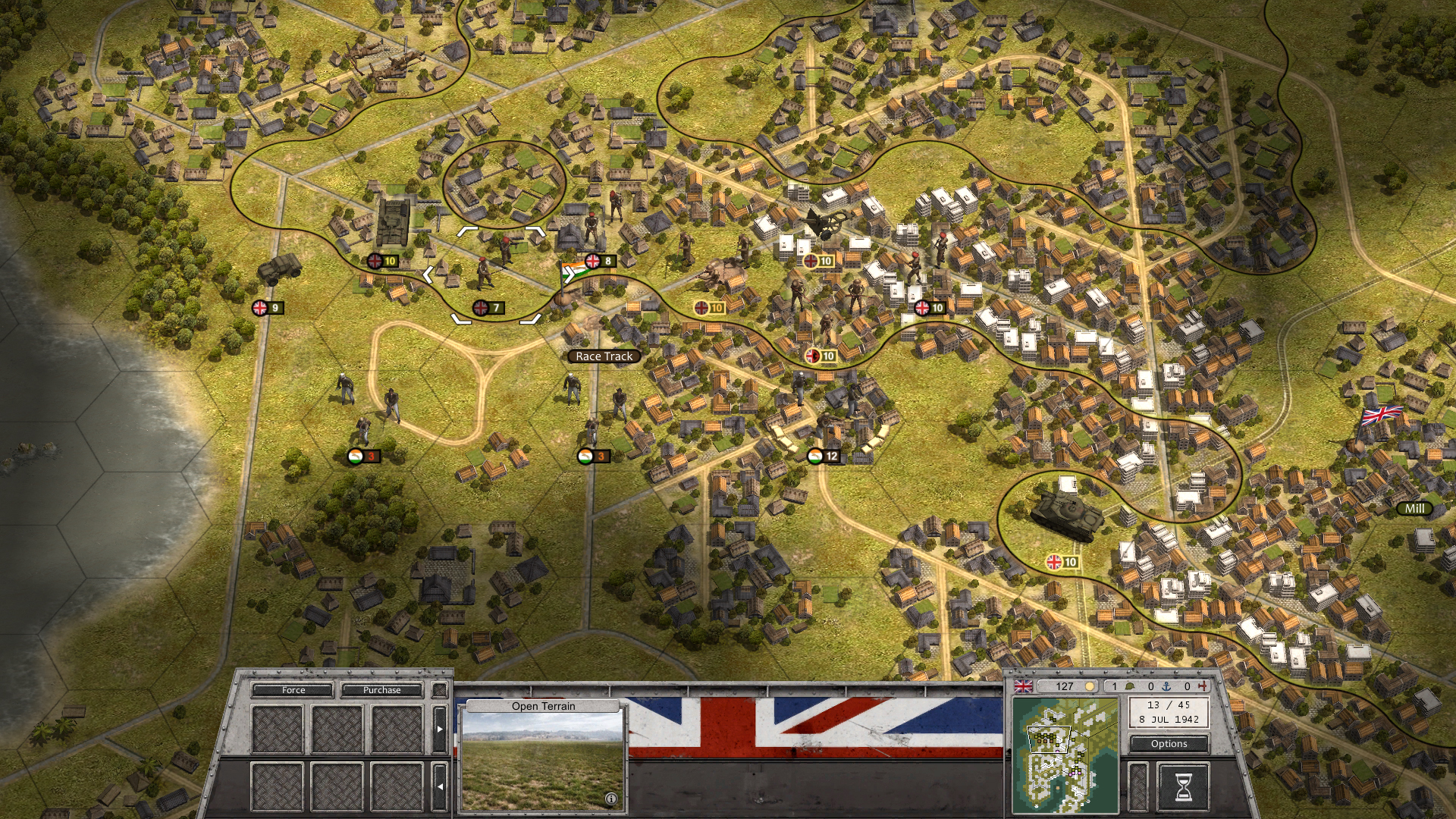 While the other half of my force proceeds to scour the Victoria and Alexandra docks.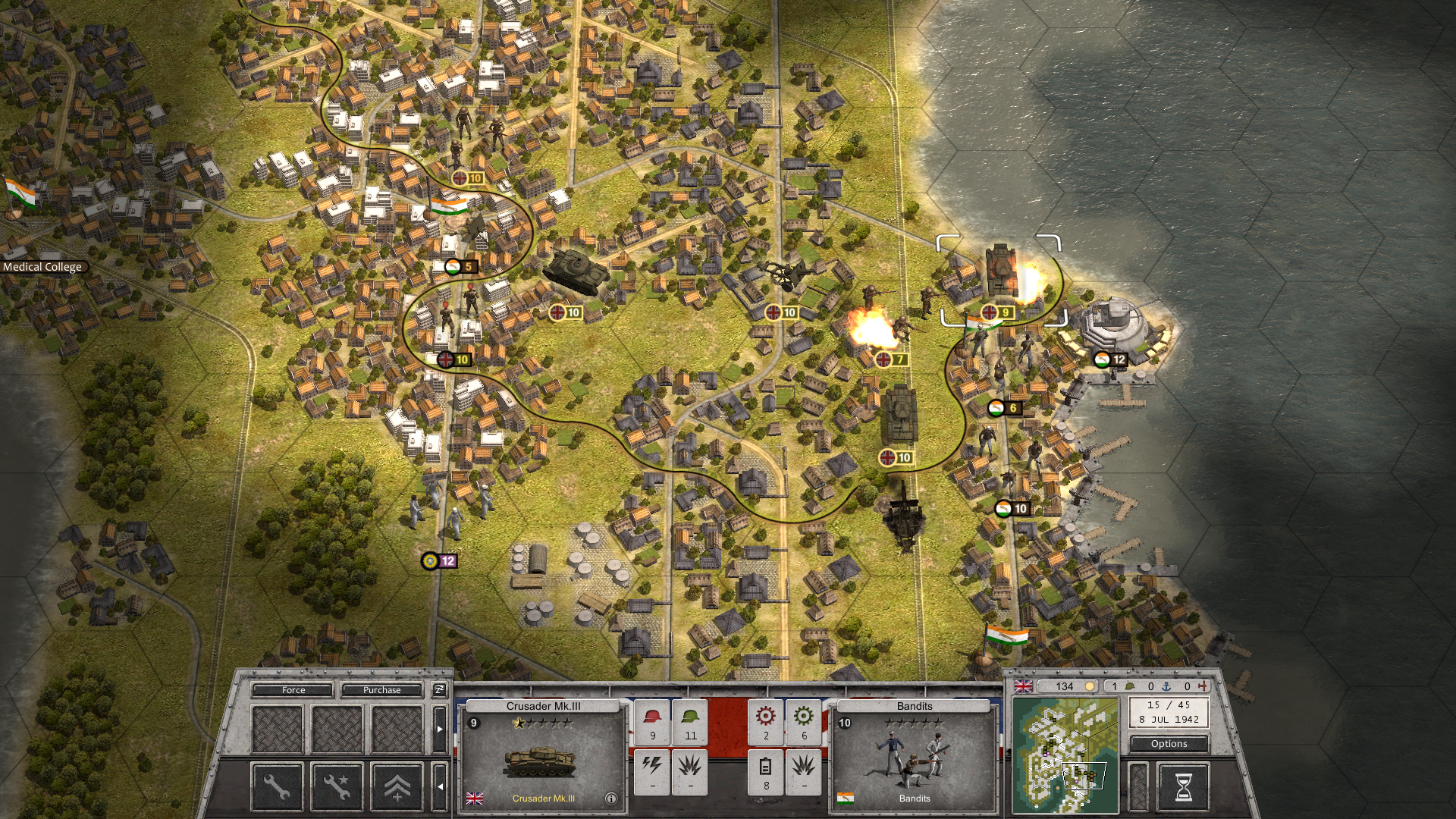 Not a turn later, however, my plan is almost ruined by the Indian National Army. This one little cheeky bugger of a unit almost supply cut my entire force advancing south along the docks! That's not scripted to happen, that was purely the AI making a play all on its own!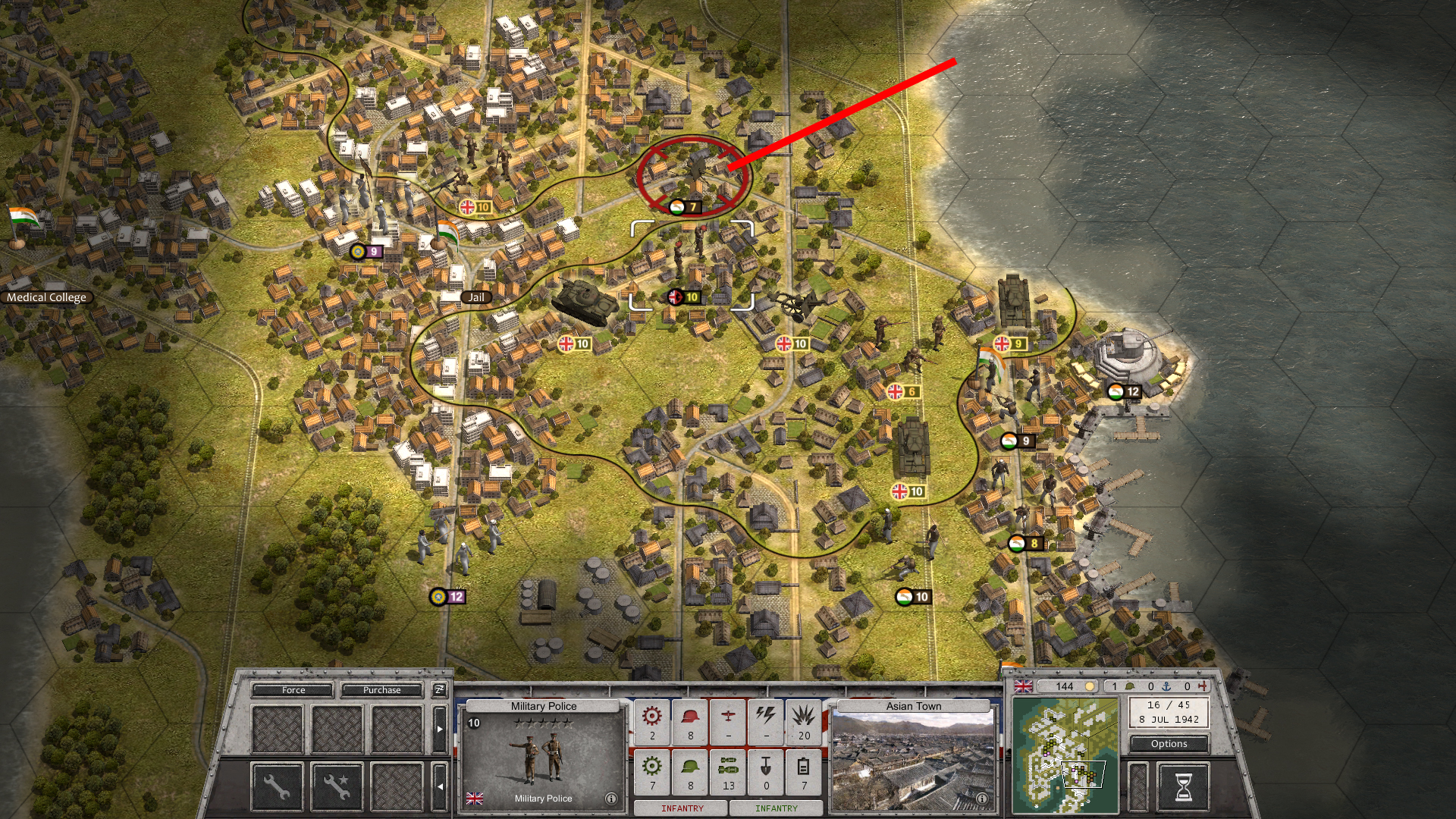 A few turns and some limited Indian National Army attacks later, and the docks area is secured.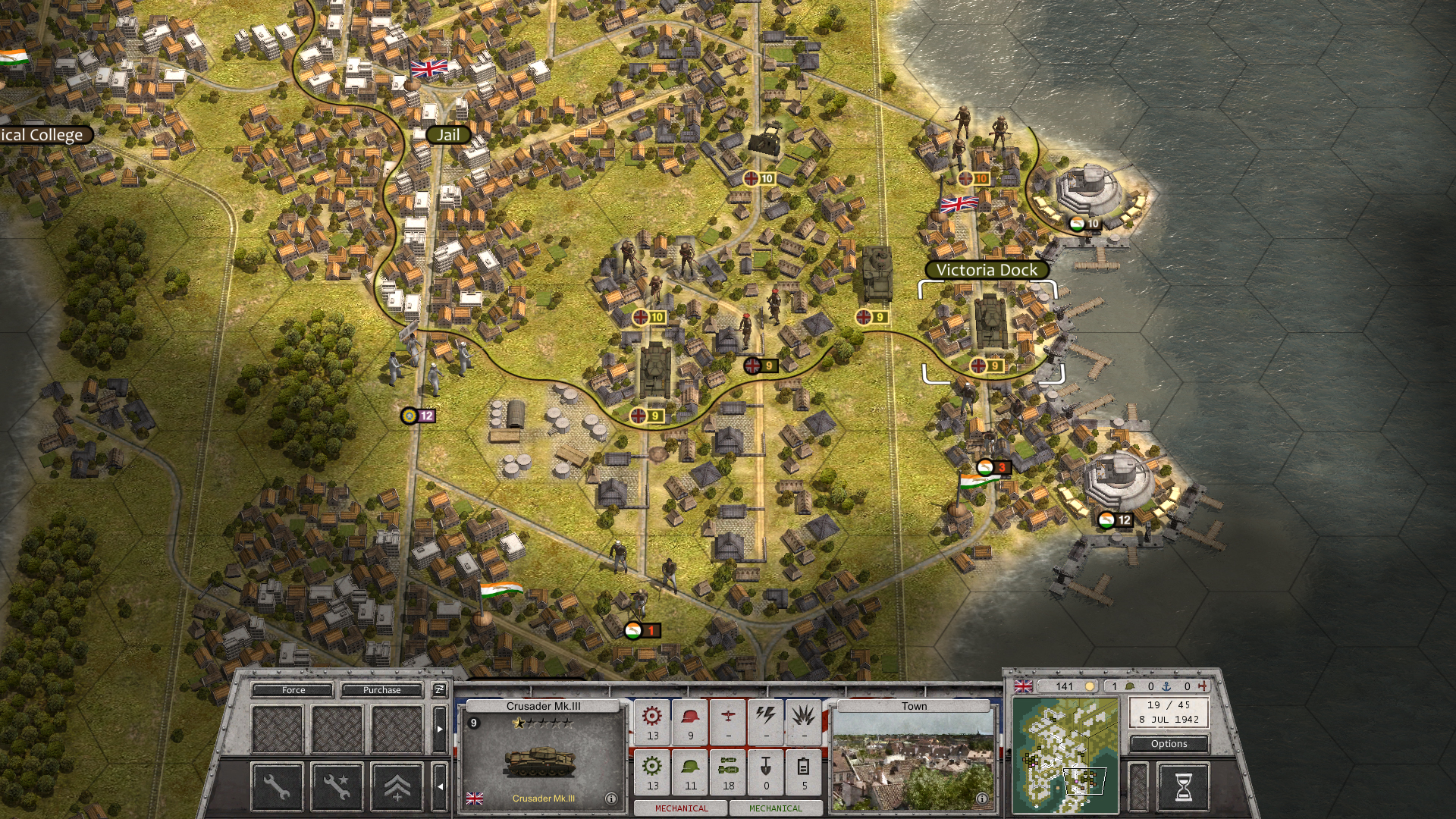 Meanwhile on the other side of the city, my force approaches the first possible location that Gandhi might be located at, the Bombay hospital... but he's not here, the search continues! Note the fantastic detail of the new units created by the Aristocrats for this scenario. The little civilian rioters actually have a little sign that says 'Quit India'. Brilliant detail! And white is not only accurate colouring, but a deliberate choice to further discourage the player from killing units that are representative of holding a white flag.
In another strange and unscripted event, one, just one, civilian rioter decided to mount a second attack on one of the admin buildings. But a little machine gun fire quickly chased him off, and in the following turn that unit once against disappeared into the fog of war.
Turn 27 of scouring the city, and the second of four possible Gandhi locations has been scouted, but still no Gandhi at Malabar Point!
But there is success for the forces on the eastern dockside, as my Grant tank unit finally spots Gandhi himself!
Once detected, my units move in swiftly to brush aside a civilian rioter and arrest the leader of the Quit India movement.
Now leaderless and with thousands more arrested, the movement quickly dies out before it can spread to the rest of India.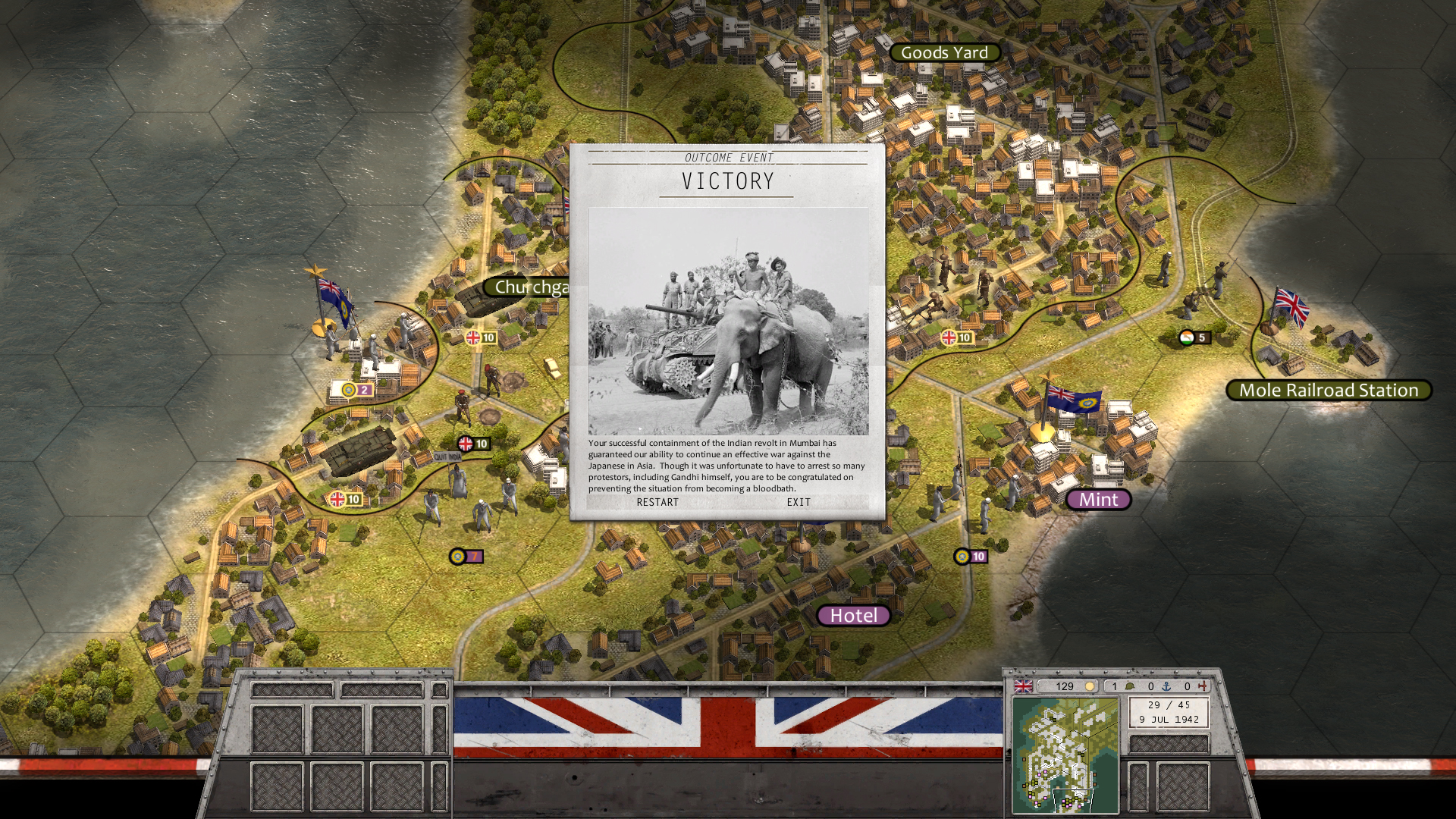 And that brings at end to a very special and uniquely historical scenario in the upcoming Order of Battle Burma Road DLC. In the end, I was able to fulfil all of my objectives, including both bonus objectives to not kill any factory workers or civilians, netting me a wealth of specializations points to bring into battle once I re-engage with the Axis Japanese in future scenarios. This scenario isn't meant to be a mockery of history, but a celebration of the fact that these events really happened. And we do want to celebrate history, not just hide behind the inconvenient aspects of it, because even the darkest parts of history can serve to teach future generations. However noble the intention of Mahatma Gandhi wanting freedom for India, the struggle against Germany and Japan was too important for the fate of the entire world for the British to simply let go of their control of India at the time. In this case, I applaud the British response to the Quit India riots for being remembered as an event that resulted in mass arrests only, and not mass killings, and geared the content design and also my play style accordingly.
We hope you enjoyed this preview!