Moderators: Slitherine Core, Panzer Corps Moderators, Panzer Corps Design
I understand that these units are not included in the game because of some european countries politics. But, is there a mod that includes them? The game seems so un historic without them.
---
Sergeant - 7.5 cm FK 16 nA

Posts: 239
Joined: Sun Aug 23, 2015 2:23 pm
---
Major - 8.8 cm FlaK 36

Posts: 968
Joined: Sun Aug 08, 2010 6:06 pm
Location: Plymouth, England
Unless I've misunderstood your question the simplest way to get SS units is to simply select 'SE' German infantry units in the standard game (SE stands for 'Special Elite' they've got SS-looking uniforms) and re-name them (select unit and hit ALT-N) to anything you want like this-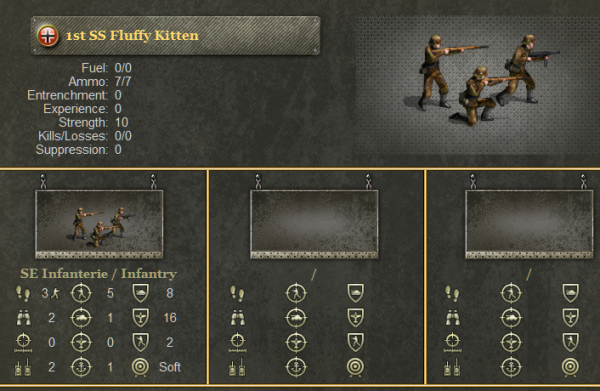 ---
Thanks replies re SS units. Downloaded the mod mentioned and now have them, thanks !
---
Sergeant First Class - Panzer IIIL

Posts: 381
Joined: Fri Sep 26, 2014 2:57 pm
Location: The Netherlands
Contact:
Its a wonderful mod - worth while trying
---
Master Sergeant - U-boat

Posts: 548
Joined: Sun Dec 04, 2016 6:47 am
Location: Behind your backs
Shoot first. Ask questions later.
---