In previous threads, many have expressed skepticism about 3D graphics, but few have put their finger on
why
such graphics are bad. Here I will show exactly why they won't work well, and why they can
never
work well.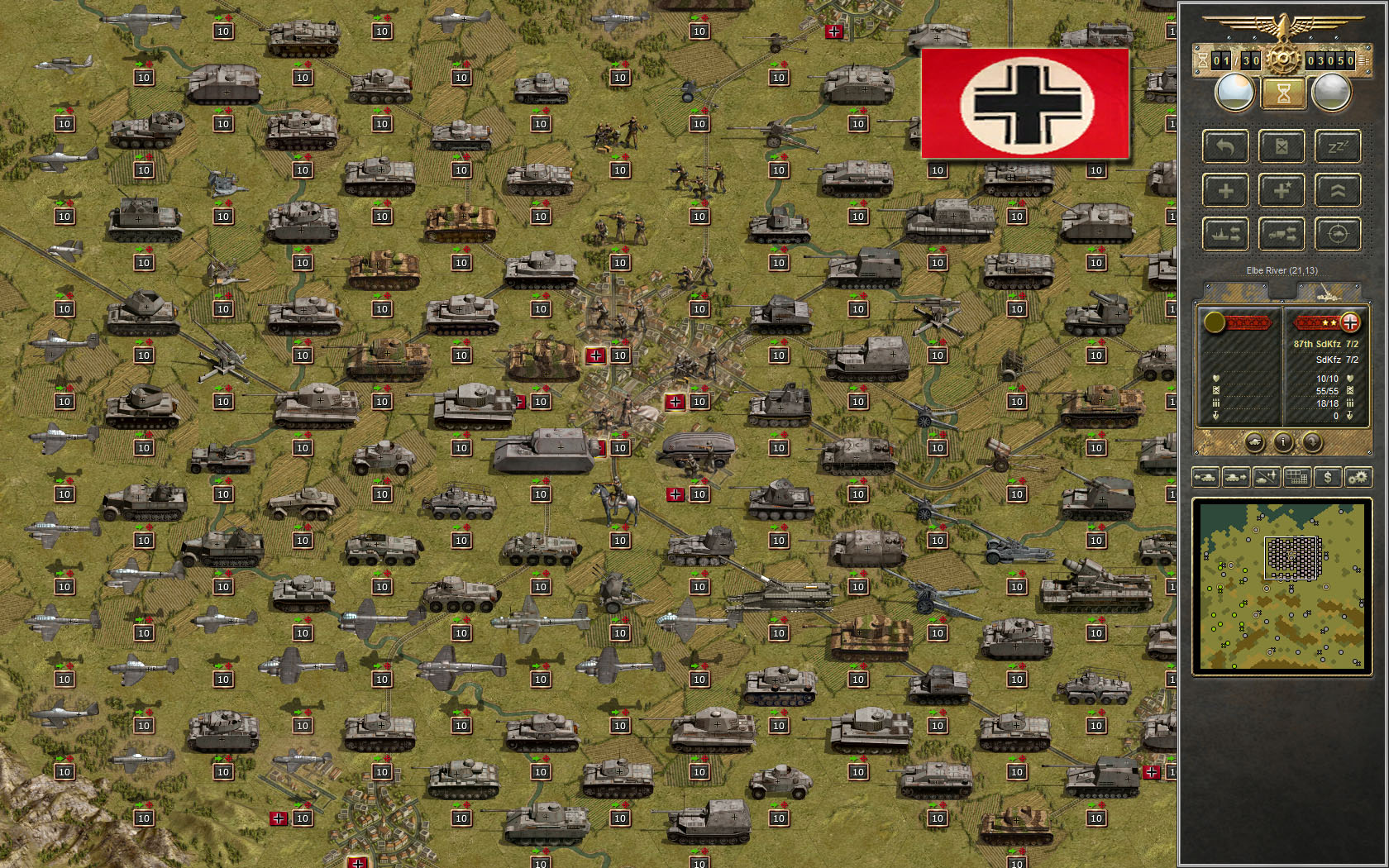 Check out the image above. The hex grid is displayed as seen from directly above. The cities and terrain are depicted as they would be seen from not quite directly above, perhaps 20˚ off from above. The units, however, are depicted as seen from the side. Actually its maybe 20-30˚ above horizontal. Enough that you see mostly the side of the unit, but a bit of the top as well. The units are most distinct, and most beautiful when seen from this angle. It doesn't matter that the units aren't sitting on the board realistically the way a chess piece sits on the board because we don't expect that in 2D. The eye doesn't question it, it just accepts it and moves on with what matters-
the game.
Now check this one out. Because we are now working "3D" the units sit on the board the way physical pieces would sit on a chess board. That means the units, terrain, and hexes must all be depicted at the exact same angle or it will look stupid. Indeed, the 3D invites the eye to try to interpret everything realistically, so the tanks the size of runways hurt your mind a lot more in the above image. Now when you look down from above, you see only the top of the units heads! It is so, so hard to know what unit is what that way and much of the beauty of the 3D models is completely lost. To make it easier, they've added long shadows.
I repeat- we've gone from identifying units by beautiful profiles to instead identifying them by their shadows. That's crap.
Ok, say the designers. No problem. Just tilt the whole board! Now we can see the sides a bit, but the angle is very oblique. That makes the hexes wider than they are tall. It makes east-west horizontal distances seem greater than north-south vertical distances. Sure, we can take this distortion into account, but that's extra cognitive load on the player, and not the fun kind of cognitive load.
In summary, 3D imposes the requirement to depict the units, terrain, and hexes all from the same angle and that's bad for the game. It makes it less playable from the straight above "God's eye" perspective that works best for board games. It makes scaling issues seem worse. And the only proposed fixes, the extensive use of shadows and making the player constantly tilt the camera up and down, are lousy fixes.