I got a post from a new player who had troubles defending vs. CP AI with the Schlieffen plan in my PotzBlitz mod for CTGW.
Here's a turn by turn AAR of how to defend until end of turn 9 when the front is stabilized.
No reloads were used.
Start of turn 3: CP has moved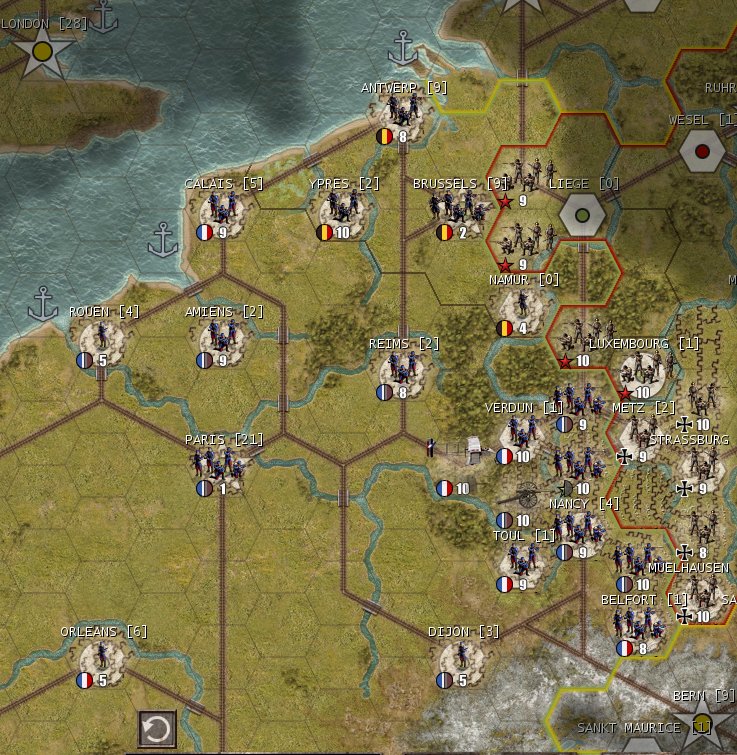 This is usually a bad start because the Reserve Corps at Reims suffers from loss of movement because of the German surprise, else we could have moved it to Namur after having moved out the Belgian Garrison to soak up a German attack. A Reserve Corps at Namur will hold out much longer than a Garrison.
Britain DOW is delayed because "Guarantee to Belgium" was not played and Germany did not demand for Right of Passage through Belgium.
Entente events played until now: Full Russian Mobilization, British Royal Navy Review
End of turn 3: Entente has moved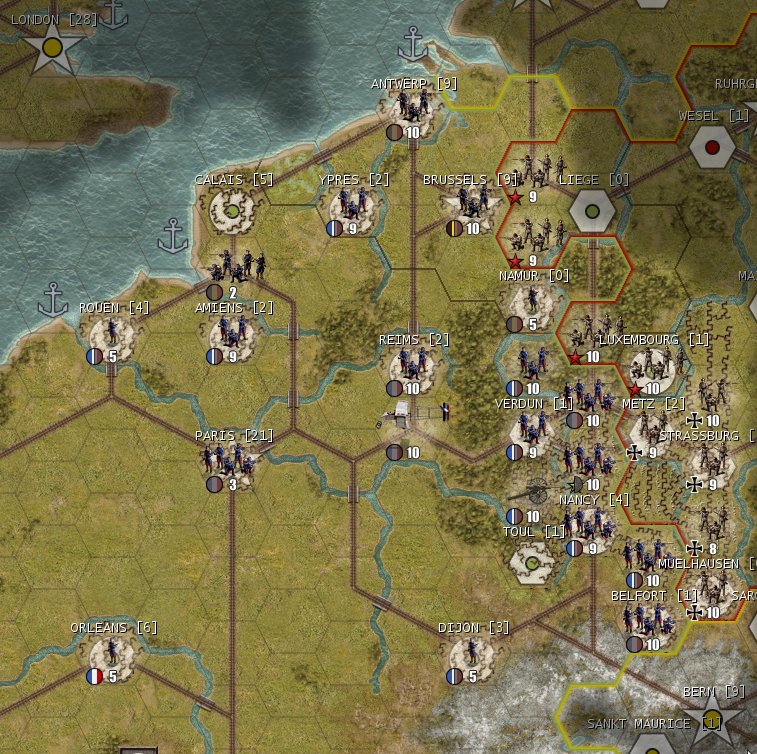 Rail-moved the Belgian Army Corps to safety to fight another day.
Repaired a few units that started understrength.
Built a French Reserve Corps and a second one using PP from Britain sent via Transfer-option in Diplo scree.
Moved the Ypres Belgian Reserve Corps to Brussels as a pawn sacrifice to slow down the Germans and the French Reserve Corps to Ypres.
Events played: Russian Military Aid to Serbia, Italy declares Neutrality, French Army of Africa (got bombed by Goeben Battlecruiser)
Start of turn 4: CP has moved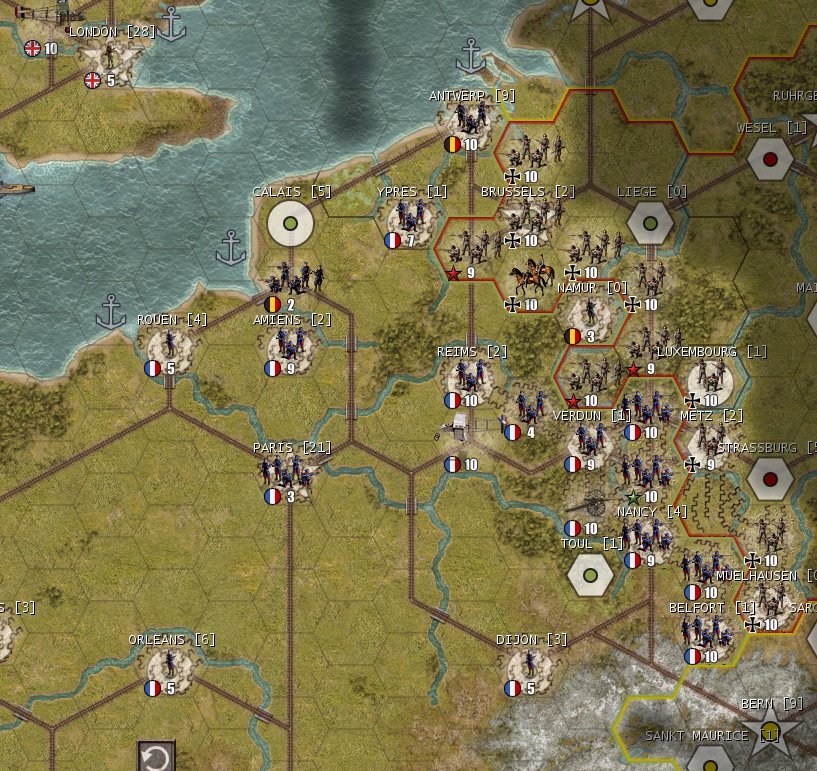 End of Turn 4: Entente has moved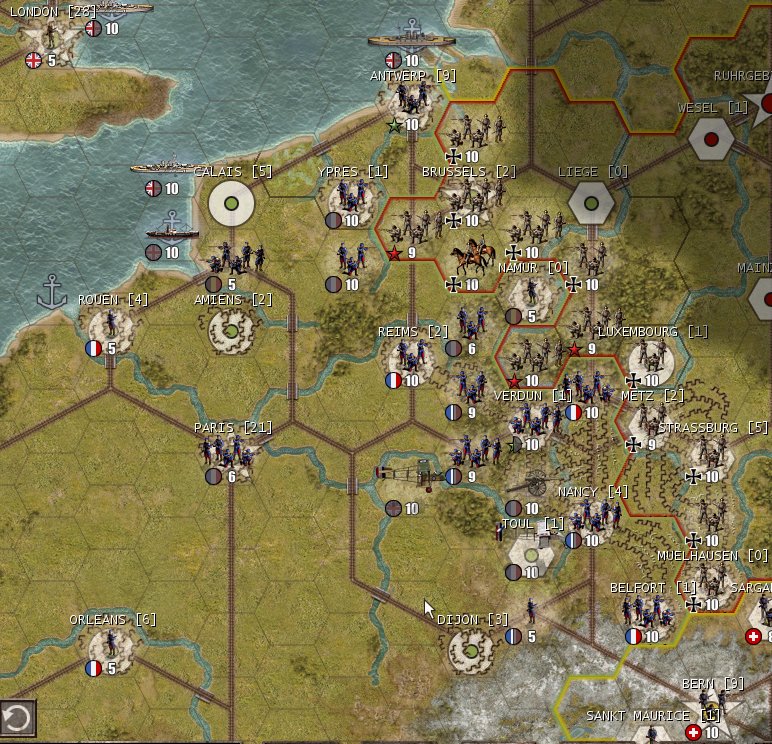 Put King Albert into Antwerp.
British Pre-Dread keeps Antwerp in supply.
Moved the Amiens Reserve Corps south of Ypres.
Moved the damaged French Reserve Corps near Verdun to southwest of Namur.
It is important to buy time by blocking hexes which often means sacrificing Reserve Corps and Garrisons while keeping as many Army Corps up to strength.
Repaired Belgian Army Corps and Army Corps at Paris.
Built 2 more French Reserve Corps.
Events played: British Expeditionary Force, Increase Industrial Output
Start of turn 5: CP has moved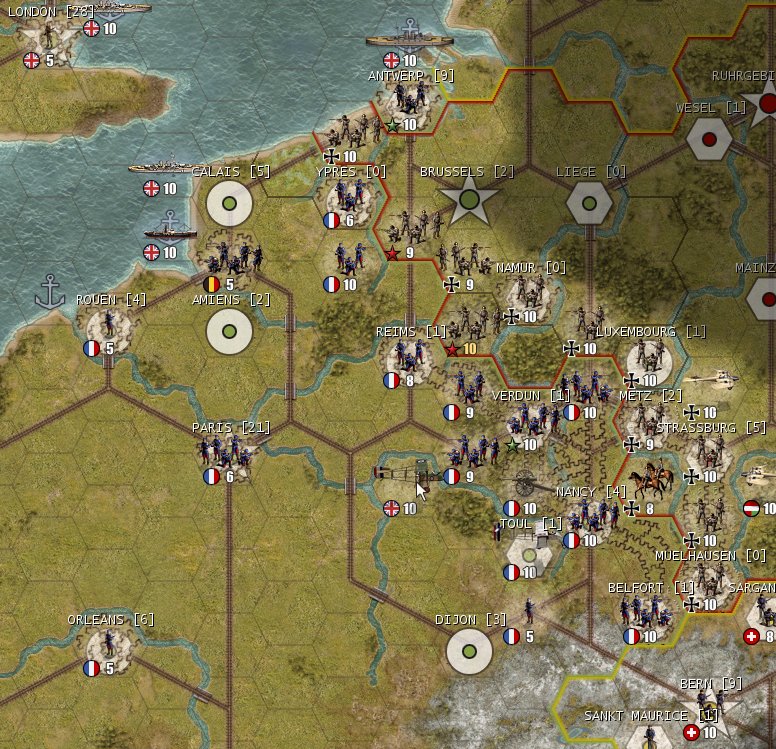 End of turn 5: Entente has moved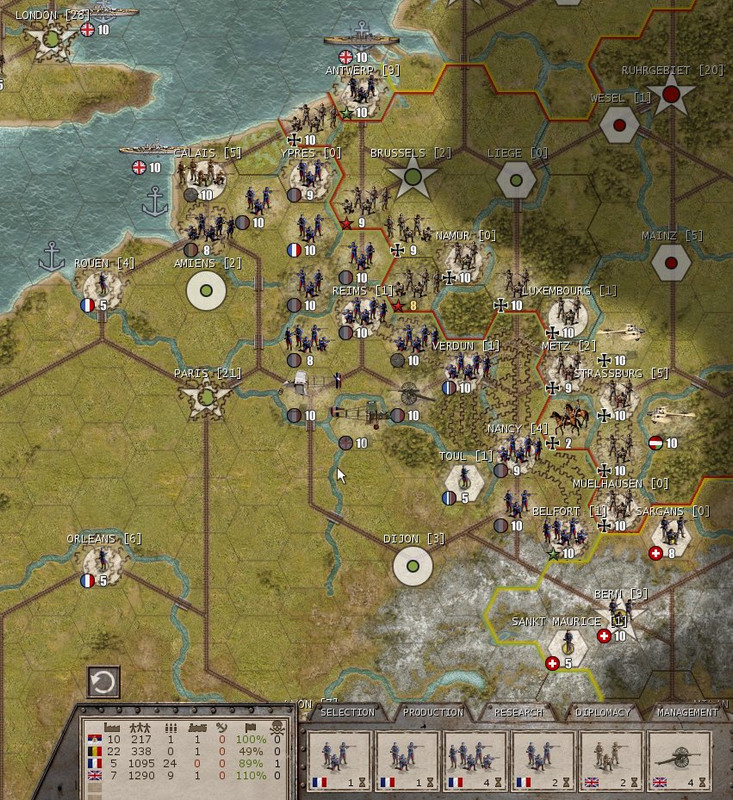 Brits have landed.
Belgium Army Corps almost ready for further use.
Moved 3 Army Corps commanded by Lanrezac including the almost repaired Corps from Paris to block further German advance after they chewed through the screen of Reserve Corps.
Joffre got unlocked which means that "Attaque a outrance" is imminent!
Still attacked the German cavalry at Nancy because of favorable combat odds and got lucky not triggering Attaque a outrance on my turn.
Moved Reserve Corps to free Army Corps at Belfort.
Britain built Reserve Corps and Artillery.
Events played: British Blockade, Anglo-Japanese Alliance
Start of turn 6: CP has moved
A few French units have suffered damage and efficiency loss from "Attaque a Outrance" but nothing too bad since no unit was bordering on too many enemy units and the one that did would have been killed anyway.
End of Turn 6: Entente has moved: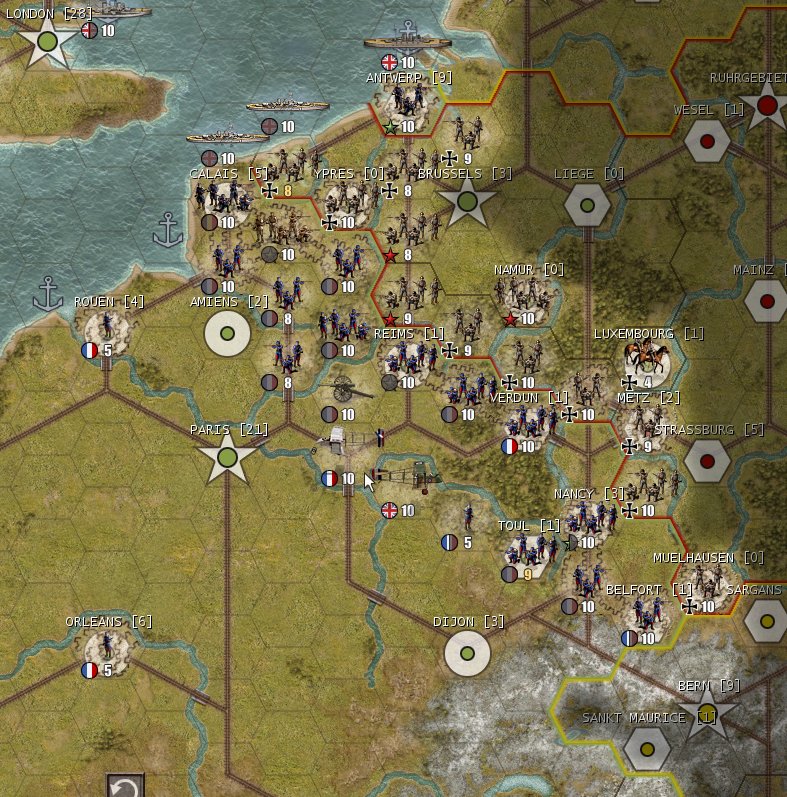 British navy starts shelling German units at Belgian coastal hexes
Events played: cannot recall
Start of turn 7: CP has moved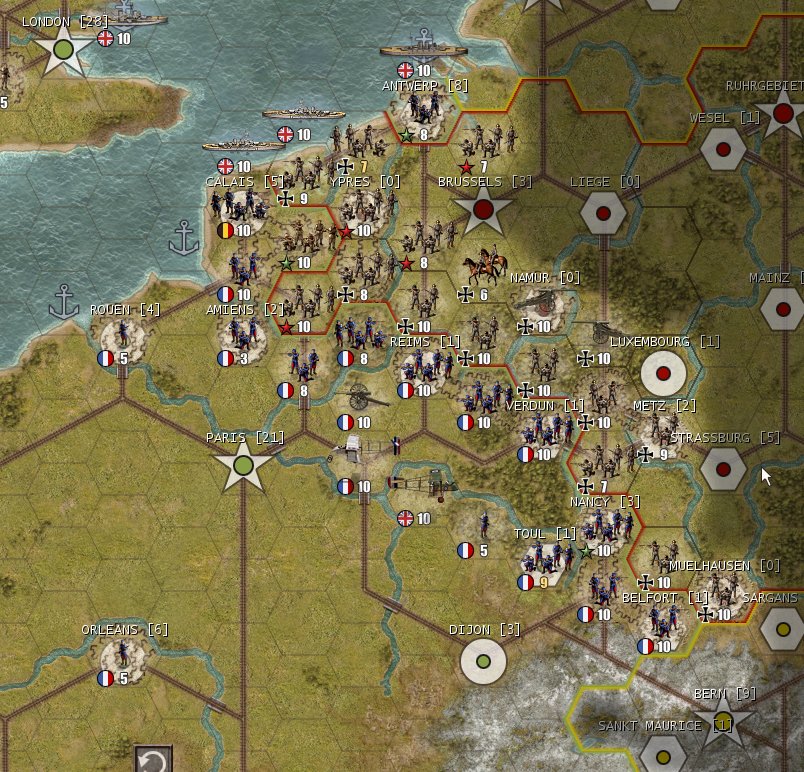 Dangerous German breakthrough northeast of Amiens.
End of Turn 7: Entente has moved: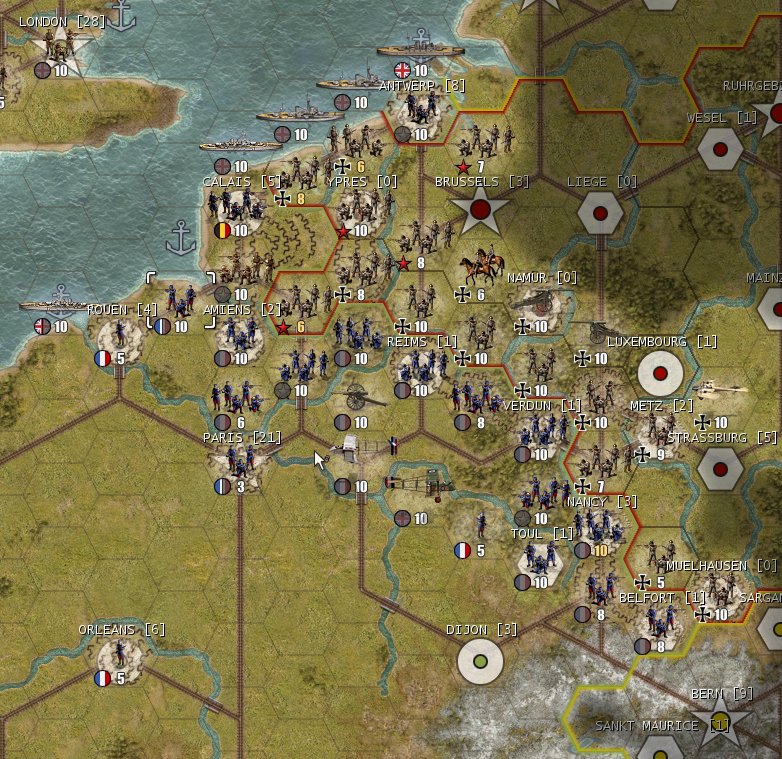 Blundered movement for BEF, so Belgian Army Corps must defend Calais for a turn, helped by Royal Navy bombardments.
German units start to tire but dangerous buildup of German artillery facing Verdun.
Start of Turn 8: CP has moved: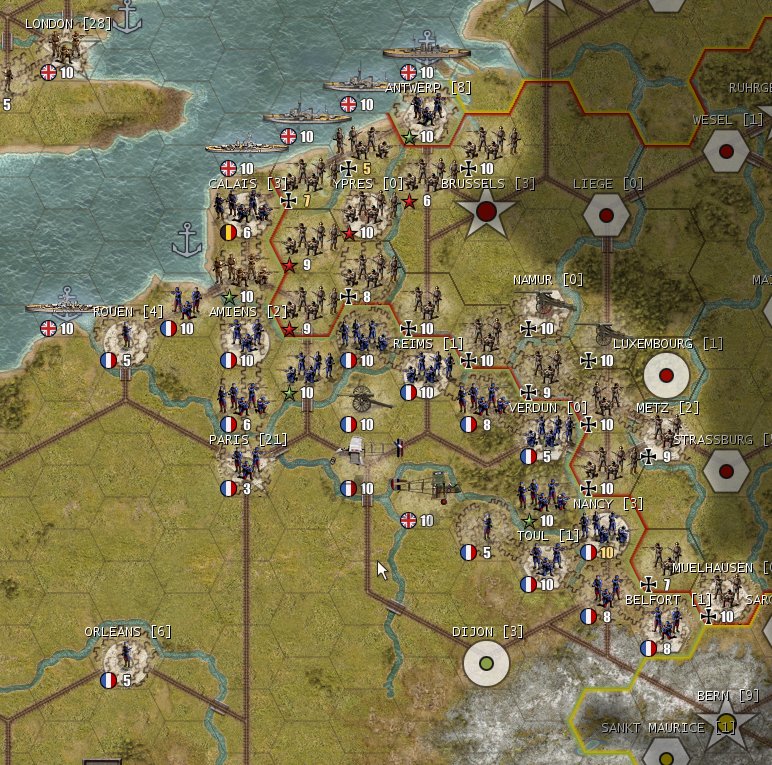 Belgian Army Corps badly mauled, must be moved out by rail.
Verdun got slammed by Artillery.
End of Turn 8: Entente has moved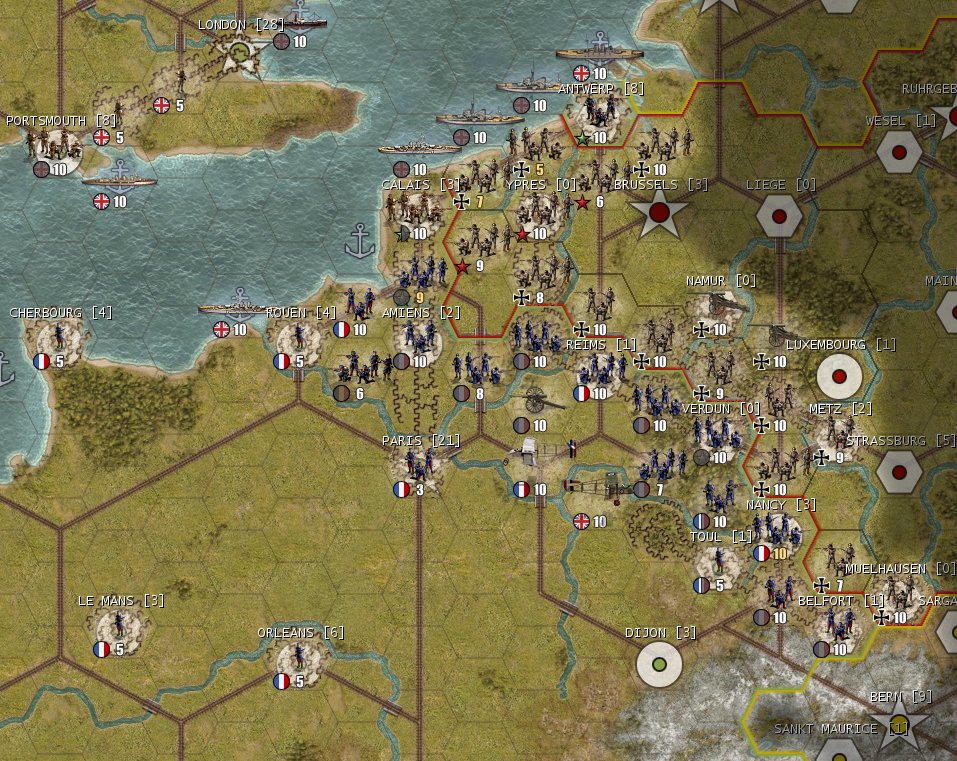 Played event: Canadian Corps
Start of Turn 9: CP has moved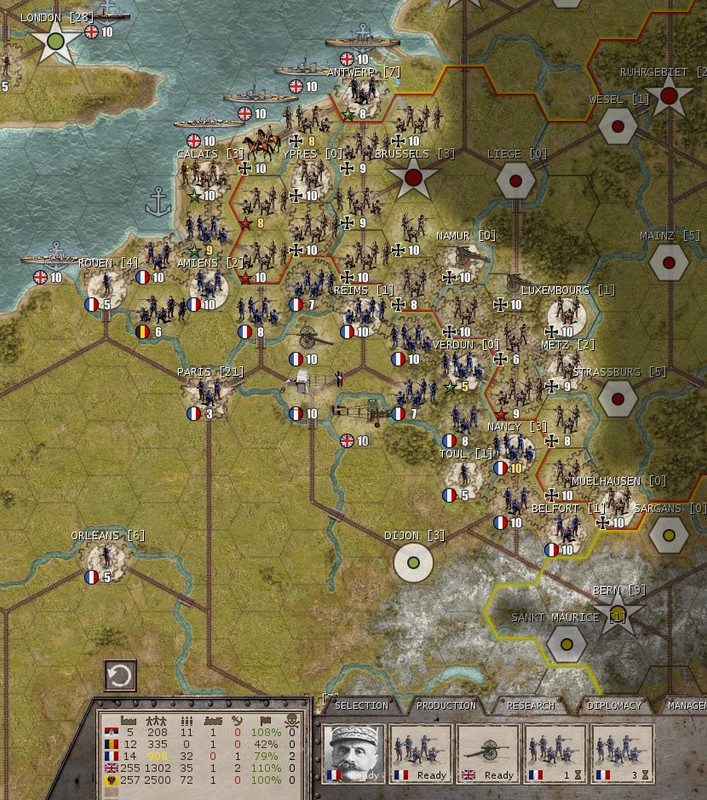 End of Turn 9: Entente has moved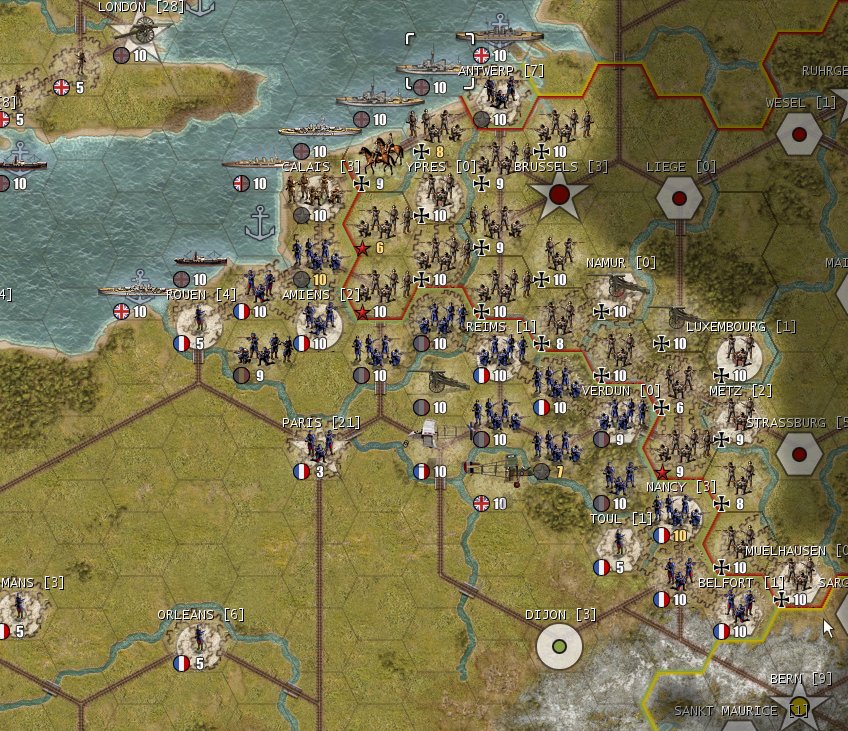 After this turn the front was stabilized.