AAR: The Schlieffen Plan.
http://en.wikipedia.org/wiki/Schlieffen_Plan
This is the 1914 scenario with 'Balanced" AI and of course I am playing the Central Powers and will be covering mostly just the Western front and my interpretation of the Schlienffen plan, leaving the other fronts and the rest of the game for you to explore.
The game starts with the Austrian invasion of Serbia. I take a conservative but basic strategy; a quick small grab and settle in while I wait for my mobilization of the Austrian people to kick in. You do that producing Infantry; I put one in production every turn and just one Garrison the first turn to dig in at Lemburg.
I am planning to hold Serbia down for now and get some defense set up for the Russians when they join the war turn 4, since I need to concentrate the Germans in France when they join at the end of turn 2. Plus I want save up some Production Points (PP) for producing an Austrian Artillery unit make attacking Serbia a lot easier and a lot less casualties…
Turn 3, the first turn you get to command Germany.
Liege falls pretty easily; it's only defended by a Garrison that isn't dug in. The artillery softens up, I send two infantry across the river to start the attacks so they don't have to attack across a river and get penalized, then finish up with attacks across the river. I take few casualties and almost no loss of 'Efficiency' for my troops.
Mean while in Serbia I bide my time.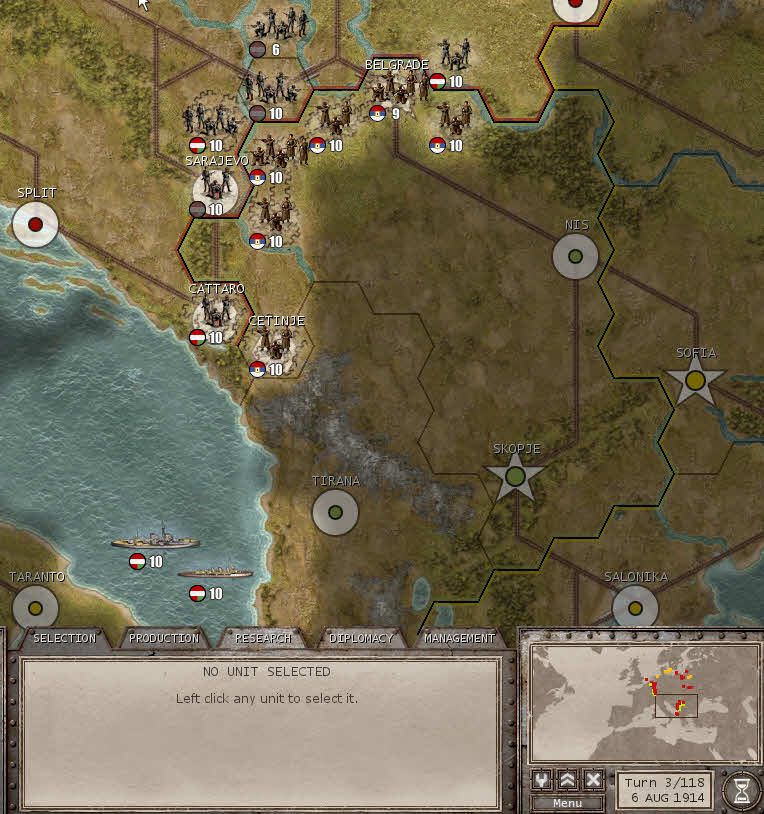 The Eastern front I move some units to attack Warsaw when the time comes and dig in along the Austrian border.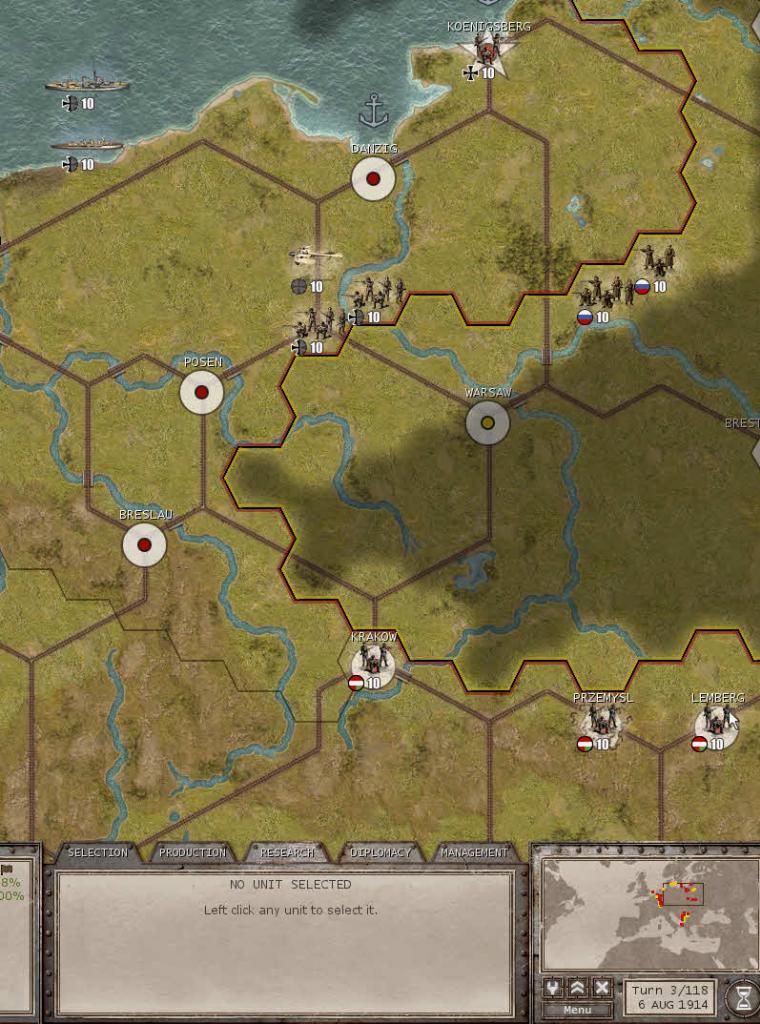 Turn4, Western Front.
In keeping with Schlieffen's last words; "remember to keep the right flank strong," I push through Brussels with out using the Artillery unit so I can push quickly through Belgium and try to get around the French left (my right). I take more casualties and lose 'Efficiency' across the board for all the attacking units, one is even yellow, a warning the unit is not going to perform as well as it should if it was white despite minimal losses. I move the Artillery unit up to assault Antwerp next turn. On my left flank I keep my Garrisons holding the French Right.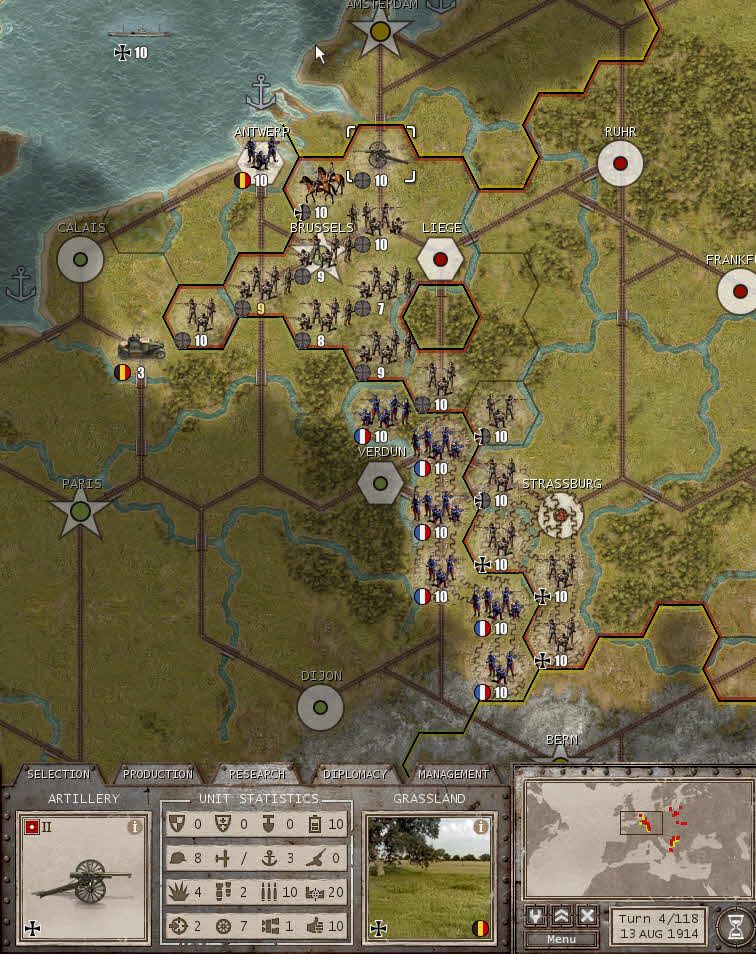 The Serbian and Eastern fronts are pretty quite as I just settle in while I work on France.
Turn 5, Western Front.
I get my first Commander von Hindenburg.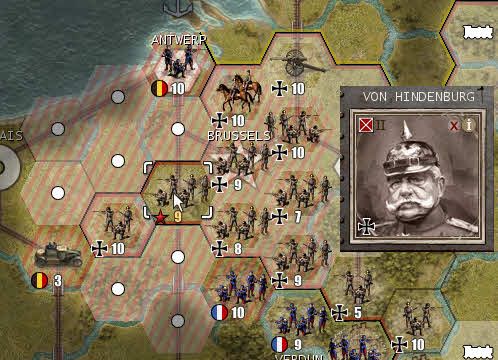 Here you can see the area effect the Commander has, all units in the red hashed area get his bonus; +1 attack and defense. I place it on the yellowed unit that's tired since I want to rest it by not moving and just fix it back up to 10 strength. Plus the unit is centrally located for my advance and attack on Antwerp, without having to move it this turn.
My assault on Antwerp doesn't go as planned even with the commander but I make a substantial dent in its defense. I am able to get a unit and week line all they way to the cannel, cutting Belgium and Calais off wile my Left flank still holds even if its mostly Garrison units.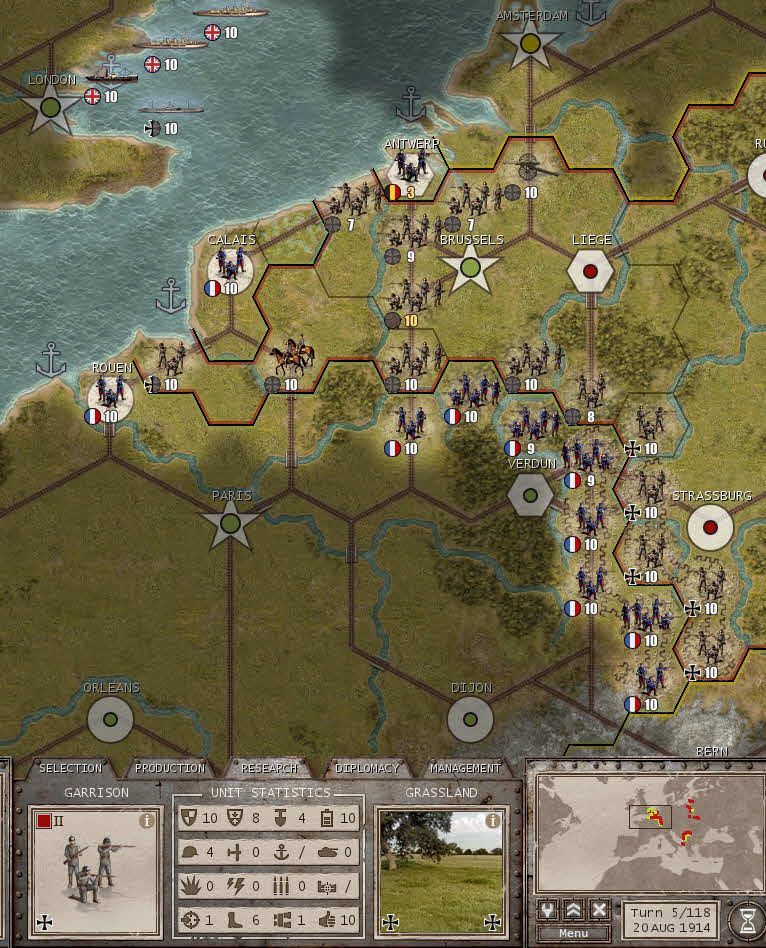 I've been using my sub to scout around the channel while the Surface fleet when to the Baltic sea to protect my convoys.
Turn 6, Western Front.
Antwerp falls, though not with out cost. I advance all my remaining Infantry units west leaving my entire left flank in the hands of Garrison units, most dug in and used my second commander I received this turn, von Falkenhayn +2 defense, to strengthen basically week units.
I manage to push a single defender back and have my cavalry and a Garrison at the door step of Paris. The rest of my main force, the right flank, follows, isolating the Garrison at Calais, who are now at ½ supply so week, and keeping a defensive line along the right so as not to get cut off. The British have a troop ship off the coast, I attack it with my sub.
On other fronts, I'm still waiting on the Austrian Artillery units to be produced so I can start my offensive against the Serbs, I start to spar with the Russians, small attacks with little results but little casualties.
Turn 7, Western Front.
My unsupported assault of Calais fails, I get close but can't eject the Garrison and the British have landed a infantry unit next to it. I start to surround Paris, crossing the river since attacking across rivers has handicaps, I slowly move the Artillery up but have to be carful I don't leave it exposed to enemy attack. I keep up my left flanks line and inch units up and around the French to make it harder for them to reinforce or relive Paris.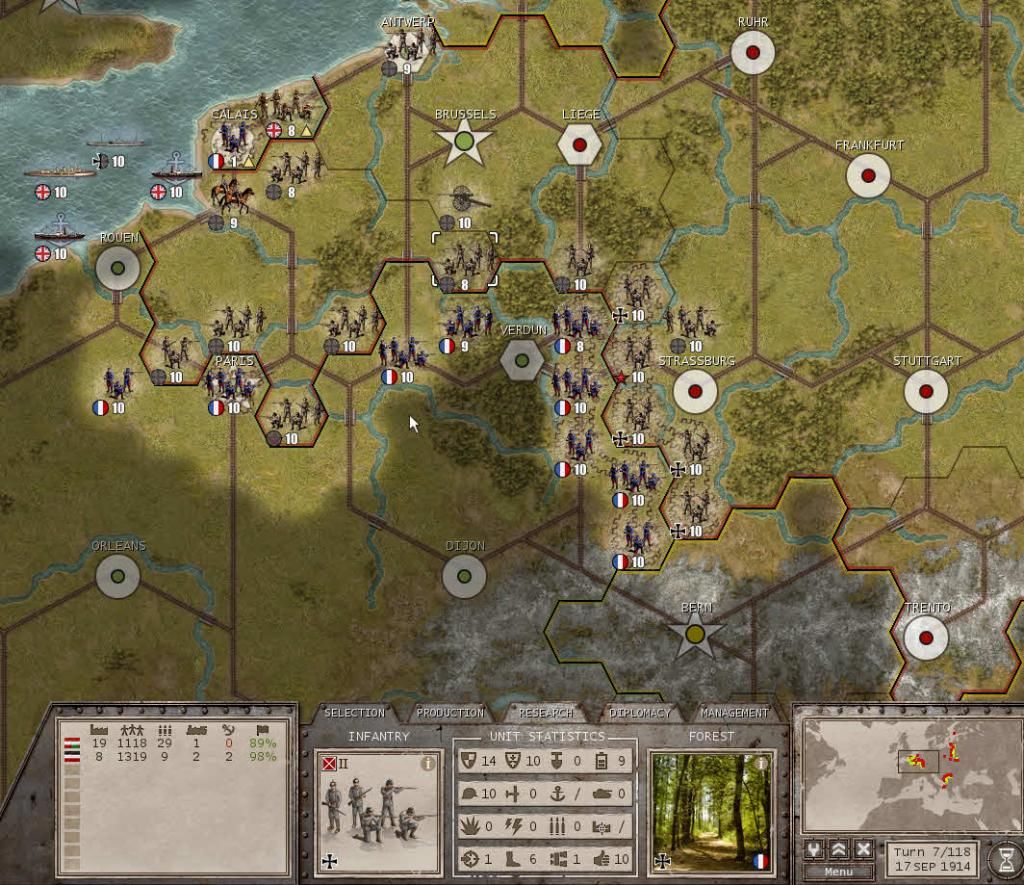 Turn 8, Western Front.
Paris is surrounded, I can keep the French from bringing fresh troops into Paris, they have few defenders in the area, I have my right flank so as to keep the French along the boarder from moving defenders off that line to Paris effectively.
Calais still holds out, the British troops invest the old French dug in positions and are no longer at ½ supply as they have a war ship adjacent providing full supply. I satisfy my self with eliminating the Garrison out side the city and taking its position, then moving the Artillery up for an assault next turn.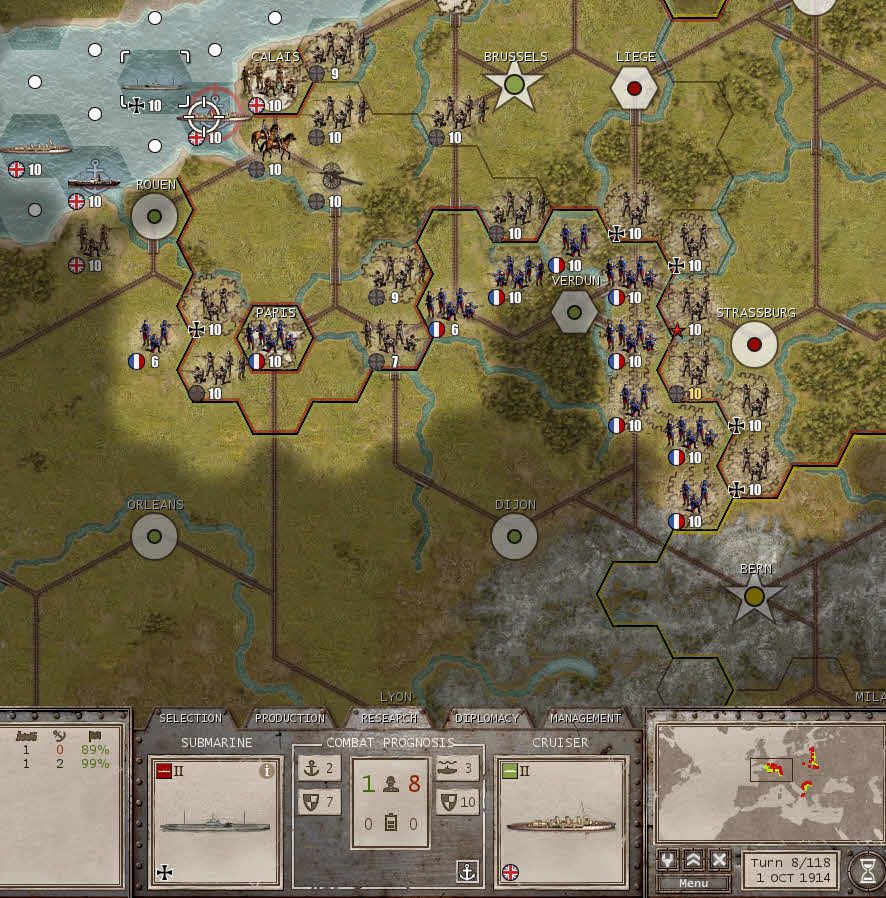 Turn 9, Western Front.
The British move their warship out of Calais port so the British infantry unit was reduced to ½ supply, soften up with Artillery, it fell with out a lot of fuss. The AI moved a infantry unit in Rouen to help defend Paris and replaced it from the sea with a British Garrison. The French attempt to break north but I just contain them from doing something stupid like trying to retake Brussels or liege just to have the unit destroyed. I maintain the siege of Paris as I slowly move up troops and solidify my gains.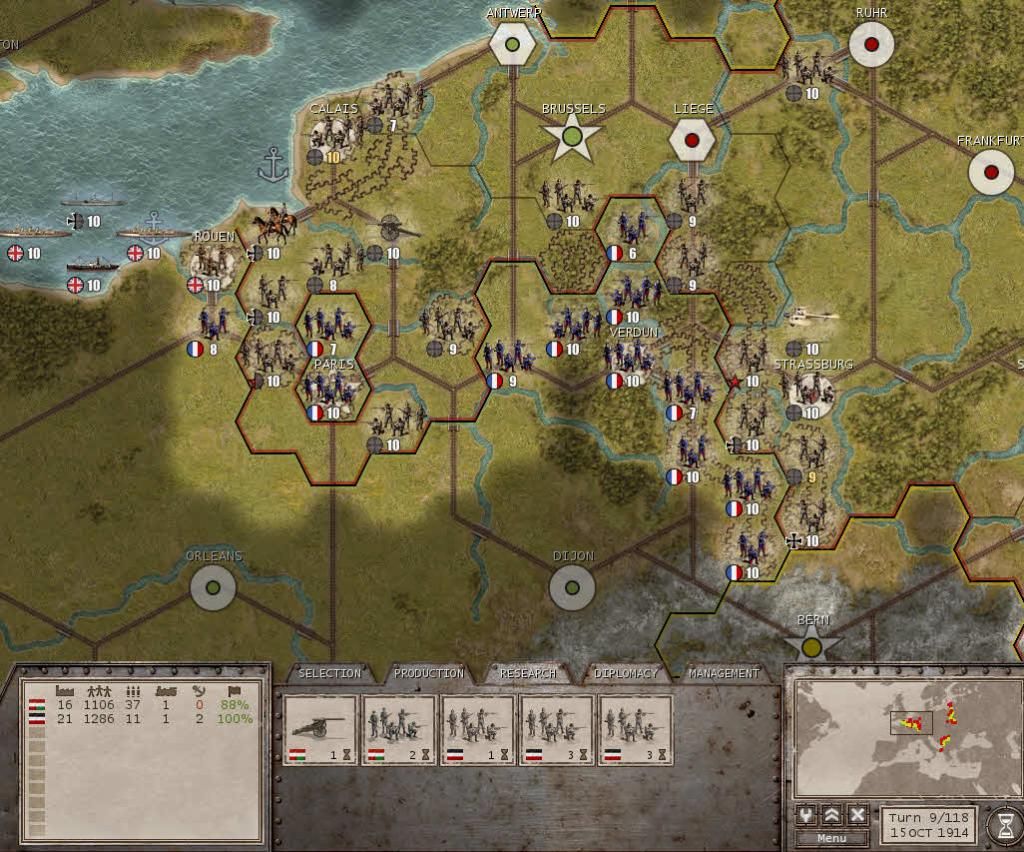 Serbian and Easter fronts, turn 9, I'm still holding the Serbs with just one turn left for my Artillery and continue to spar with the Russians for no gain or loss.
Turn 10, Western Front.
I use the Artillery unit to reduce the French reinforcements north of Paris, consolidate my positions in and around Paris as the French try to bleed off troops along the boarder to relive Paris.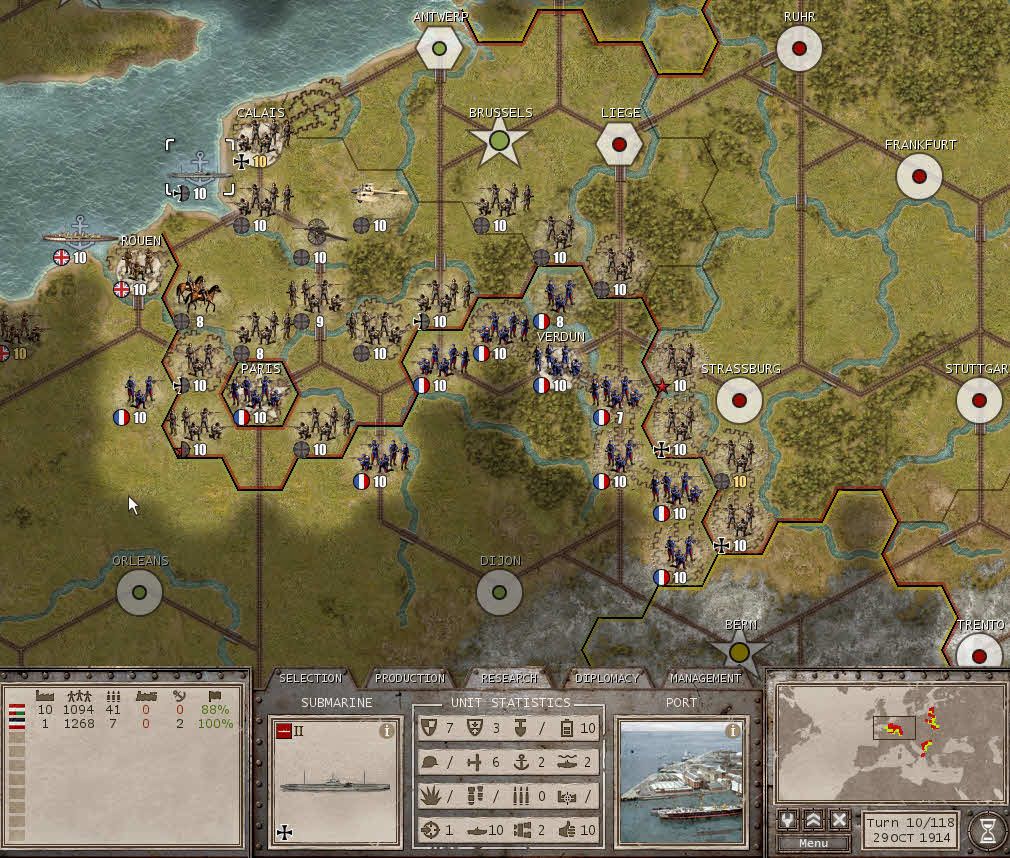 Turn 11, Western Front.
I invest my positions around Paris with infantry units and move the Artillery unit up for a massed assault next turn.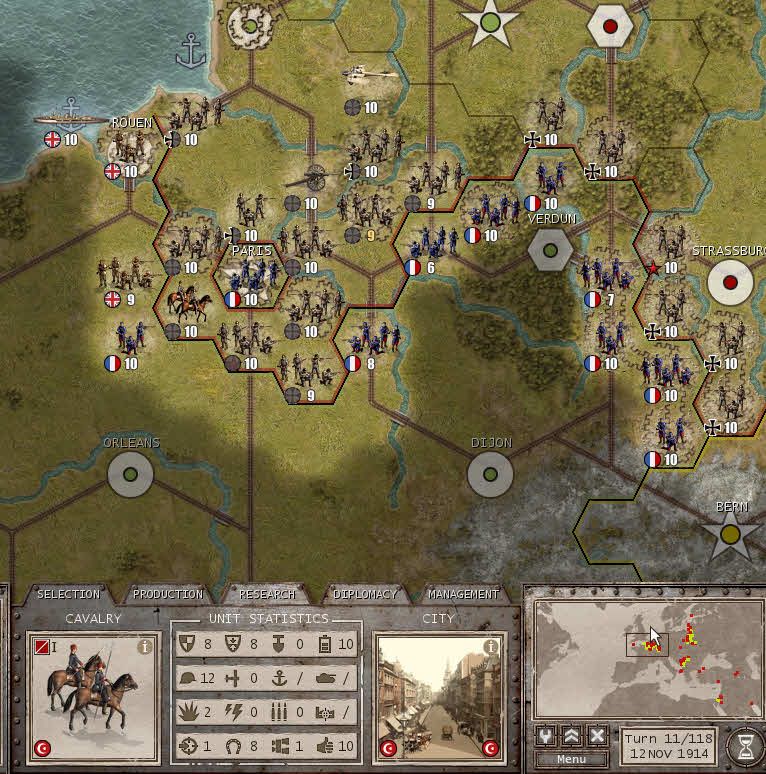 I continue to spar with the Russians for little gain or loss and start my offensive against the Serbs with Austrian troops.
Turn 12, Western Front.
Paris falls and the French keep fighting, with their Allies the English, Russia and even Serbia still in the fight, French resolve is shaken but not beaten, the war goes on even with the success.