2018
is a special year ...
100 years ago,
the First World War was ended, by the signatures of the Armistice of Combiegne, on November 11, 1918. It was on a path of one of the first steps (perhaps even the first ...) in history, the direct one led in the Second World War...
Five years ago,
in mid December 2013 LoV Classic came out...
Reasons enough to give LoV this year an anniversary upgrade ...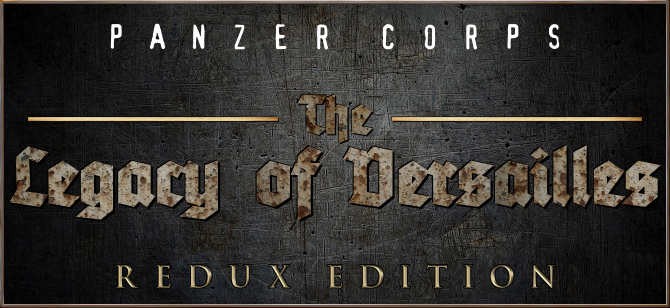 Click the Image for Download at streitmacht.com
LoV REDUX is available at
streitmacht.com
...
Installation Guide:
- Download and unpack "LOV-REDUX_1.2_2019-01-30.zip" (~122 MB)
- Move folder "LOV REDUX 1.2" into the "MODS" folder of the
JSGME
for Panzer Corps
- Activate "LOV REDUX 1.2" in JSGME
- Start the Game and have fun
Requirements:
- PzCrps Wehrmacht (optimal with v1.30), compatible with all versions (conventional, Steam, GOG)
Core Contents:
- 63 Classic + 18 Ultimate = 81 Redux scenarios, in a cohesive, partially branched campaign with three starting points
- Approximately 360 newly added unit icons
- Completely redesigned GUI
- 10 instead of max 5 + 3 different pre-set levels of difficulty
- 34 original + 18 additional nations = 52 nations / flags (in the UI / Purchase folder many more, alternative flags)
Bonus Contents:
- Extended compendium, including six contributions to LoV (only in German)
- Added sixth (an official but never realized) Allied Corps starting point (El Alamein)
EXTRA
:
LoV-Redux_1.2_Decensor_2019-01-30.zip
(for historical correctness
and compatible with all versions of LOV REDUX)
Note: It is possible that you must first register / Sign in at Streitmacht.com to download the mod ...

- After clicking on "register", scroll down and press the yellow text button with "Ich bin mit diesen Bedingungen einverstanden" ("I agree this terms")
- On the next page please set the language ("Sprache": [Deutsch]) on [British English]
- Afterwards the registration has been changed to English language
UPDATE
: Update file for owners of an earlier version of LOV REDUX...
LOV-REDUX_1.2_UPDATE_2019-01-30.zip
(~1.55 MB)
Here an alternative reference link...

LOV REDUX v1.2 [2012 JAN 30]

So the mod is not so exclusive ...