In my current game (Huge, Hard, High, Continents) playing with the Noxium I noticed a bug where everybody (or at least only the AIs who were furious towards a specific AI) gets a non-aggression pact (5 turns left) with that faction when any of them terminates a non-aggression pact with that specific AI, even when they have none in force in the first place (and even are at war with that AI, as you can see in the shot below).
In the first shot you see that XI has indication of terminated non-aggression pacts (3 turns left) with Noxium (me - my action, but the same happened when was Lady Lilith terminating her non-aggression pact with XI), Lady Lilith and James. Notice that all three of us have terminated NA pacts with XI with the same ETA: 3 turns, which could only be achieved normally if all three of us had NA pacts with XI in the first place and decided to cancel them all at the same time (which wasn't the case).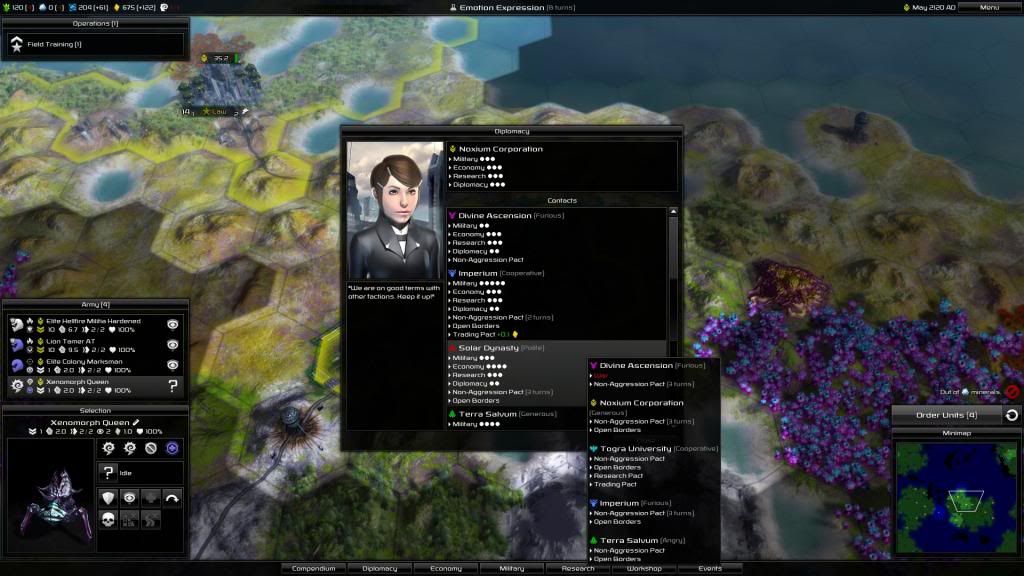 But, Lilith and James don't have the same indication of non-aggression pacts towards XI. So, I noticed that Lilith is attacking XI but XI isn't attacking her due to this bug.
So, the bug seems to be, everybody who is furious (or is very unfriendly) towards an AI, gets a terminated non-aggression pact with that AI when a third party cancels their NA pact with that AI, even when there was no non-aggression pact in force between those factions. It doesn't seem to matter who terminates the NA, all the other (furious) rivals also seem to get a terminated NA pacts no matter if they don't have a NA pact in the first place or are even at war.
You have the save attached. Let me know if you need further details.