Awhile ago I posted a report of the first outing of my new Maya.
Having a total of 3 friendlies with them under my belt, figured it was time to see how they would do in serious competition and took them to the US Open in Bedford Mass, just an atlatl toss from the famous Battle Road National Park of Lexington and Concord fame.
I figured knights would be a somewhat insoluble problem, but was curious to see if we could be competitive with such ++ opponents as pike, legionaries, and armored lancers.
My army consisted of an IC and 3TCs, one an ally. We had 3 troop types-
LF slingers, avg, unp;
MF warriors Sup,imp/swd/jav prot;
and fairly fighty archers MF avg,prot,lt sp.
2 units 8 warriors
2 units 6 warriors
3 units 6 Holkan warriors - as above but drilled
3 units 8 archers
2 units 6 slingers
The ally was the 2 small warrior units and 1 unit of archers.
Standard deployment was a center of the 2 big warrior units with a Holkan between them (so i could approach to javelin range without leaving a lot of overlaps for a staggered advance), one ally flank of the 2 warriors with bow in the flank, on the other flank Holkan and 2 bow units, with a Holkan in reserve.
Rd 1 vs Bob's French Ordonnance
A nightmare for our first test. Lots of Sup knights, lots of Sup pike, and decent shooty infantry to fill the gaps. Got a little terrain , but not enough to help. Perhaps there was some clever finesse tactic to blunt their advance, but I couldn't see it.
I attempted to overwhelm his left flank and hoped a ferocious charge would blow away his (relatively) soft center before the knight and pike shoulders crushed me, but even on the right flank my attack stalled. The knights chewed me up, his center held fine until the Swiss could get involved, even an attack on the far flank on even frontage against the poor pike stalled..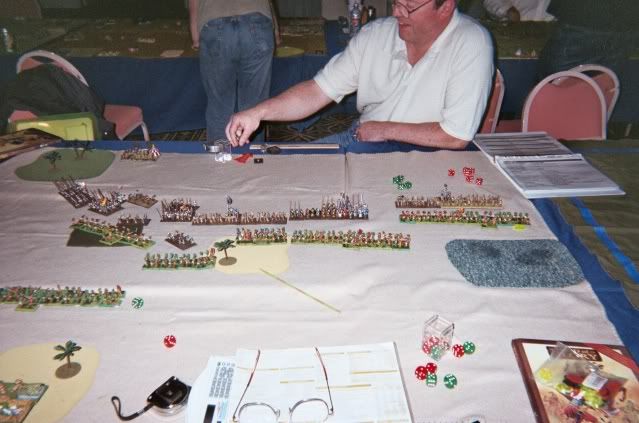 (Why is this man smiling?)
and it all just went to hell. 25-0, from which my score never recovered. An inauspicious start. Could be a long weekend.
Rd 2 Vs Phil's Early Republican Romans
Another challenge - his elite triarii had little to fear from Prot impact foot, and his legionaries would be ++ on me in melee. Perhaps a 50-0 start?
This time terrain proved to be much more forgiving. Phil said he wanted lots of terrain to protect the flanks of his small army. Perhaps a questionable tactic when that terrain is swarming with enemy.. (see under Lexington and Concord), but I see his point for difficult terrain, which would slow and disrupt attempts to void a frontal smashmouth contest.
In any case we ended up with a swath of rough terrain extending up the center of the board.
He placed his army on his left of it with his lancers on the extreme flank and the elephants in reserve.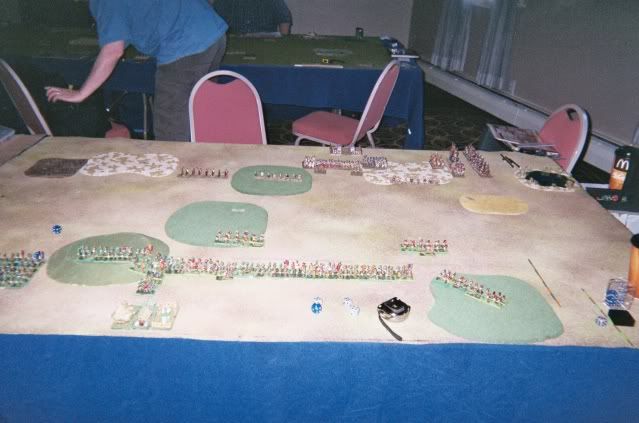 A small delaying force of Numidian can did little to slow my flank sweep as he could not get too close because of the javelins.
The plan worked remarkably well - we smashed his auxilia on his right, the archers on the left shot the can to frag then charged and routed it, and he was left with a very Cannae like situation of troops being fed piecemeal into a concave snare. The elephants were disrupted by routers, and never got to the front line, though they had to be protected until the javelins were safely in melee anyway. At this point I was up 12 AP destroyed to 0.
(This picture is a little confusing as it is taken from the other table edge)
Still, Romans is Romans, and he fought on bravely, stiffened the line and did some damage to prevent a rout. Whereas for the first two hours his Sup troops couldn't buy a successful cohesion test (going about 2 for 10), by this time, perhaps out of desperation, they 'knew no fear'.
All that maneuver and constant fighting took a lot of (real) time, and as time was called we were 2" from his camp, but still without the elusive final kill for a win.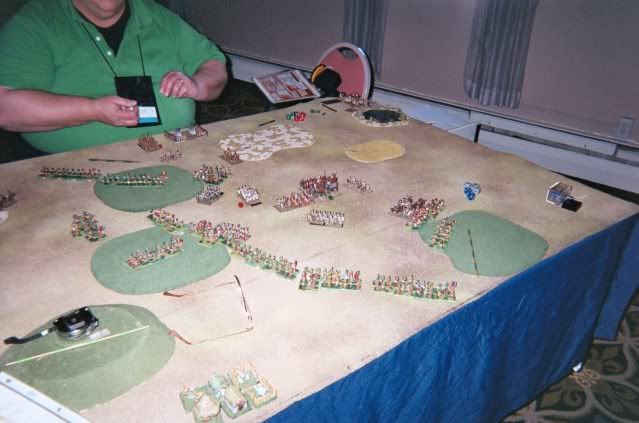 As they say, you're never as bad as you look when you lose big, and never as good as you look when you win big.'
Though the scoresheet said winning draw, we got a nice positive score and it sure felt like a win. There was hope...