A new version is available for Field of Glory: Empires - 1.0.6 - and it is dedicated to adding some custom content for Kolchis and Armenia, a very interesting tweak in the Nation Panel and may other improvements.
You can download the update from
here
Mirror Links:
http://ftp.eu.matrixgames.com/pub/Field ... v1.0.6.zip
http://ftp.us.matrixgames.com/pub/Field ... v1.0.6.zip
But before diving into the new content, some pleasant news. Version 1.0.6 is meant also to prepare the game for something very special. Brace yourselves as the Diplomacy Update will be the next one. We will give all the relevant information in the next announcement, so stay tuned for further updates!
Version 1.0.6 Custom Content
Kolchis custom content
The nation of Kolchis, located along the coasts of Pontus Euxinus (also known as the Hospitable Sea, or the Black Sea) possesses several thriving cities where Greek merchants prosper. In the hinterland, rough mountain tribes are often a problem, but they do provide the cities with fearsome warriors, very adept in hills and mountains warfare.
For this update, Kolchis benefits from a heavily revised setup, as they are now a Kingdom with the  Hellenistic tradition and with a merchant perk. Their cities will be more advanced and their standing army more powerful. But that's not all, as they now gain access to no less than 8 Missions to perform!
Missions are optional goals to pursue, with very diverse possibilities. Subdue a neighbour, establish a trading route, drain the swamps that plague part of Kolchis and more.
A new reports tab in the nation panel will let you follow the current mission status.
Armenia custom content
Armenia enjoyed some independence under the Persian Empire, as a satrapy with loose control from the Persian court but was dominated by the Seleucids up to 190 BCE when it gained full independence. Artaxias expanded the realm in the Caucasus region and under Tigranes the Great, the realm reached Antioch and Damascus and defeated the Parthians. At this time, the Armenian Kingdom was de facto an Empire, and Tigranes named himself 'King of Kings' as he had several client-states.
In this update, Armenia receives 3 new custom buildings, one custom unit, and several missions.
3 Custom Buildings
•    Tigranocerta (Special prestigious building)
•    Levy Camps (Quickly recruits low quality troops)
•    Naphta Workshop (enhance siege resistance)
1 custom unit
•    Azatavrear Cataphract (Elite noble cataphract)
3 Missions
•    Create Greater Armenia (expand Armenia to what Tigranes the Great managed to do)
•    Be the King of Kings (have at least 2 client-states, as Tigranes who had 4)
•    Between two giants (manage to be friends with both Rome and Parthia, no small feat)
Nation Panel
The nation panel now let you access an interactive mini-tree where you can navigate, starting with your current government status, the various possible stages of your nation. What will happen if you evolve, what will be the result of the decadence of your empire? Everything is now accessible, with a list of possible effects!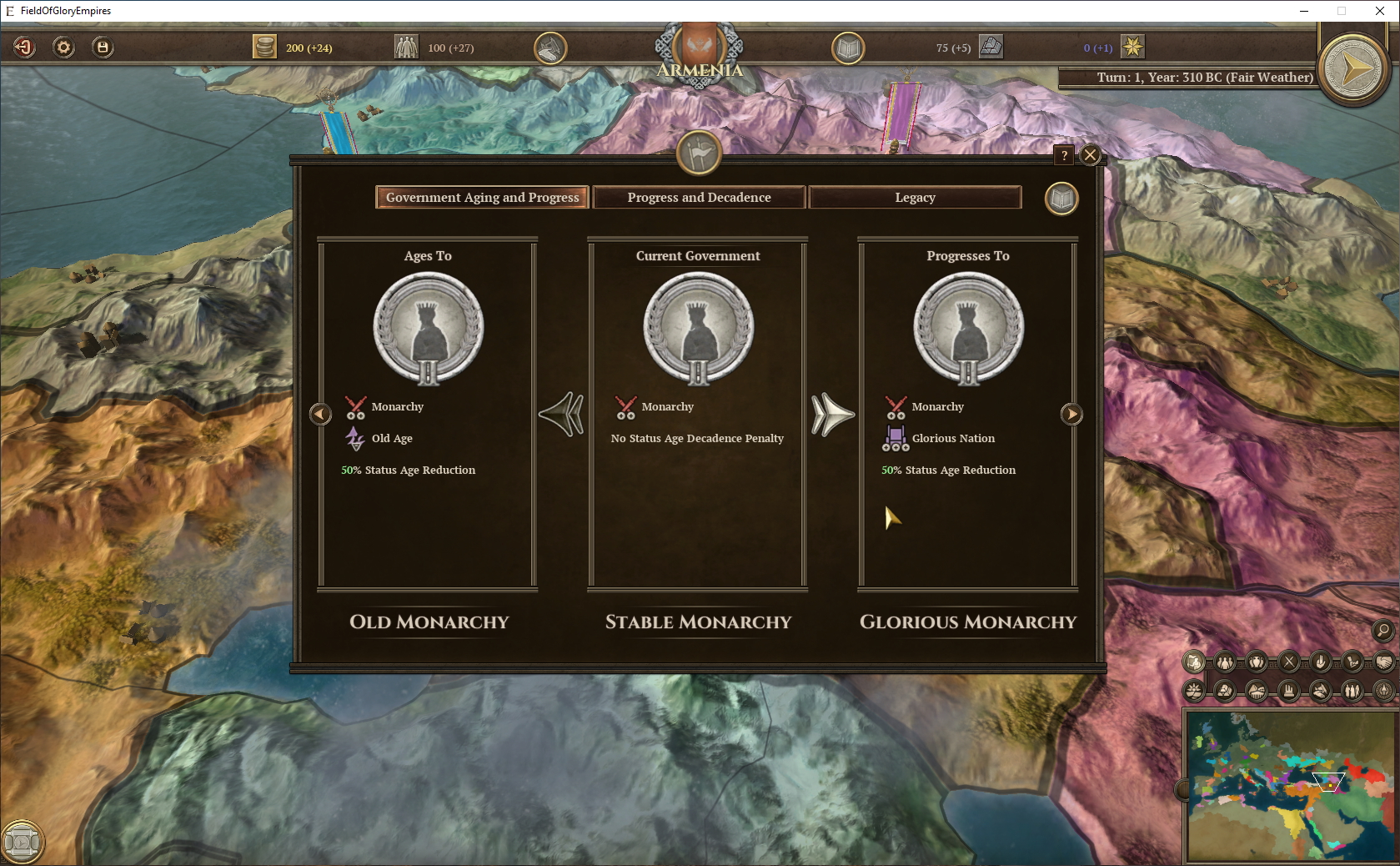 Full Changelog
EXTRA MAJOR CONTENT
• Kolchis setup revised, with 8 Missions to perform.
• Armenia gets 3 missions, 3 new custom buildings and an extra unit.
• Government Aging and Progress UI (access it by clicking on the government button, nation panel)
GAMEPLAY and SETUP (improvements and fixes)
• Smarter dynamic objectives
• Fixed issues with Builder Guild and late wonders
• Added exclusivity to well and irrigation canal
• Fix to tools factory
• Fixed hospital chain of buildings
• Fixed Babel Tower modifier not properly given
• Capital region food need for growth increased
• Brigantes now have Tin resource, not lead.
• Caucasian ethnicities don't have access to phalanxes
• Tweaked pop growth formula - harder to get really big population
• Fixed issue with Hunting Grounds & Master Hunter
• Military buildings have greater importance in max metal and manpower stockpiles
• Deficit spending and modifiers – the bigger the deficit you run, the higher the penalties!
• Fixed Sagittarii not provided to Rome in some cases
• Improved how the game determines who is defending (outside of assaults)
AI
• AI will have less animosity against the legacy leader.
• Slightly less AI ship building
• AI doesn't snatch a siege from player
UI
• Government Aging and Progress UI
• New reports tab for ongoing mission(s)
• next region shortcut: ENTER, next idle region shortcut: SPACE
• Changed colors of a few provinces
• Make T hotkey behave exactly like the trade tab button
• Show leader portrait with red skull overlay at end of battle if they died.
• Update ledger when cancelling construction
• Fix stockpiles not initially showing current expenses in recruitment
Other
• Various engine optimizations and speed up
• Display error when failing to save game