Hey guys,
As Slitherine and Seravy have said in a few places the original Master of Magic source files and code was long lost back in the days of Micropose's collapse and acquisitions. Atari never had it so of course sadly these days Slitherine don't have it either. IF they and the community had that source code many awesome things could be done with the original game such as a windows port with higher resolutions, multiplayer and of course more than 4 enemy wizards to fight, not to mention plenty of other wish list things. And it would likely help Slitherine on a sequel project too. Many projects have tried and failed to recreate MoM's source code over the years (I cover a few of them on my
MoM fans games tribute website
)
At the moment Seravy is talking about having to rebuild MoM's source himself if he wants to really push ahead with bigger CoM changes as there's only so much you can do hacking the assembly code (how he and others have made existing MoM patches and mods). Obviously there's no one better for the job as who knows MoM like he does however it would obviously save him some time or at least help Slitherine with their plans if the original source was found or someone's done the rebuild job already so I figured I'd made this thread to collect information that could be useful to this task.
Source 1 - Rebuild:
As mentioned above Seravy is looking at remaking it himself. This is probably going to take some time lol, especially as he prefers to work alone, but like I said above who better to do it than him haha. Although from the sound of things his rebuild will have Caster of Magic already directly implemented into his source so for Slitherine and those that want source of a original vanilla style MoM then that's a bit of an issue. However fully functioning compileable source for MoM+CoM is a gazillion times better than having no source at all so theoretically people could take and modify it to be more like vanilla MoM again.
Source 2 - Original code:
I posted this with more links and info over in the
recent thread here about Civizard
, but basically for those unaware of it,
Civizard - Majutsu no Keifu
is the official Japanese playstation conversion/remake of Master of Magic (for all Slitherine know they may now legally own that too haha??). ASMIK did the conversion, not Mircropose, so presumably Micropose sent them MoM's sourcecode to build Civizard from as Civizard is identical in MoM in every way mechanically its just the graphics and rendering engine that's been replaced. Presumably changes would have been made to make the game code compatible with the playstation however hopefully a lot of the background gameplay mechanics code should be the same or only slightly altered. A good sign that it functions the same is the fact that all stats in the game are still English while only titles & descriptions have been changed to Japanese. ASMIK is not a dead company, they are still going today, so it might be a long shot but its possible they still have backups of the source materials used to convert MoM to playstation. Slitherine's office might want to make some calls and emails haha.
viewtopic.php?f=590&t=97130
https://gamefaqs.gamespot.com/ps/572749 ... troduction
- English Translation
https://www.asmik-ace.co.jp/english
Source 3 - Rebuild:
Wowzer I literally just found this Open MoM project today! Another opensource fan MoM rebuild project! And unlike all the old failed ones this one's actually a current and recently active one! Looks like they've got quite far too! They've obviously been operating under the radar a bit as I've not seen this posted in any of the communities! Their work could be useful, although as with all fan rebuilds one must question just how accurate the reproduction is.
https://github.com/Jakz/openmom
Source 4 - Rebuild:
Implodes opensource Master of Magic Multiplayer Edition HD (MoM-IME) is by far the most complete fan reproduction of Master of Magic done so far. Sadly like all the others its still unfinished though and is missing many important things like global AI. He's not fully abandoned it but he's not really working on it anymore either as he got stuck on all the AI stuff. He prefers to work alone and has ignored many offers of help sadly. Shame as his project allows the much coveted and wanted high resolutions, multiplayer, and big all wizards 14 player games so many of us want. His work could be useful, although as with all fan rebuilds one must question just how accurate the reproduction is.
https://sourceforge.net/projects/momime/
https://www.youtube.com/watch?v=7ook3GqkmL8
Source 5 - Original code:
This person over on the war gaming forums claims to know someone who has the long lost MoM & MoO source files. Obviously such claims need to taken with a pinch of salt but nevertheless it may be worth following up. Annoyingly the war gaming forum sign up forces me over to the Australian Asian forums so I had to use a bloody vpn just to trick them into thinking I was in America just so I could sign up to contact this person lol. Only to then get a message saying "you cannot private message someone until you've made 10 posts or been a member for 30 days lol. I've posted in the thread asking them to come here which will probably get me in trouble for thread necro'ing but that's the best I can do. The person hasn't visited the forum since 2016 so yeah.. not looking good.. maybe if we're lucky they have email notifications on for PM's so if someone has a american war gaming account feel free to PM this person otherwise I guess I'll try in 30 bloody days lol.
http://forum.masteroforion.com/index.ph ... -new-hope/
Source 6 - Rebuild:
The old MoM Clone project was originally the second most complete fan rebuild I've seen (that new one I found above might beat it now!). They attempted to rebuild MoM to be just like it was but with multiplayer added to it. They released a working demo called MoM 0.6.0 in 2006 which fans and I were unable to get multiplayer working on. From the looks of their old archived websites the project died in the early 2010s. All attempts to contact them have failed.
http://web.archive.org/web/201307260132 ... ?page=main
http://web.archive.org/web/200512141051 ... gic.co.uk/
Source 7 - Rebuild:
Turns out there were two MoM clone projects and the github one is not related to the old illustrious software one from the mids 2000s. I recently found this ones sourcefiles on github and am trying to contact them. Nevertheless there's probably not too much useful stuff here. No doubt like with MoM-IME there's probably no AI and its missing many features. Their work could be useful, although as with all fan rebuilds one must question just how accurate the reproduction is.
https://github.com/kazzmir/master-of-magic
Source 8 - Rebuild:
Master of Magic - Java Shell was another popular project back in the day too. Judging by the screenshots they got a fair way into it.
http://sourceforge.net/projects/mom-shell/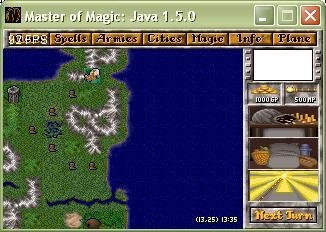 Other Rebuilds:
Many others have tried but didn't get far such as
Master of Magic The Resurrection
,
Magic Master Project
,
Master of Magic .NET
, and
Master of Magic Restoration
. Many of these still have accessible demo/WIP downloads too but there's probably nothing useful. I cover them all in more detail with screenshots on my
MoM fans games tribute website
.
I anyone has more info and leads of securing MoM source files or an accurate as possible fan rebuild please post here!!!
.