Using the GS Mod - I'm going to try something different.
One reason I think the Germans lost the war is that they started it too early. Delaying the war by a year or two, or even more would solve a lot of their problems:
Advantages:
1. Technology - German tanks weren't actually very good at the start of the war and so by waiting until the Panther becomes available in large numbers they will have the edge in combat, even against the T-34.
2. Oil - Germany really suffered a lot due to oil shortages, Hitler had expected a short war but of course that never happened. By delaying the war oil stockpiles can be built up to allow a longer campaign if necessary and more time to capture new supplies.
3. Manpower - Germany ran out of people to fill its ranks. By delaying the way there will be a larger pool to draw reinforcements from and also with higher technology losses should be reduced in any case.
5. Fighting on two and three fronts - Germany had a serious problem as they had to fight, or at least consider fighting on multiple fronts. By delaying the war they can capture Poland and then press on into Russia immediately.
Disadvantages:
1. Russia is weak in the 1930s due to Stalin's purges. They will have time to build up a better, bigger and more effective fighting force for when the Germans do invade.
2. Allies - there's the chance the allies might attack Germany even if it hasn't actually started the war.
Using the above ideas I have withdrawn the German subs back into the Baltic and concentrated purely on research, here's how it looks at the end of 1939: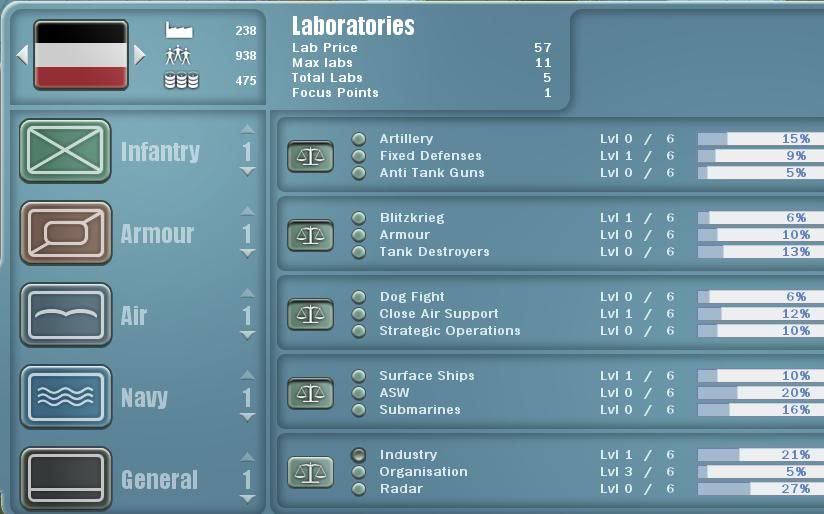 Not much to report, Russia takes up the East of Poland while the Poles just sit back and watch.
Allies declare war on Germany but do nothing - some things never change!
Plan is to keep researching for at least 1940, see how things develop.