10/30/1943
The first October 1943 turn was mud, so very little happening there. Then the weather cleared up again in late October. Here's the situation at the end of the Allied turn: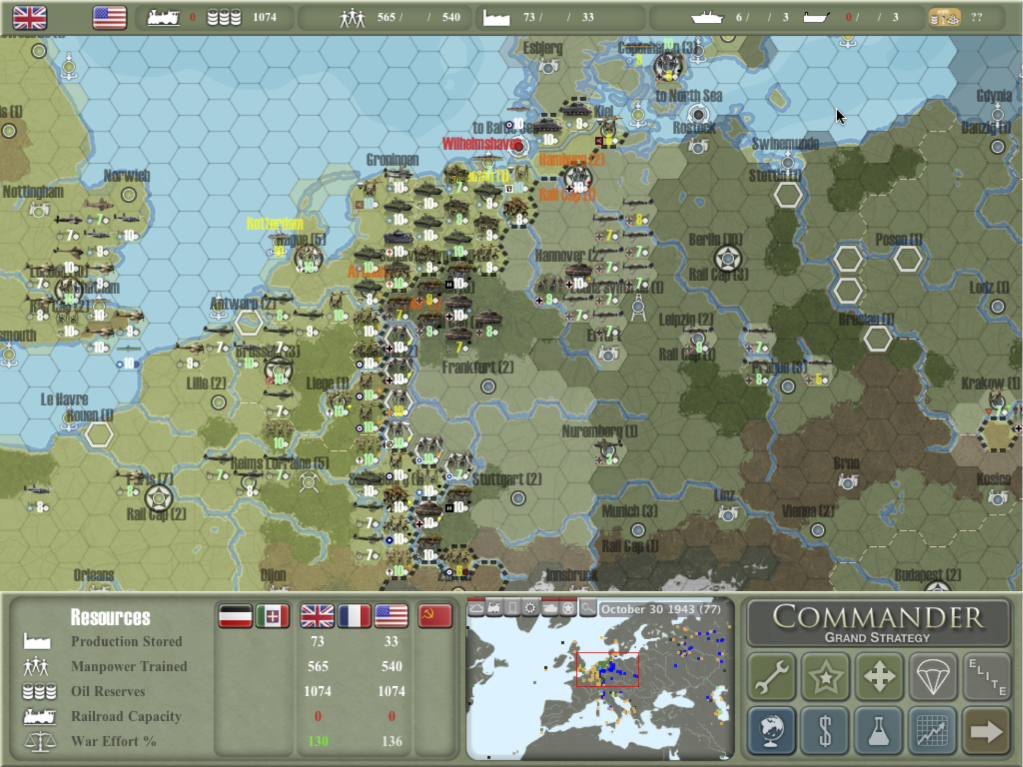 This was a *very* dynamic move, and a huge boost for the Allied cause. At the beginning of my move, Morris was trying to hold back my invasion with a couple of Finns and a Hungarian corps positioned just west and south of Bremen/Wilhelmshaven. He had a mech Korps with a leader in Bremen. My air forces were in great shape because I had just used the previous mud turn to repair, refit, and reposition. The interesting thing, as you can see on the map, is that Morris had a full dozen Luftwaffe fighters ready to contest control of the skies. Luckily for the Allies, I was ready for that and was able to match him dogfight-for-dogfight. The losses were pretty evenly spread out (3:3 being the typical result), but this screenshot shows that the RAF & USAF ended the turn mostly in 'white' effectiveness, while he's in green or even yellow.
The big story, obviously, is the massive Allied breakthrough. I cut through his meat shield like a hot knife through butter, took Bremen (I used my best quality bombers, 2 mechs, and a tank to do the job), and then, to my surprise, found the Kiel canal area wide open to my remaining tanks. I sent two tank divisions up into position just north of the Kiel canal. To add insult to injury, I found that Kiel city itself was vacant, so I dropped the 82nd Airborne Division in there.
All through this campaign I've been conscious of the Armageddon-like counter-attacks M was able to mount vs. Joe Rock. If you look carefully at the map above, you'll see that I have a nice screen of infantry, including a newly-dropped paratrooper, so that he won't find it easy to get at my tanks. And if he does hit me with his Panther divisions, he'll find that I've got a huge tank army, most of them with antitank tech maxed out.
Well, with November weather coming, I doubt that M will be able to mount much of an offensive, but I don't mind going into the weather with my present positioning. Maybe I can take Copenhagen over the winter and be ready to bring my navies into the Baltic for the next campaign season!
I'll close by saying that yes, of course, my opponent will steadily be bringing his large army westward. I have to be ready for that. But take a look at the minimap, and you'll see that I'm also pressuring him in Italy near Genoa, in the Italian boot (which he's largely abandoned), in the Balkans, and in the former Soviet Union, where a new crop of partisans spawns every turn. Last turn I got 10 partisans in one spawn! Also, the British have been causing trouble from their bases in Persia. On the October 30th turn I landed a British gar in Astrakhan. So, I'm not paralyzed with fear over his huge army. All those little blue dots you see in the minimap are very busy at the moment quelling kulak rebellions and quashing raids by Cossacks.