This is my first AAR, so low expectations, please.
This AAR is all about M's new menace: an all-out Barbarossa Blitz whose objective is to win the game in 1942 by knocking the USSR out of the war (or else so badly crippling Russia that it can't help the Allies enough for them to win).
We've already seen this in 2 recent AAR's, "Morris vs Joe Rock" and "Save the Bear" [aka "Richardsd vs Morris"]. In Joe Rock's game (which doesn't reflect the new rail changes) M got an April 23 1941 start, and by July 1942 he's taken Moscow and is threatening Omsk. In "Bear" M managed to seize both Leningrad and Stalingrad by the end of summer 1941 and threatens to outflank the Russians north and south.
Now let's take a look at M's opening against me: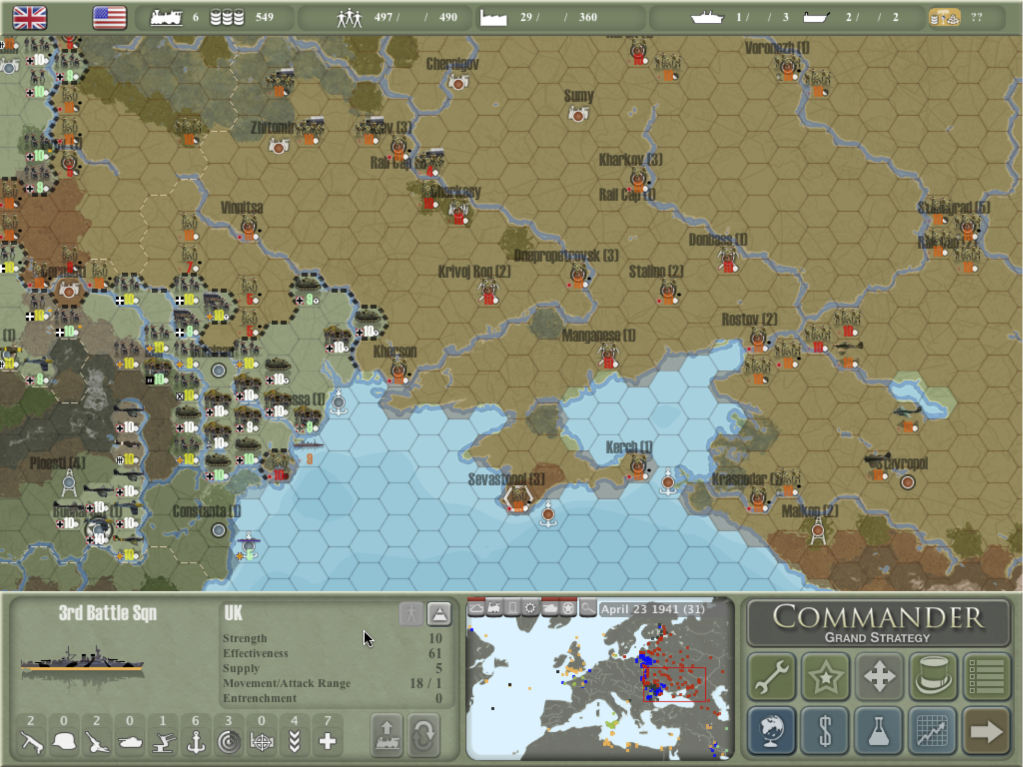 So, the first question I want to address is How does Morris manage to achieve such a massive concentration in the south while still having the forces to steamroll the north too? This is a crucial question, because if the M Blitz was in the south only, Russia wouldn't be in nearly such desperate straits.
Let's look at his forces: In the South he has 8 mechs (1 SS), 5 panzers, 1 strat, 3 tac, 3 fighters, 4 korps--all German. Added to this is the Italian airforce and nearly all of the minor allied armies. So you can see that he seems to have put all of his eggs into one basket. But let's look at a shot of the north from a few turns later in our game:
Here he has--get this--23 Korps! This is backed up by 3 more German fighters a panzer or two and some odds and ends.
This is the secret to his success: He piles nearly entire mechanized/armored force into a blitzkrieg in the south while hitting the north with an absolute horde of infantry. The next question is this: How can he afford it?