Turn 84. March 18, 1944.
Eastern front Axis turn. SS units killed forwarded Soviet Guards corps in Poland. In the rest, kind of retreats and repairing of units. Kriegsmarine finally withdrew from Finland:
Soviet turn. In northern sector, Red Army destroyed a german corps south of Kaunas and heavily damaged another one NW of that city. Furthermore, a Finnish corps was attacked by a Soviet armoured, forcing it to retreat. Soviet armoured units are getting good odds like 8:1 against axis infantry units. In southern sector, a German inf corps sustained massive loss when attacked by 3 Red Army units. 2 hexes SE, a German mech was killed and thus expanding bridgehead over Southern Bug river.
Northern sector image: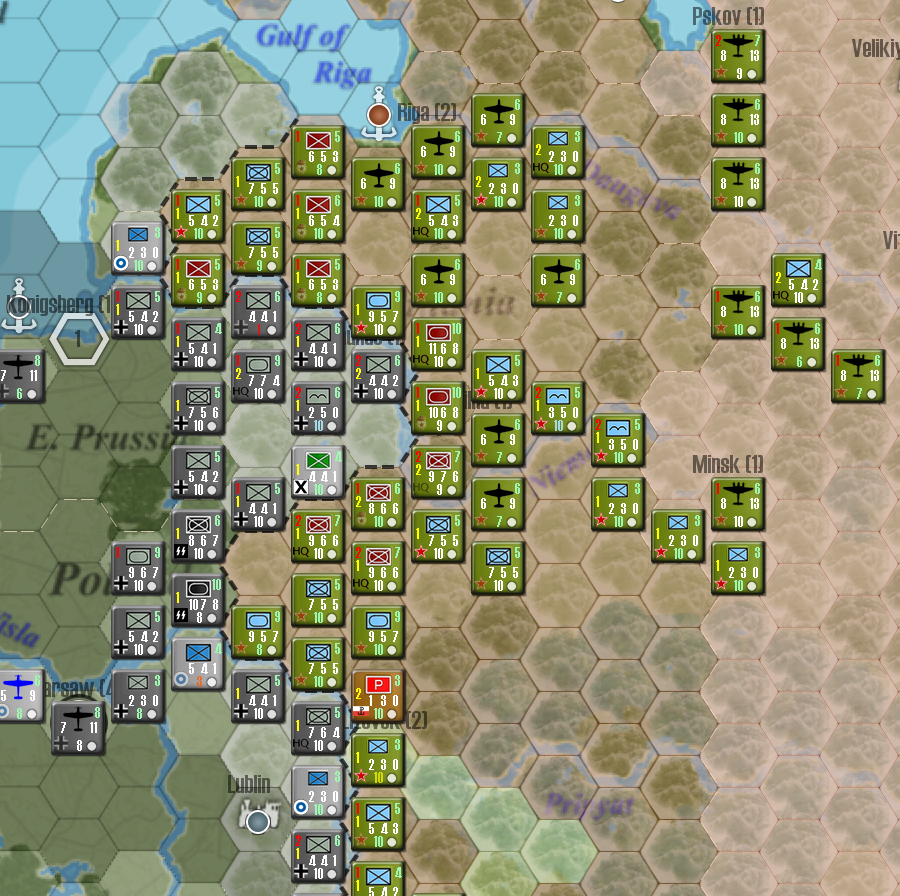 Southern sector image:
Spain Axis turn. Axis completely retreated from Ebro river line and now all units are around Pyrenees mountains. La Coruna and Valencia were abandoned. Intense antipartisan activity in southern France: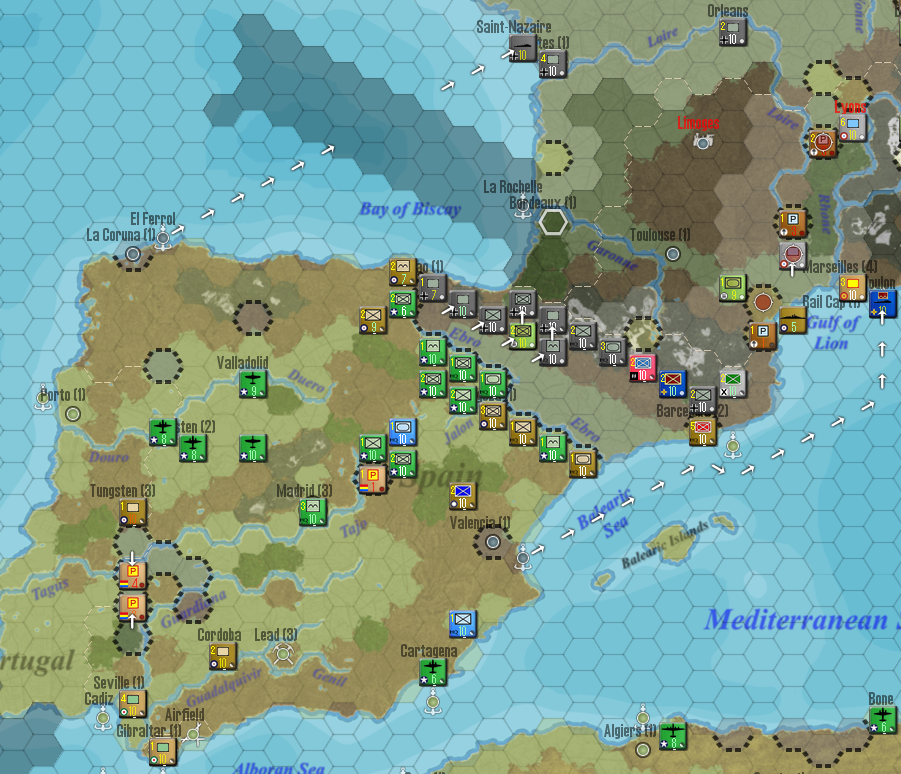 Spain allied turn. Bilbao held the attack of Allies which were more successful when killing Italian mech north of Zaragoza. Australians entered emptied Valencia. Partisan near Madrid was killed: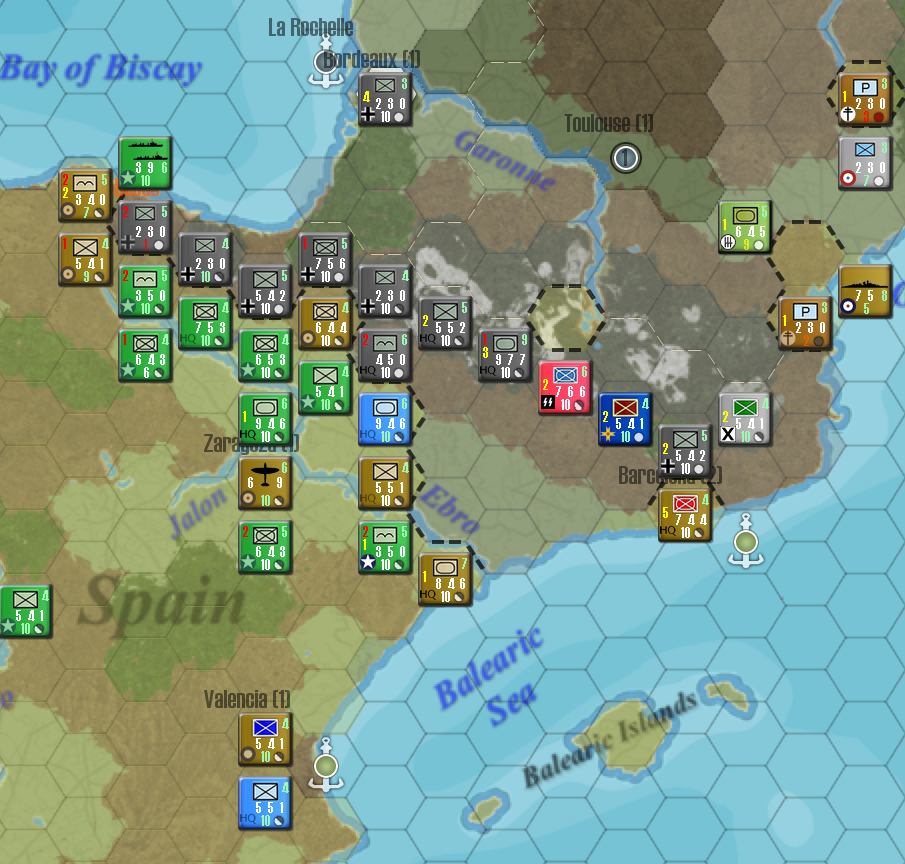 Sicily Axis turn. Italian subs are causing some trouble to Allied fleet in the Med and this turn they attacked American BB. All Axis units in the island were repaired: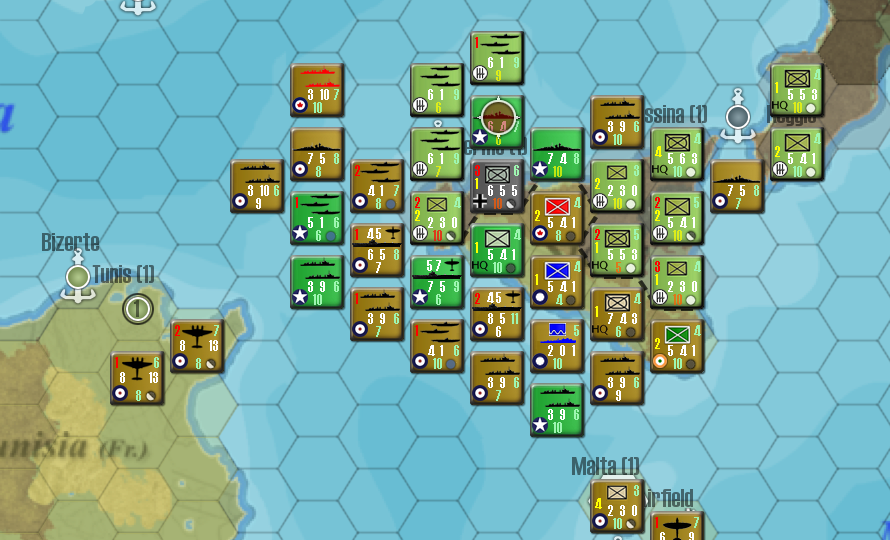 Sicily Allies turn. Bombings over German mech in Palermo were followed by the attack of US corps recently landed (Devers HQ). Axis unit held at low strength. Italian mech in central Sicily was finally destroyed. More Allied units landings.
Western Europe. It was fair weather in central this turn so British transported units in landed in Belgium whilst American units approached to Normandy and Britanny coasts. Heavy bombing on Rennes previous to the US landings halved Romanian unit guarding the city:
Finally, a shot of current casualties screen: