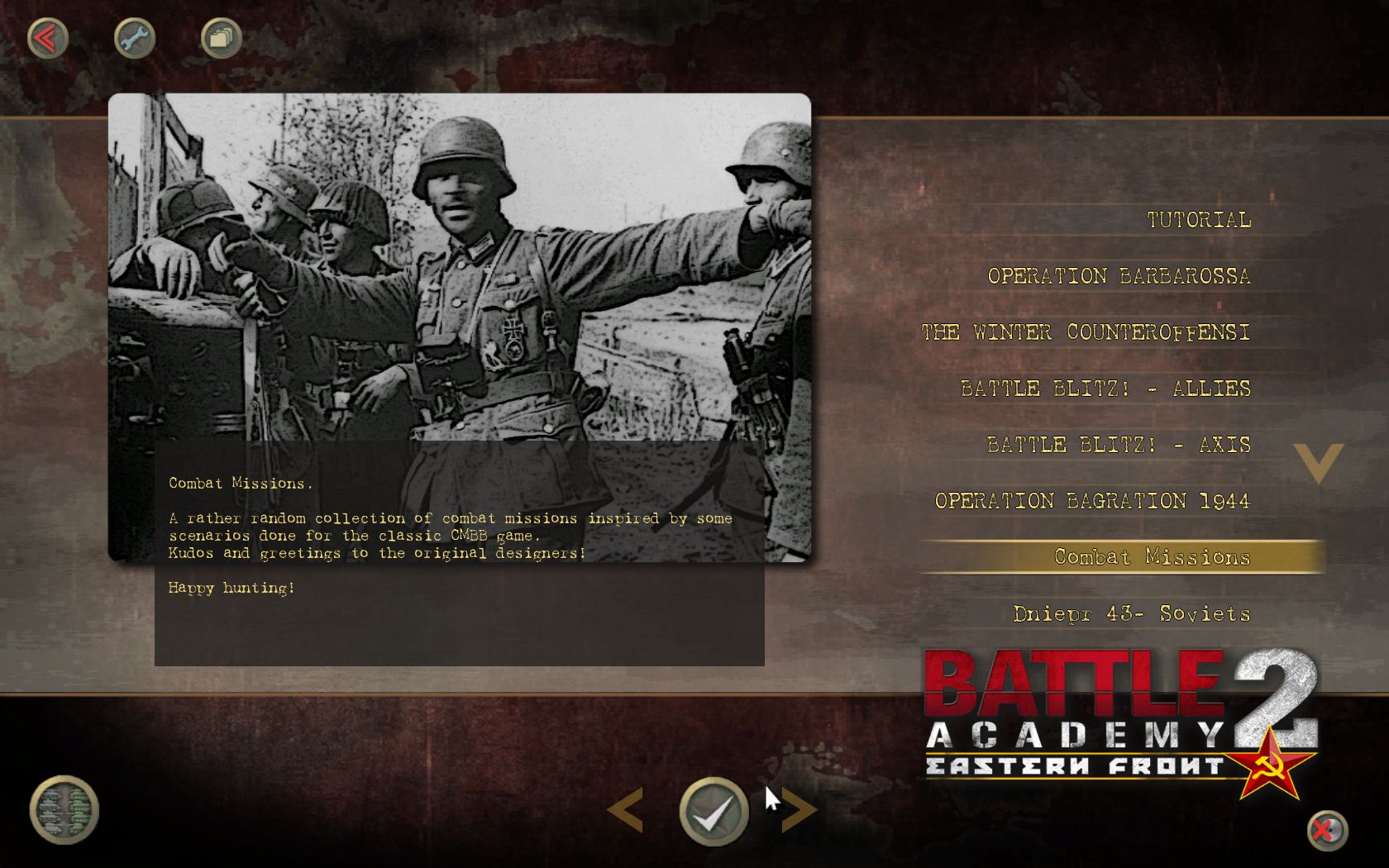 As described above, this is a collection of scenarios based on CMBB scenarios. For years, that was one of my favourite games, and several week ago I wondered how some smaller CMBB scenarios would play converted to BA2 (if that would even be possible). Of course we're talking about two very different games, and so I began experimenting, trying to convert and customise the tactical situations of the original scenarios and OOBs to the BA2 settings and rules. My aim was to create fun and (I hope) suspenseful scenarios; I hope you'll enjoy them as much as I did during playtesting.
The result are 5 scenarios I want to share, previews below. More scenarios will follow and be added to the campaign from time to time as they are done and playtested. This is my first work for BA2, so any feedback, hints, ideas and proposals are totaly welcome!
Kudos to:
- The authors of the original CMBB scenarios.
- Dkdom for his German infantry skins (and inspiration for map making)!
- Petcat and Amaris for their great 3D models!
- Cavehobbit for important feedback!
- All other scenario makers and modders that added so much great content to this game!

UPDATE 09/13/2016:
Three new scenarios added to the campaign. List of all scenarios (new ones in red):
- Gefechtsaufklärung. (June 1941)
- A Bridgehead Too Far. (June 1941)
- High Noon. (July 1941)
- Crossing the Dvina. (July 1941)
- The Gatekeepers. (July 1941)
- Totenkopf. (August 1941)
- Surprise at Goluschko. (September 1941)
- The Bridgeheads. (October 1941)
- The Christmas Battle. (December 1941)
- Minor changes in several older scenarios, finishing touches on the maps. -
Download:
http://www.mediafire.com/download/ke64c ... NS_V.2.zip