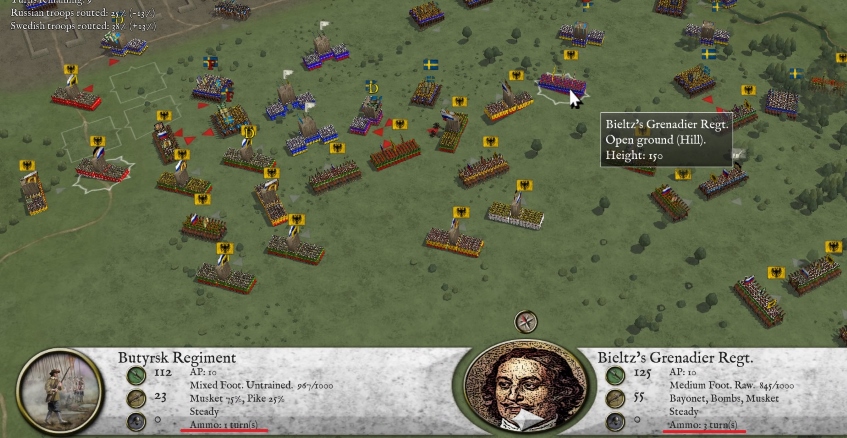 For rifle units I limited ammunition.
Based on the FoG2 script. The difference of my script version is that after the exhaustion of ammunition, the unit can not shoot at all, i.e. bullets / arrows / bolts are over. I also made different ammunition for infantry (9 turns), light rifle cavalry (7 turns) and rifle cavalry (4 turns). For artillery ammunition remained unlimited. Display in the info panel of the unit (like in FoG2): for player's units - the number of remaining moves, when they can fire, for units of AI - if there is any ammo
Ammo: not over
, if ammunition is over
Ammo: over
.
The cavalry (types Cavalry and Horse without lancers, impact pistols and with experience less than 200 - below Superior) now can evade enemy charge. In my opinion it is useful for Turkish timariot sipahis, English parliamentarian horse 1642-43 and other weak cavalry.
Download:
https://yadi.sk/d/wPq2bPo5INVJQA
Installation: unzip the archive at ...\Pike & Shot Campaigns\MODS\ (previously create MOD folder in the main game directory). Activate/deactivate the mod with JSGME before starting P&S (
https://yadi.sk/d/oKLrSlI03Qtyyx
). It also needs to be installed in the main game directory.