With the
Challenge #1
, you have witnessed the birth of Rome and its military power in Italy. Now, it's time to see what one of its first mortal enemies can do, on a bigger scale.
Welcome to the Challenge #2 – Carthage!
This time the Challenge goal will be different. While in the first one you had to focus mostly on the military aspect of the game, this challenge adds a new layer of complexity (and fun!).
Carthage was renown to be a very wealthy civilization, establishing colonies in many Mediterranean regions and creating a successful trade network. Its defense was guaranteed by a powerful navy and a semi-standing mercenary army.
To better reflect this historical situation, the Challenge #2 is shaped more on the economic element of the game.
Challenge #2:
Try to amass 7500 money in your treasury while reaching at least 20 regions in less than 50 turns and avoiding to be in the last tier in the progress & decadence chart.
Nation Available
: Carthage
Turns
: 50
Map
: All playable
Mechanics and features
: All active
Progress and Decadence
: Stay in the 1st and 2nd Tier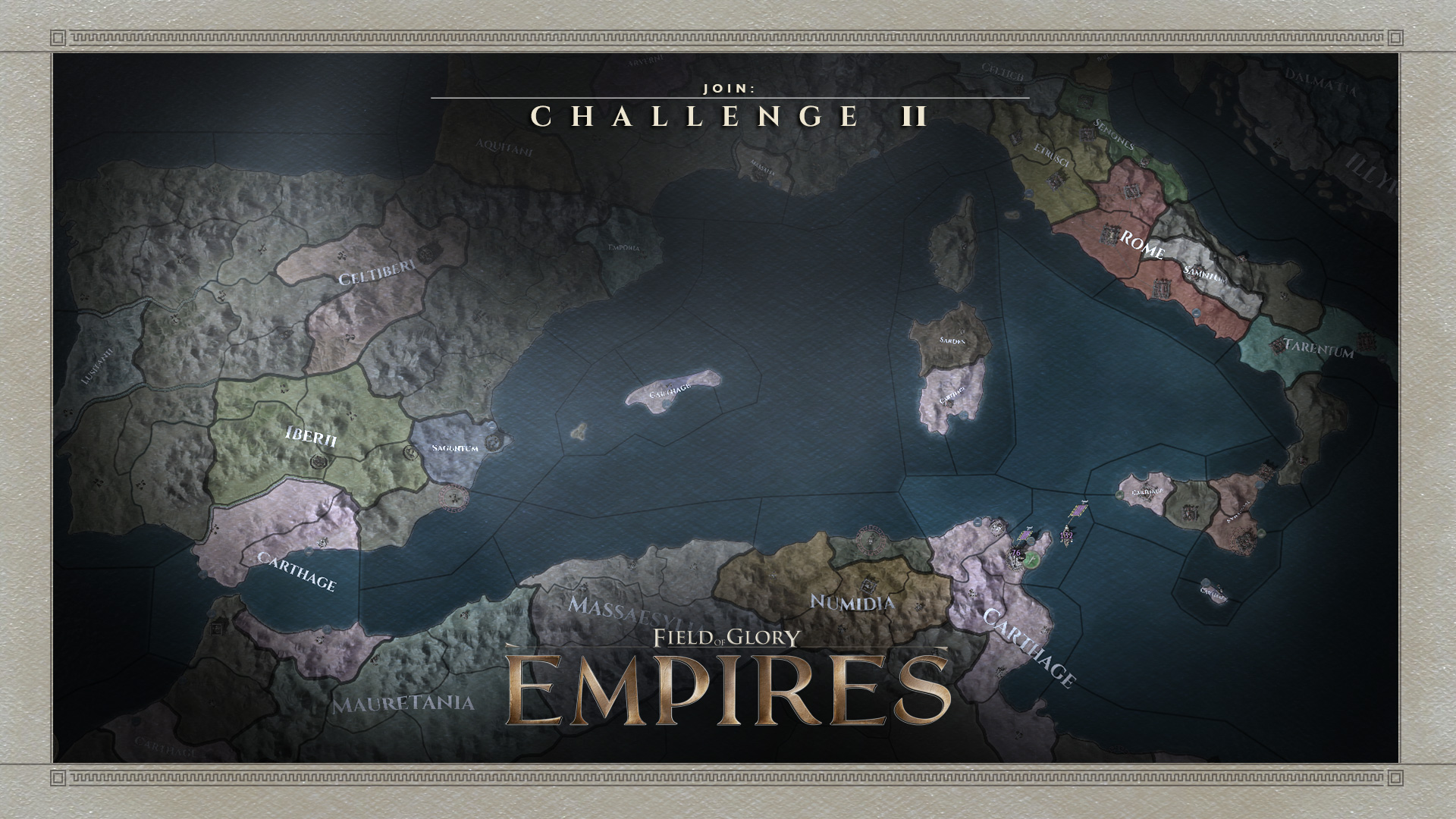 Who can join?
Influencers and media members. The participation is mainly by invitation, but if you think you qualify to compete, write to us at
challenge@slitherine.co.uk
, with your name/nickname and your channel/media.
Time and validity
10 days from the announcement.
In the 10 days of validity, we will gather the videos or the screenshots proving the completion of the challenge and will assign the scores. After all the Challenges have been played, we will declare the final winner by calculating the cumulative points gained in all the episodes.
If you have doubts about the Progress and Decadence mechanism, please refers to
Dev Diary #6 (Culture and Decadence)
and
Dev Diary #8 (Legacy)
Check all the Dev Diaries here
Check all the rules here
Are you eager to see the Challenge in action? Then don't miss
DasTactic
on
Friday May, 3rd
attempting it on our official
Twitch Channel at 6 pm BST / 1 pm EDT / 10 am PDT