Jubal Sarkis pushed against the hand that held him in place. It did not move. "I'm unarmed, Clothos," he said, gingerly talking around his bloodied lip. He side-eyed the Centurion holding him in place. "I couldn't hurt you if I tried."

"That was never my concern." The IL stood at a workbench, an overflowing centrepiece in the otherwise spartan chamber. There was a slow, wet sound as the Cylon pulled something apart. "My concern for you is more … material." Red dripped slowly to the floor.

"Let Galactica go. I will stay here as your hostage."

Clothos turned. The mask watched him, unmoving. "You believe that is still a choice to be made." The synthetic returned its attention to the meticulous work before it. "There will be no negotiation with Cylon Command. They are unaware of your presence aboard Avalon. They are unaware of Avalon, for that matter."

Sarkis thought quickly. "You're hiding."

"I am working, Admiral. It would be best for us all that I continue to do so."
Attention, nuggets! We've got fresh intel straight from SIGINT that you might want to cast your eyes over.
Instead of a broad overview of the forthcoming update, today we want to deep-dive into a new feature coming soon to Deadlock.
Persistent Damage.
The next time you start up a new campaign of Deadlock with the soon-to-be-released patch, you'll notice some new features. One of these, as we alluded to in our previous Dev Diary #4 - Wear & Tear, is the concept of persistent damage.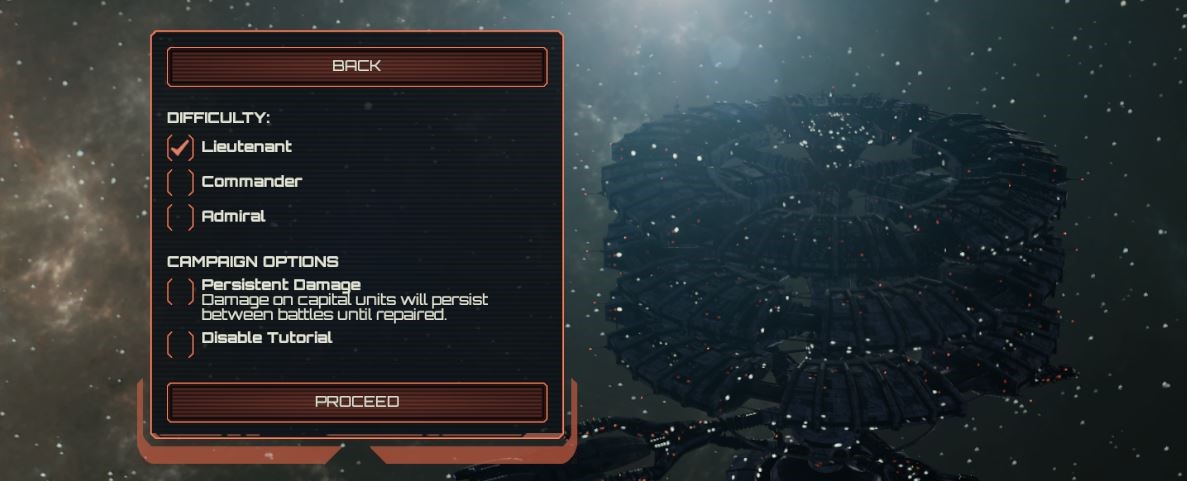 The label beside the checkbox gives us a succinct description of the new system. Damage on capital units will persist between battles until repaired. Combined with the dramatic damage visualisations, this system is going to create a new experience for both long-time and new Battlestar Galactica Deadlock players.

Repairing the Damage
With the new Persistent Damage system, any capital ship that takes damage to armour or hull will have that damage carry over to the next battle if left unrepaired. Luckily for us, Colonial Fleet has one of the most effective mobile shipyards at its disposal.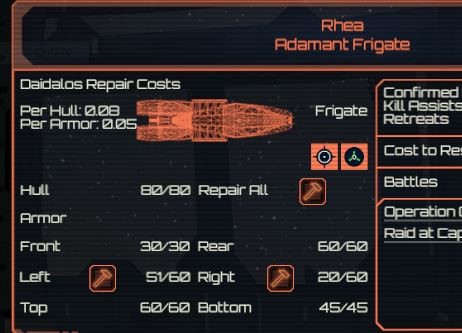 Damage received by a unit will be repairable from the War Room with the new Repair Ship UI (under construction). Armour and hull are repaired by spending tylium. With this UI, you can choose which sectors to strategically repair if your coffers are a little low due to a less-than accommodating Quorum.
The cost of repairing a unit will vary depending on the fleet's location. If the fleet is in proximity of the Daidalos station, it will have full access to the engineering crews and docks and repair costs will be minimal. Alternately, if the unit is part of an expeditionary force holding down one of Helena's starlane locations, the repair bill will be higher due to the scarcity of resources and labourers.
Additionally, units assigned to Daidalos Fleet Group will receive an amount of repairs automatically for free. This adds a new strategic consideration about whether to keep Daidalos safe at Ragnar, or out on the front line amongst the colonies.
Another feature of this UI is the ability to adjust your munition and squadron slot loadouts from the War Room. This means you will no longer have to wait for the FTL Insertion screen before outfitting your fleets with your newly acquired MkIIs or nukes. Note: the resupply cost for the new loadout is still deducted at the start of a new mission.
Hardship Builds Character
As an optional feature for all new campaigns, Persistent Damage adds a new strategic element to the Deadlock campaign. But it's about more than just keeping your ships afloat.
With this new persistency between battles, you will also be given more historical data about each unit's performance. Confirmed kills will be recorded, as will each of the missions the unit has partaken in. This will help communicate the veterancy of your ships as you continue your story of Colonial Fleet during the First Cylon War.
We're really looking forward to the release of this new feature with the next update, along with a whole swathe of bugfixes and balancing updates. In the meantime, keep the torpedoes and bullets flying! So say we all!